The Day of the Furies
Read more below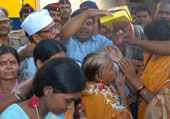 ---
Parmar
|
Published 22.08.04, 12:00 AM
|
---
EXONERATED: Supporters celebrate the release of the five women from the Nagpur Central Jail. Photo: Ranjit Deshmukh
When V. Chandra says that her son is named after her, somehow the pieces of the jigsaw puzzle fall into place. After her divorce some years ago, the secretary fought and won a case in the Bombay High Court to allow her son to use her name. Anand Chandra is now a software engineer, and Chandra is getting ready to go to Mumbai to meet him before he sets out for a trip to the United States.
The story speaks for itself, because Chandra herself doesn't say much. She is tiny — less than five feet tall — and looks like any ordinary social activist. A mobile phone hangs around her neck as Chandra, simply clad in a deep green sari and blouse, smiles and nods gently at a colleague at Nagpur's Central Mine Planning and Design Institute (CMPDI) office. "Congratulations, Madam! You have done a miracle," he says.
Chandra — a trade union leader for 32 years — looks relaxed after a day of high drama and a week of extraordinary events in Nagpur. Just over a week ago, a group of women — ordinary slum-dwellers and daily wage-earners — allegedly killed a man who had been tormenting them for long years. And Chandra, the police believe, is now one of the leaders of the women's group, though she herself was not in the mob. By all accounts, the 50-year-old personal assistant at CMPDI transforms into a fiery trade union leader by night.
"It was not a murder; it was social justice," says Chandra calmly, as her office colleagues crowd around her. The Marxist-Leninist ideologue, who was earlier with the CITU and is now with the New Trade Union, which works among coal workers and forest workers, shows no signs of remorse. "It is an eye-opener for the police and the judiciary. People will no longer tolerate a delay in justice," she says.
For long years, 32-year-old Akku Yadav ran amok in the slums of Kasturba Nagar, a small bustee of 300 families in the Jaripatka area of Nagpur. Since 1994, Yadav has had 23 cases of extortion, murder and attempt to murder registered against him. He has been placed under preventive detention five times since 1998. The women of Kasturba Nagar maintain that Yadav raped a series of women in the colony, but was never convicted. And the reason, they say, was that he was always close to the police. In January 2004, he was even externed from Nagpur for a year — but, true to style, he came back, in violation of the order.
On August 13, it appears that the women couldn't take it any more.
The Nagpur police stress that Yadav was lynched when he was about to be booked under the Maharashtra Prevention of Dangerous Activities Act. He was arrested a fortnight ago by the police following repeated complaints against him by people of Kasturba Nagar. On August 8, a group attacked him when he was being produced before the court, but Yadav survived. Five days later, he was not that lucky.
Three unarmed constables escorted Yadav to the Nyay Mandir court premises to extend his police remand. They took him to a make-shift waiting room. Within minutes, a mob had forced its way into the room and attacked Yadav with stones and sharp weapons. The constables panicked and ran for cover, and the mob — the police say both men and women were there — killed Yadav and fled.
This wasn't all. The police arrested five women after the lynching, but the women of Kasturba Nagar came out in the hundreds to protest. With all of Nagpur sympathising with the accused, the women staged a dharna outside the court on Wednesday. In a matter of hours, they were granted bail — just as the police prosecutor stated it had no evidence against the five.
"The women are clearly both the aggressors and the victims," says Chandrika Parmar of the New Delhi-based Centre for the Study of Developing Society. "It only reflects the kind of pressure they were under and that they had absolutely no faith in the justice system."
When a man like Akku Yadav is killed — and scores of women willingly take the blame for it — it is clear that he wreaked havoc in the area. The police have their own story — they believe that a group of men planned out the murder and killed Yadav. The women insist that it is they who did it. Whoever killed Yadav, what's evident is that there will be no wreaths for him from Kasturba Nagar.
"Akku Yadav was the Gabbar Singh of Kasturba Nagar," says Soni Dhondge. "We stayed mostly indoors when Akku was around," she says, recalling the reign of terror under him.
According to the women, Yadav and his bunch of goons were like slum-lords. He would barge into any house at any time of the day.
Sometimes he would want a motorcycle, sometimes he would grab a mobile phone or extort money. He and his goons would beat up anybody who tried to resist him. "He would tease the young girls, and had also raped several women inside their houses, but no one dared to lodge a police complaint," says Sheela Chaure, 40, who said she was always worried about the safety of her college-going daughters.
The Kasturba Nagar women told a fact-finding committee headed by a retired Mumbai High Court judge, Bhau Vahane, that Yadav had raped 40 women. Two of the women said they did not lodge a complaint, fearing reprisal.
"The resentment against Yadav reached a boiling point last week and culminated in the attack," says Mohan Kothekar, Chandra's associate in the trade union. Adds Parmar: "I would suppose that the entire community of women felt threatened in an everyday sense."
The women stress that the murder was not planned. "We didn't have any formal meetings, but it spread by word of mouth that we had to take united action," says Chaure, who claimed she was present among the mob, but refuses to give any specific details of how it happened.
The State CID has a different version of the incident. According to senior police sources, the actual murder of Yadav was carried out by four men with sharp weapons, and the Kasturba Nagar women merely took the blame to save their menfolk.
None of the women agrees with the police version. And all of Nagpur has stood by the women. Several women activists and lawyers have expressed their support for the women. A group of 116 lawyers led by some of Nagpur's prominent lawyers have volunteered to fight the cause of women. Poornima Advani, chairperson of the National Commission for Women, promptly arrived to take stock of the situation and said that the women had taken the drastic step after sustained harassment from Yadav and should be pardoned under the Criminal Procedure Code sections for Self Defence.
The truth of what really happened may never be known, but Chandra is now a leader of the group. A domestic worker from the bustee comes to meet her with a complaint. Her employers do not want her to work in their house after this incident, she says. She has not gone to work for the last seven days. Chandra promises help, saying that she is going to raise funds for the economic development of the community.
Things are, clearly, changing for the people of Kasturba Nagar. For the other truth is that, for the first time, the women are moving around without fear. "We are no longer scared of the Akku Yadavs," says 19-year-old Yogeshwari Nanavane.