The A to Z of Tarun Tahiliani
Tarun Tahiliani takes The Telegraph through the keywords that define his identity as a designer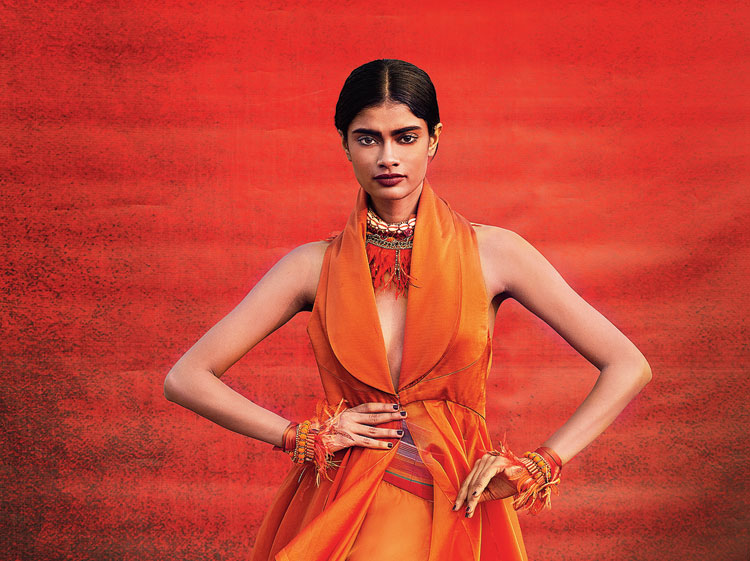 ---
---
ARTIST:
You become a designer because you are an artist. I am an artist first. When you are an artist, all the things you work with are connected. Architecture, interiors, motifs, draping and proportionate form. I have always drawn and sketched and loved museums in every city in the world.
I have always liked a collage. We are a synthesis of a 100 years of being ruled, trade routes and the patina of dust... this collage of things and now with technology and the way we have travelled compared to our parents and with computers, you can collage it to the next level. To me that synthesis of everything is more interesting because it's real and current. We cannot go back... we can synthesise and evolve constantly into something new. That's the greatest artistry of everyone's life and everyone interprets it in their own way.
BRIDALS:
The Tarun bride must look herself, be effervescent. It's always about the sheer tulle veil. And she must move. I want my brides to dance and move. I don't want a broken back. I don't want a suhaag raat marked by bleeding hips. She should be able to be free. At every wedding the pundit moves out and the DJ moves in. So much to be said for spirit. We mustn't lose our spirit.

COUTURE:
It is a highly misused word in India. First they used to call it 'kotar'! (Laughs out loud) They would come and say: 'We want zerovski (Swarovski)'. I would be like: 'What's that?!'
Couture is a very special process. It doesn't have to be dressy. People think if it is expensive, it's couture. Couture just means that you fit the body in the process. You need couture more as you get older because the left and right sides of your body are different... to make it mould so that it's like a second skin. I take that seriously. I was taught that by Minal Modi, who just passed away, my darling friend… the beautiful Minal. She first came to me when Tanya Godrej got married. She said: 'You make the patterns on my body'. I was like: 'What's that? I don't know how to do that!' She said: 'You will mould the fabric and then you will start marking because everyone's body is different.'
There has to be a purity to adhere to the principles of couture… you know the pleasure when something is just perfect on your body. It goes beyond how it's made. It has to understand the personality of the person and allow them to be themselves.
It has changed over time. Earlier people had more time, they came for more fittings. Diana Vreeland said she had three fittings even for her nighties. It has changed globally because the old bats who used to do a lot more couture, everyone's too rushed and fussed and too all over the globe to do couture fittings. They need many, many, many more outfits because they are flying all over the world. They don't have the time to give every outfit as much.
And because ready-to-wear has become so dressy, so a lot of them would just wear ready-to-wear. I think couture really exists around bridals now. That's when people really have time... most at least expect to get married once.
DIGITAL PRINTS AND DRAPES:
I loveeeee digital prints. With digital you could do anything and create illusions. That was the beauty and you could form fashion around the body. Then we let it go for a bit. Everyone was doing so much digital and there were so many copies, I should have been a little smarter. I should have handled it a bit differently. But now we are back with a bang, with a vengeance. Our whole fall collection is based on the textiles of India and we are mixing handlooms with digital… that's very cool. The draped form is individualistic. The most sensuous thing that the Indian men and women had. Turbans, dhotis, lungis… everything was draped. That was where the Indian heritage was from... just textiles draped. That's a bit lost. To me that was the most beautiful thing. It still is.
We have lost the ability to drape. That's why we have come to structured drapes. You look at the Kutch and the Kumbh. I go back to Kumbh because there are many fantastic creatures roaming around fully draped! And undraped! (Laughs) In Kutch, they still wear 20 metres on a nada.
My god-daughters don't know how to wear a sari, they wear structured sari drapes. It matters to me that people are losing the drape form. Embroidery is an easy thing to conceive. India is not about embroidery, embroidery and embroidery. India is about the drape and no one wears the drape now. So to me that's a big thing to bring back.
ENSEMBLE:
Ensemble (Tarun's multi-designer fashion store) was our first baby. It was a labour of love to promote Indian designers. Every great Indian designer practically has been through that door. It's really fulfilled a very vital role. People say: 'Why do you still promote it? You are breeding your competition.' I say: 'Stop being stupid; as if they are not going to design if I stop promoting them.' People have to do things for a higher purpose.
It's bigger and flourishing and I never know what they are going to buy or do because we decided that since I am a designer, I must never be up in front. It is handled by a separate team (led by Tarun's sister Tina) with whom I don't even interact.
FIT (FASHION INSTITUTE OF TECHNOLOGY, NEW YORK):
My alma mater. FIT teaches you technical skills. As a head of a business, you need to have ideas and dreams, but in India where we don't have the tradition of cutting and tailoring, because we have a textile tradition, you've got to learn those skills. Now, it's a lot better, but still it's not like Italian cutting.
FIT gave me tools, especially for structured draping. The masterjis here don't know that. You have to know how to drape and how to manipulate and mould fabrics into a pattern and that's what set me off. I was always a good artist, but they taught, taught, taught. I worked like a dog that year. I was never a good pattern-maker, but it gave me rounded balance of fashion history and everything I never did because I went to business school (The Wharton School at the University of Pennsylvania). I am not interested in debit and credit, as long as there is money in the bag.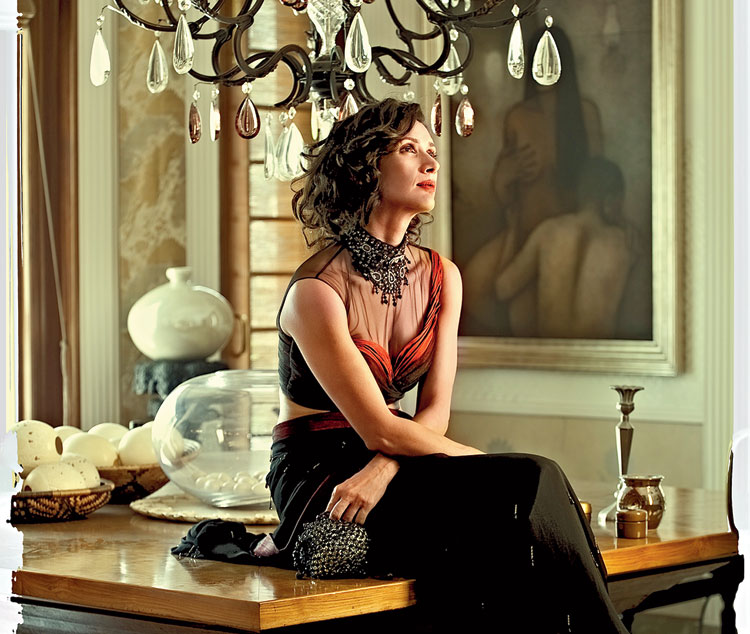 GRANDEUR:
Or grand illusions?! (Laughs) Or grunge? I do have both — grandeur as well as grunge. I like the Nizam's jewels and I like the rudraksh in the Kumbh. I think people have to understand that grandeur is very much a part of the Indian aesthetics. There is a grandness just in scale and a grandness in sheer numbers. Kumbh is very grand… in numbers. Because we come from this culture, we need to understand it and not get carried away by it.
Grand illusions? When you have dreams, you think of making a brand, taking it global. We were too far away. We were not relevant. I think people like me who grew up in south Bombay, we were so disconnected from what India was, that I really thank fashion. It taught me what India was. I went to Benaras, Kutch… I learnt a lot of things and because I was interested in the subject, I wasn't disdainful. We were very grandly deluded. I thought we were white browns or something! We had to relearn it. When you embrace your Indianness from whatever point of view, then you can be whole.
HYSTERICS:
I am very calm at the best of times. In fact, I was on ship in the Galapagos… I had gone on a diving trip… it hit a reef and started to sink. As we were waiting to jump ship in the middle of the night into a dinghy, I said I would be eaten by the sharks first because I was the fattest person there; I started giving them instructions for my funeral! I told them that I hate bhajans, so play Donna Summer's remixes, just have champagne… (laughs out loud).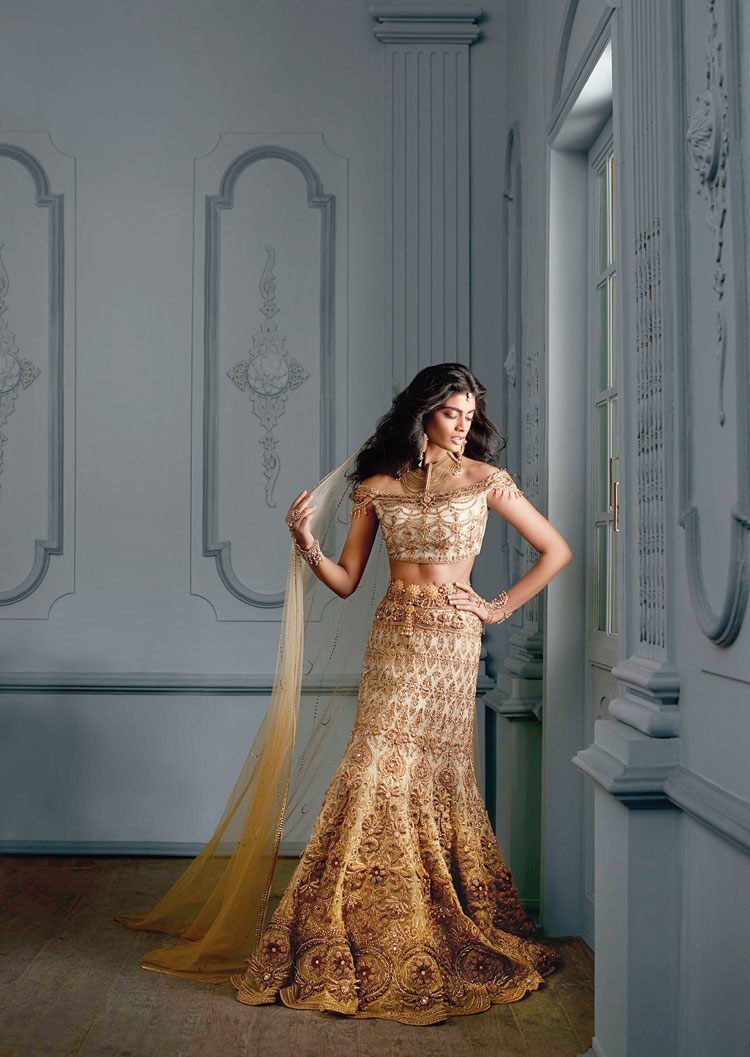 INDIA MODERN:
That's such an important thing. When we realised that we are not to be these WOGs (Western-oriented gentlemen), I think that was the beginning of a new thing. I must find a new synthesis of this life and time and myself as an Indian. To know yourself, you have to sometimes go a little backwards. You start engaging with things as they are and, in a way, it frees you. We are much more homogeneous now. Indian modern is a synthesis, a blend… not being parochial. We are just Indians. We will take the best of everything and embrace and eventually become one thing.
JEWELLED T-SHIRTS:
I love jewels! So, we could put jewels on the T-shirt and say wear the jewelled T-shirt to the beach with a matching G-string. I love the fun of it. If India is about all these fun things, then you shouldn't be wearing jewels only when you are going to weddings. I once went to a Sadhguru satsang where they were playing volleyball and there were women in these jewelled T-shirts and I said: 'You all are too chic, baby!'
KUMBH MELA:
Eternal inspiration. The first time I saw I was like: 'Where is the pepper spray?' Then when I went, I went to see the draping. You just merge with a consciousness. And these are true Indians not touched by anything. Kumbh was a revelation. It's primordial. The women in these hairdos with gendas, dancing... it is beautiful! I want to go back for that spirit.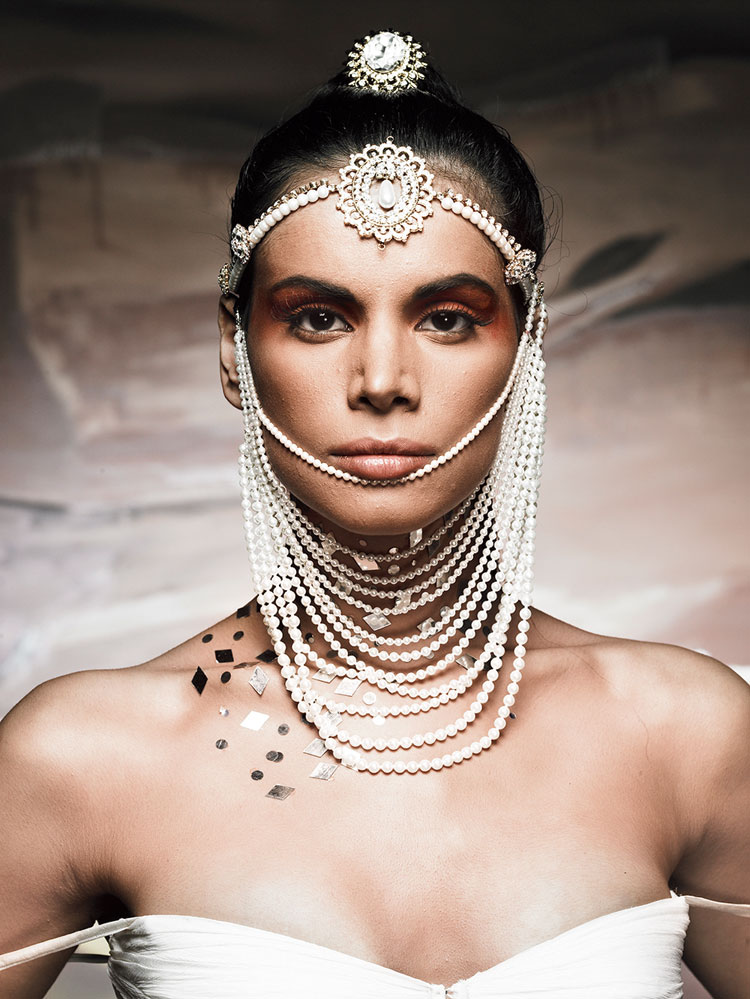 LONGEVITY:
I want things to last. For us, in India, fashion is not a thing from season to season. Everything about us is timeless. The Kumbh has been going on in the same way. You can wear your great-grandmother's sari. Nobody abroad can wear their grandmother's clothes, forget about great-grandmother.
MUSE:
Mehr (Jesia) and Minal (Modi). Lovely Mehr, very modern... she was an athlete. The best models were the girls who didn't want to be models. They weren't emulating anybody.
Minal was also my muse. A muse is not someone you shoot your clothes on. A muse is somebody who teaches you and challenges you. With the painters, it is someone who inspires, like Picasso is inspired by Paloma's mother (Francoise Gilot); Lakshmi Menon was Prabuddha's (Dasgupta) muse. Amanda Harlech was hired by Chanel to challenge and give Karl Lagerfeld ideas… 'What if I wore a jacket like this?'
NOW:
The power to believe in the now. We cannot exist in the past. We are not living in a costume fantasy, we are not living in a period film. The youth are about the now. Fashion is relevant if it is about the now.

OPTIMISM:
We knew nothing and jumped off many cliffs and survived. Outrageous actually!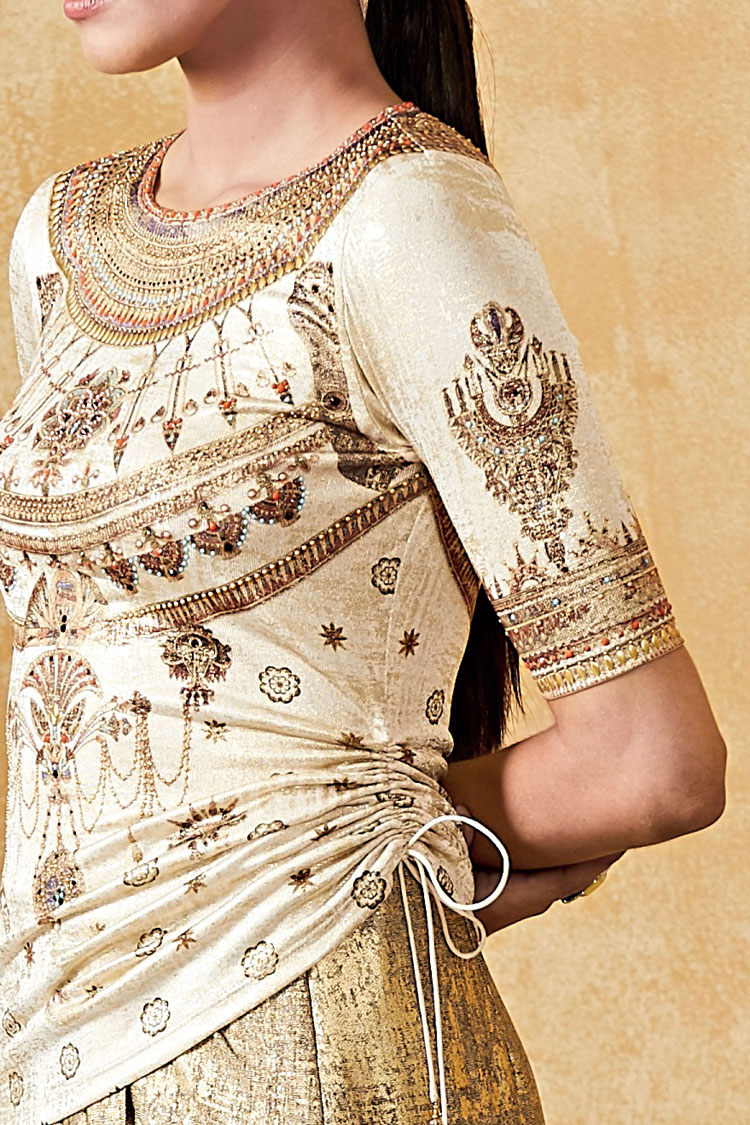 PUSHING YOUR VISION:
You gotta push boundaries.
QUIRKS:
What are my quirks? A very deranged sense of humour, for sure. I don't want to see things normally. Quixotic!
READY-TO-WEAR:

I actually started ready-to-wear long back, but there are two things happening in that sector. People are dressing more casually and because these big brands are coming in, Indian designers cannot compete with that kind of ready-to-wear. I always thought ready-to-wear would be the biggest thing, like it's happened in the Far East. We don't do that many Western clothes and it's all switched to being Western. Which is why we are retreating to India and trying to do a lot of India modern… dhoti drapes and all. It doesn't sell in the numbers that it needs to. So we are kind of stuck in the ready-to-wear crossroads. The more wild and spectacular we become in couture, the more people want that, but that doesn't really grow businesses. I am still reaching out for a solution.
SARI AND SHILPA SHETTY KUNDRA:

I love the sari for the individuality because I love the draped form. It makes mammas also look good. In a sari you can be sensuous.
Shilpa is a fighter. Winning Celebrity Big Brother changed her story because suddenly she became a global star… survived racism and being attacked and came out voted by the English public as their favourite. Contrary to what people thought she was, she had a lot of grit and resilience within her. She is a mooh phat... she says what she thinks. She has a divine body, sinewy.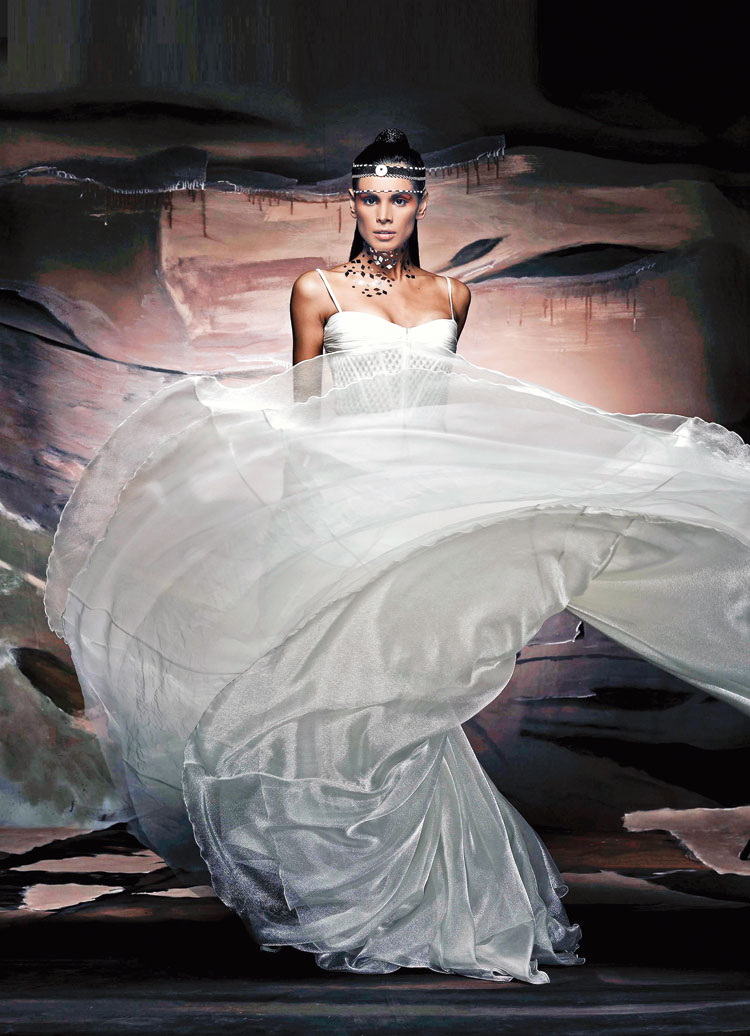 TARUN:
Being me has been hard sometimes. They don't understand me at all. My poor father would sometimes look at my sister and say: 'How did I produce him?' I said: 'You know what, you married your second cousin! I paid the price, you should apologise.' He would be mortified. (Laughs) No filter!
UNIQUE:
Be true to yourself. Be unique.
VIPASSANA:
I am thinking of going back. It is sort of living in this giddy vertigo… that silence to go inside. It should be mandatory for all Indians because it is one of our greatest things and you don't know till you have done it. It sounds very daunting. You wait till you are 52 and then do it, but if you did it at 22, your life would be better.
WEDDINGS:
I am avoiding designing weddings. They take too much time and there is too much jugaad in them. I am okay doing clothes. I do one or two as a creative director.
X FACTOR:
My X factor is my joie de vivre. I am like a child. That's my X factor. I jump into things and I am engaged and excited. I am 56 and when I am with my classmates, I feel like I am sitting with 80-year-olds. They don't even have clean teeth. I am absolutely mortified. Working in fashion keeps you young.
YOUNG AT HEART!
ZZZZZ ZZZZ:
We have talked enough!