Tell it like it isSong sung anewTale from the barracksGandhi's enemy A century youngMore Bengali than thouFather of all MNCs
Read more below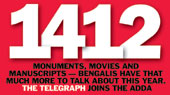 ---
Pandey
|
Published 17.04.05, 12:00 AM
|
---
Tell it like it is
It was a primer made easy 150 years ago and Bengalis ?or anyone who has tried to learn the language ? are eternally grateful to Iswar Chandra Vidyasagar for Barna Parichay (see pic right). The linguist had the courage to ignore the purists and simplify the language, a benefit reaped by generations of Bengalis. For many, Barna Parichay was the first book they opened on the first day of school.
?Vidyasagar?s contribution to making the language popular is immense,? says writer Sunil Gangopadhyay (see pic below). It is ironical that on the 150th anniversary of Barna Parichay?s publication, Gangopadhyay finds himself leading a movement to ?keep the language alive?. ?We are all for English and Hindi, but not at the expense of Bangla,? Gangopadhyay says. After all, he adds, several languages ?died? in the world after people stopped using them.
He says Bengali, the language, seemed headed for oblivion when the movement was launched to make Bengali the official language in government more than a decade ago.
Having waged a successful campaign to change Calcutta to Kolkata, Gangopadhyay?s Bhasa Sahid Smaran Samity now wants the name West Bengal changed to Paschim Banga, as the state is referred to by Bengalis. Gangopadhyay ? and his literary comrades-in-arms ? see no reason why the state should still be called West Bengal, an English translation of Paschim Banga. After all, if Rajasthan is not called the ?Land of Kings? or Madhya Pradesh a ?Middle Province?, why shouldn?t Bengal be left with its Bengali name?
?We don?t want a change of name,? the writer says emphatically. ?We don?t want any translation of our state?s name either.?
Song sung anew
Pather Panchali, famously hailed as ?the film that changed the history of Indian cinema?, will be 50 years old this New Year.
An older Apu (Subir Banerjee) and Durga (Uma Dasgupta)
It was Apu and Durga?s song of the road and even today, talk of the film brings a song to their lips. Few know them by their actual names ? Subir Banerjee and Uma Dasgupta. Not that they mind, for the film ? the only one they acted in ? has been their claim to fame and today, both wish to be remembered simply as Apu and Durga.
That?s understandable. From the renowned Akira Kurosawa to Govind Nihalani right down to Karan Johar, everyone has been moved by Ray?s celebration of compassion and humanism.
If Kurosawa had found ?nothing haphazard or irrelevant in his technique,? Govind Nihalani was moved by its ?alaap-like quality? while Karan Johar defines it as one of the greatest movies ever made.
Mrinal Sen rates the film highly, but it is Aparajito, the second in the trilogy, that he singles out for higher praise. ?I believe contemporaneity is measured by the filmmaker?s attitude, not a time period. That is why Aparajito is my all-time favourite,? he explains.
Five decades on hasn?t seen a waning of interest in the film. On the contrary, its popularity graph has witnessed a steep rise. Collapsing as it does the rigid ranks of parallel and commercial films, Pather Panchali is still viewed as a pathbreaking venture. Books on its making have been released to mark the occasion. Sandip Ray plans to screen a good print of the film sometime around August 26, the day on which the film was actually released half a century ago.
What?s more, it?s a song that is to remain on everyone?s lips.
Tale from the barracks
Honestly, who other than historians and Bengalis would care about a small, suburban town called Barrackpore? But then, come summer, and everyone might be talking about it ? thanks to that disgruntled sepoy Mangal Pandey. Yes, the same person Aamir Khan impersonates in The Rising, Ketan Mehta?s sweeping epic on the 1857 revolt, which should be ready for release a couple of months from now.
After all, it was this much-talked-about figure that probably started it on that fateful day in March 1857 ? after serving eight nondescript years as a sepoy with the British forces. It is still not clear why he picked up the gun and fired at his officers. No one was killed and whether his rebellion was related to the use of those pig-and-beef-fat-smeared cartridges is still not known. ?But there is a perception that he was a victim of racial discrimination,? says Subhas Ranjan Chakraborty, history professor at Presidency College.
Mehta?s production, supposedly Bollywood?s biggest ever ? with a budget of $20 million, an international cast, and a long-haired, mustachioed Aamir ? will probably be a regular potboiler with oodles of spice.
?But there?s very little we know about Mangal Pandey ? other than the fact that he was in his 20s and that he constantly reiterated at the trial that he was under the influence of bhang when he fired. Once he was hanged, people even stopped talking about him,? says Rudrangshu Mukherjee, whose book Mangal Pandey: Brave Martyr or Accidental Hero? will be released by Penguin in June, possibly to coincide with the film.
Gandhi?s enemy
Of all the freedom fighters, nobody has been an enigma bigger than Netaji Subhas Bose, in life or in death. A bright student, his claim to fame in his youth was slapping a professor on the steps of his college. Though he was a candidate for the colonial civil service exam, he cantered aside, literally, as a twinge of nationalist conscience prevented him from mounting the horse for the final test. As mayor, he pioneered Bengal?s trademark factionalism in Congress politics. Escaping from India, he sat for a while in the lap of Hitler when the air of Auschwitz was acrid with the smell of the gas chamber. He hated Gandhi and non-violence, but asked his countrymen to unite under Gandhi. He lost a clumsy war against the British. Did he die in an air-crash at Taihoku in 1945?
Filmmaker Shyam Benegal?s film on Bose (played by Sachin Khedekar in pic left) will release in a few weeks.
A century young
The workman daubs his brush in a can of paint and then applies it to the building?s fa?ade, slowly and carefully. Metropolitan Building ? once a moss-covered, derelict relic of the Raj presiding over Chowringhee ? is changing into a resplendent heritage edifice. In a way, the renovation of the nearly 100-year-old building symbolises the changes swamping Calcutta, long accused of living off its past glories.
Narrow roads are turning into wide avenues and flyovers are sprouting up. Swank malls, glitzy restaurants and trendy multiplexes have already given the city a ?contemporary? look. Now, towering condominiums ? housing schools to clubs ? are going to dominate the city?s skyscape.
?It?s hard to believe what?s happening in Calcutta,? gushes Pradeep Sureka, of the Sureka group that is building the 1,600-apartment South City off Jodhpur Park. The businessman feels the day is not very far off when Calcutta will be a major economic destination, with the city fast emerging as an information technology hub in the east.
True, change is in the air. The city clearly wants to preserve its old glories, but at the same time seems determined to move on. Take the Life Insurance Corporation of India, which owns Metropolitan Building. Prodded by the Bengal government, it has sunk in Rs 5 crore to renovate the building. But the corporation plans to ?recover? the cost by renting out the vacant area in the building, an LIC officer says. In today?s Calcutta, aesthetics is as important as the economics behind it.
To be sure, Old Calcutta remains with its cynical, hypercritical views of itself. But New Calcutta, up and about, is giving it a run for its money.
More Bengali than thou
Coming up in June is the latest adaptation of Sarat Chandra Chatterjee's Parineeta, produced by Vidhu Vinod Chopra, and directed by adman Pradip Sarkar (of Apocalypso) who has impacted the small screen with memorable music videos such as Shubha Mudgal's Abke Sawan and Euphoria's Dhum Pichak, against the backdrop of the Bengali milieu. And peopling it will be Saif Ali Khan, Sanjay Dutt, Vidya Balan and Raima Sen. Pradip Sarkar promises his filmic rendition of Sarat Chandra will be truer to Bengali life — if somewhat updated — than Sanjay Leela Bhansali's hugely reviled Devdas, by the simple expedient that Sarkar is himself Bengali.
Father of all MNCs
With the shares of quite a few Indians now quoted on the global stock exchange, the concept of the ?Indian MNC? is surely not the stuff of dreams. But long before L.N. Mittal, the Chitpore Road lad, spanned the globe with his steel mills ?171 years ago, to be precise ? yet another Chitpore man set up the first Indian MNC ? Carr, Tagore and Co.
Dwarkanath Tagore, the ?merchant prince? of Bengal, was the first Indian to be received by Queen Victoria. In his two visits to Europe, and till his death in London in 1846, he was feted by the British and French nobility and writers such as Charles Dickens.
?Dwarky?, as his innumerable British friends called him, dreamt big. He tapped the coal seams of the Damodar Valley to form Bengal Coal Company. He set up Assam Tea Company. He grew indigo and poppy in his estates , and owned a fleet of the now notorious opium clippers that sailed from Calcutta to Canton. And he was in the vortex of Britain?s colonial opium economy that led to the first Opium War in 1840.
After his death his successors effaced from family record every document pertaining to the architect of the Tagore fortunes. Grandson Rabindranath, born 17 years after his death, didn?t mention him once. It is now that Chidananda Dasgupta, octogenarian film critic and a Brahmo like the Tagores, has written a film script on Dwarky, and filmmaker Mrinal Sen is looking through it. An international publishing house may also commission a thriller based on the family secret of a bygone era.