Tarun Tahiliani celebrates his 'Infinite' journey
The designer, who earmarked his silver anniversary in the fashion and design industry this year, has iterated his support for our craftsmen and artisans for a while now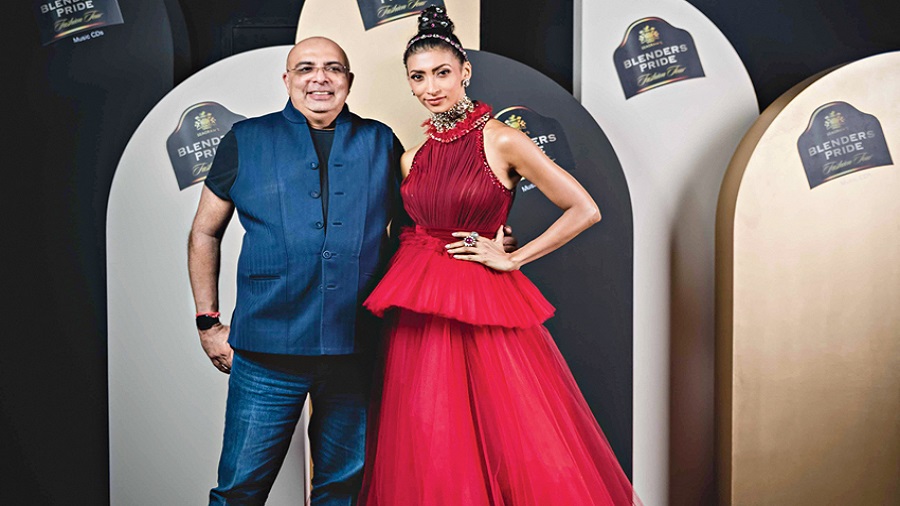 ---
---
Made me more focused and stronger. We have to work and support craft and our heritage like NEVER BEFORE" — pat came Tarun Tahiliani's reply when I sent him a text to congratulate him after watching his digital collaboration with Blenders Pride Fashion Tour, which is his second such virtual endeavour in recent times, bearing testimony to the man's relentless pursuit of creativity, undeterred by even a pandemic. Needless to say that the designer, who earmarked his silver anniversary in the fashion and design industry this year, has iterated his support for our craftsmen and artisans for a while now and this is just him walking the talk, albeit with a lot of swagger and sartorial fabulosity.
"There is nothing more important than one's identity — an expression that defines you as being distinct from the world. This collaboration is a celebration of my journey and the myriad and varied influences that have inspired its course over the years. I take immense pride in expressing who I am and where I stand today, and in my association with Blenders Pride Fashion Tour 2020, because it gives me the opportunity to celebrate my identity with Pride," said Tarun about this collaboration that was shown to the world on September 10 via Instagram.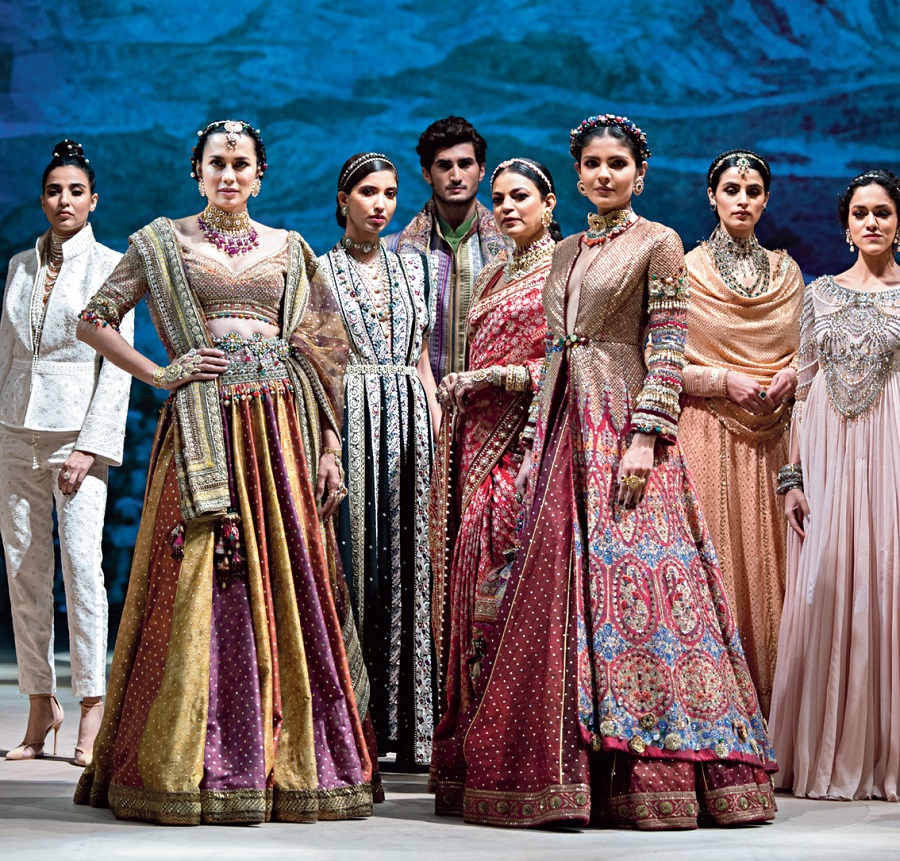 The showcase marked the first digital outing for Blenders Pride Fashion Tour in the form of Infinite — My Identity, My Pride, which saw Tarun put up a fashion show that compensated for being virtual by using an interesting concept. With the sound, light, mood, videography and even quatrains being displayed on the backdrop, I am more inclined to call this a stunning multimedia project than just a fashion show. Tarun called the concept "stream of consciousness" with the question of "what next?" featuring in the 13-minute showcase and the designer's baritone also doing a little of the voiceover. "This is not a singular themed collection — it is a salute to the wheel of life, our inspirations, our past and how it rolls into our future, connecting the dots…. All that we were, and more" — this excerpt from the designer's post on Instagram possibly sums up the thought behind his showcase the best.
Twenty-five models in 25 looks (menswear and womenswear) were seen sashaying around a set designed by Tarun himself to showcase his 25-year journey. Concept saris, lehngas, draped dresses, ornate odhnis, caped cholis, a sharp embroidered jacket, flared and tailored pants for her; and bandhgalas for him put forth the 'TT' aesthetics of things with a mix of the old and the new. Conceived to portray the wheel of life, the designer's inspirations, the studio's past and its evolution into the future, the fashion showcase interpreted the meaning of 'Pride' with modern Indian pieces of clothing — the designer's India Modern aesthetics combined with boho chotis, bindis and more "to add historical opulence to a more contemporary whim".
Ishwindar Singh of Pernod Ricard India, on behalf of Blenders Pride Fashion Tour remarked on the brand's association with
Tarun and their journey of "Pride" as he said, "Blenders Pride Fashion Tour has been bringing alive unique experiences for over 15 years in the fashion and style landscape. We've had a long and special journey with Tarun, and today, as he celebrates 25 years in the industry, we're equally excited for our consumers to experience this show from the comfort of their homes. The journey of 'Pride' that we set off on over the last two years continues to take centre stage this year as well, bringing alive a distinct expression of 'My Identity, My Pride'."
And in answer to the question of what's next in the story that Tarun is designing for himself and his brand, this is what the designer said to the world: "This is the story today. Who knows where tomorrow will take us, rooted as we are in the past.
The possibilities are 'Infinite'."