Sujata Keshavan on her fashion brand and muse
The Telegraph checks out Varana, a fashion label that celebrates India to the core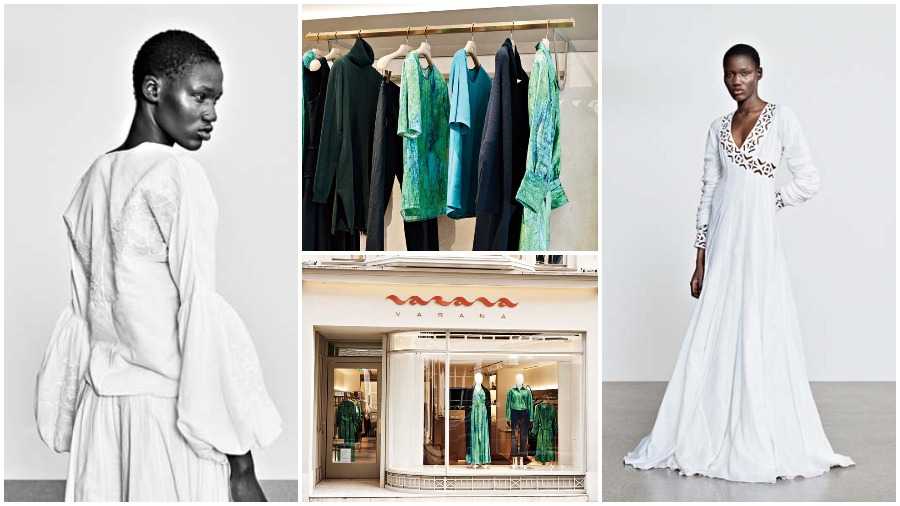 ---
Published 13.09.21, 04:13 AM
|
---
The simplicity of Varana pieces strike you at first glance at the global fashion brand, steeped in Indian heritage. Born five years ago, the aesthetics are one of calm and comfort. Varana's founder designer, Sujata Keshavan, is a stalwart in the field of design, and has envisioned the brand as one that takes India to the world. A candid chat.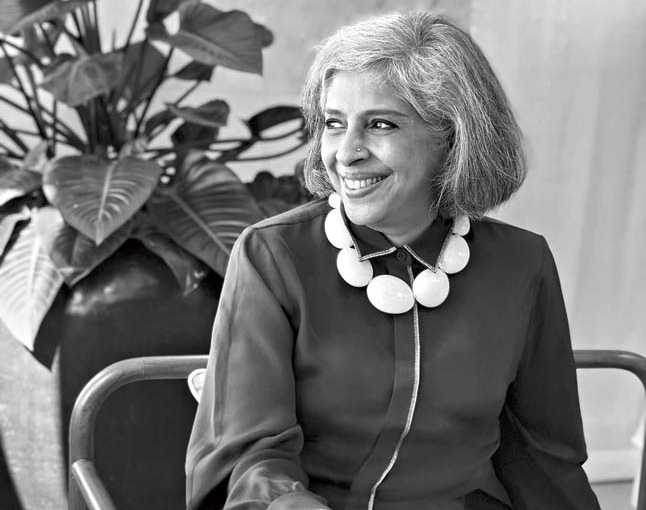 We are in love with Varana! How do you look back at the journey?
It seems like we started just yesterday! There has been so much to do that the days have gone by in a blur. There's been so much to learn. Varana is now a much-admired brand with a devoted clientele. It has been very encouraging and gratifying to see the appreciation of the world's most discerning customers for India's amazing textile and craft techniques.
The name has an interesting story!
The idea behind Varana took form when I was with my son on a boat on the Ganges in Varanasi, one of the world's oldest cities, widely regarded as the "soul of India". It was Diwali night and as the sun set, and the aartis started, there were hundreds of little diyas floating on the surface of the water. It was magical. The rivers Varuna and the Asi, tributaries of the Ganges, converge in Varanasi. Derived from Sanskrit, the word 'Varana', the name earlier used for the river, means select, unique, precious, a blessing. That night, on the long boat ride, I decided to embark on this new journey, and to call it Varana. Varana's logo thus evokes the river where the idea was born.
What is Varana's fashion language?
For the most part the world of fashion is predicated on glamour, newness, constant change and instant gratification. None of this resonates with Varana's world view or raison d'etre. We believe in the great pleasure that quality can bring, focusing on making things beautifully, by hand, for people who have discerning and refined taste, for people who make considered choices. We believe in buying fewer but better.
My muse is a sophisticated, thinking woman who is cosmopolitan, widely travelled, at home in many places in the world. Young or old, she is eclectic in her interests, confident in her choices and refined in her sensibility. She is discerning and has an appreciation for true, finely crafted luxury, not mass-produced luxury, which I think is an oxymoron. She is interested in the world beyond the product, in knowing where and how things are made and the impact of their footprint.
How did you go about setting up the brand?
For many years, I have been thinking about the fact that India has so much that is unique to offer the world, with regard to its extraordinary textile and craft heritage. This is not just history but a living tradition. We have the largest number of living artisans in the world. I felt that what was missing was a contemporary and international approach to design that was needed to make our artisanal traditions relevant to markets in other countries. I felt that we should attempt to create a brand that re-interpreted our heritage through a modern lens, and one which global audiences could relate to.
Shortly after my visit to Varanasi, I discussed this idea with my co-founder Ravi Prasad, who at the time was the executive chairman of India's leading wellness company Himalaya. The idea resonated with him. He brought the business perspective that was integral for us to get the project off the ground and make it a reality.
We started by putting together a design team with the required capabilities. Where we lacked the skills, we acquired them from other countries. For example, our textile designers are from India as they are already familiar with our weaving, printing, dyeing and embroidery techniques. Our fashion and knitwear designers are from Europe and Japan as India does not have the requisite level of skills in these fields. Quality experts from the best Italian workshops trained our artisans in high-end tailoring and garment making.
Why did you choose to open your first store in London?
There is no other city we could think of which would be more appropriate than London to start an international brand. London is a true world city, its residents come from everywhere, and people travel through London on their way to other parts of the world. We launched with a flagship store on Dover Street in Mayfair. When I look at who's shopping there, I see an extraordinary number of countries being represented.
Before we move on to further questions about Varana, let us tell you how amazing we found your decision to take a fresh plunge at this point in your career. Very inspiring. Were there apprehensions though?
Have you heard of the saying "fools rush in where angels fear to tread"? Perhaps it was a bit of that. After I sold Ray+Keshavan to WPP, I wanted to start out again one more time from the bottom up and learn something new from scratch. So I jumped into the pool and started thrashing around learning how to swim. Of course, I do have apprehensions on a daily basis! Our competition consists of the world's best and most famous brands. But I do think it is better to try something new and fail than to shy away from trying, fearing failure.
Having been such a stalwart in your career, did graphic designing help in any way in what you wanted Varana to grow into?
Although I was trained as a graphic designer, I have always been interested and engaged with the practice of design as a whole, irrespective of the medium or format. Whether it is architecture, product, textile, furniture, graphics, in the end, all man-made objects are manifestations of design. One can always work alongside domain experts for each medium. My graphic design background definitely equips me to create the surface graphics needed in textiles.
Can you talk about your initial collections?
Unlike most other fashion brands, Varana's collections are based on an annual concept or theme which centres our thinking and serves as the inspiration for all the work done in a single year — through spring, summer, autumn and winter. For example, the first year our collection called Eternal Love was based on Taj Mahal. We decided to work on The Taj because it is rich in iconography with a variety of motifs and patterns used in the inlay work on the walls and the floor.
We started by creating a bank of images relating to patterns, motifs, textures and colours connected with the Taj. We also identified the craft techniques that would fit conceptually with the theme. We worked with wood-block printing, aari embroidery and Jamdani weaving, all of which were brought in by the Mughals and flourished under their patronage.
In our second year we worked on a Kutch collection using mirrorwork embroidery on our cashmere sweaters, and Rabari ribbon embroidery on our tailored garments. We also worked with ajrakh printing and reinterpreted bandhni patterns in jacquard weaves.
Khadi looks stunning. You can wear it on the streets of London or at a soiree in Calcutta...
Khadi is absolutely extraordinary in its versatility. It is the fabric of the future as it has close to zero carbon footprint. An entirely handmade process, it signifies true luxury as no two metres are identical.
At Varana we are trying to demonstrate how khadi can be elevated to high fashion in contemporary shapes that can be worn by women in any part of the world. We work with different textures and weights of the fabric including khadi denim that is unique and beautiful.
Having such a rich reservoir of knowledge and having travelled all over the world, what do you think truly defines India, its heritage and culture?
While the developed world has lost most of its artisanal knowledge, India still has so much to offer in terms of its extraordinary textile and craft heritage. Some of our printing, dyeing and weaving techniques have been traced back to the time of the Indus Valley Civilisation, practised within families for generations with knowledge being handed down from father to son and mother to daughter. After all, it was these rich and beautiful fabrics that were so compelling for the East India Company, making them travel across the world to take back treasured silks and cottons from India to Europe.
Many ancient crafts and textile techniques are declining due to the onset of industrialisation and machine production. Young people are attracted to modern life and find the old complex techniques tedious and difficult. One can still find extremely skilled master craftspeople practising their trade today, but their numbers are certainly declining and it is not clear that their children will take to the trade. The first crafts to die out are the ones which can be easily replicated by machines. The complex hand weaving of brocades, ikat and complex printing techniques that cannot be created by machines will continue to have patronage and take longer to die out.
How much time is graphic designing taking now?
When we started Varana, I stopped taking on client commissions in graphic design. However, in my work at Varana, I do continue to engage with graphic design for our own collections as well as for the Varana brand — for our packaging, marketing collateral, website, Instagram…. There is always a lot of image-making and communication to be done.
What are your dreams for Varana?
I believe that we have already achieved global acceptance for our work. My dream is for Varana to have a real impact. To meaningfully impact the lives of our artisan partners, to truly help them to have continuing relevance, we have to reach a size and scale that will actually make a difference. For this we have to expand our reach and grow to many times our current size. All of us at Varana are absolutely aligned and working very hard towards that dream.