'Starbucks' cup of joy'
The coffee house chain collaborates with the Label Life's to launch its 'Optimist Series'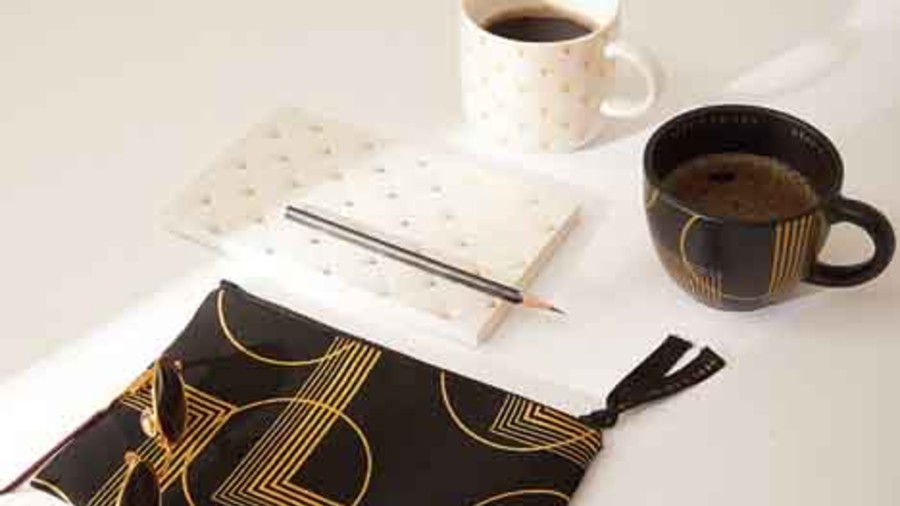 Sourced by the correspondent
---
Published 04.03.21, 12:56 AM
|
---
Collaborations are the new world order. Starbucks and The Label Life have joined hands to come up with the The Starbucks India Optimist Series which includes drinkware, mugs, notebooks and pouches... tasteful and clutter-free. t2 caught up with Navin Gurnaney, CEO, Tata Starbucks Pvt Ltd and The Label Life style editors Sussanne Khan, Malaika Arora and Bipasha Basu, on the making of the collection.
Navin Gurnaney, CEO, Tata Starbucks Pvt Ltd, on starting on a positive note and the role of music in his life. We could all do with a little bit of optimism in our lives always. And what better way than starting on a positive note, right?
I truly believe that positivity and optimism are the salient attributes to smoothly navigate the journey of life. In the current times, it is pivotal for brands to be a beacon of hope and joy. 'The Optimist Series' collection represents our mission to inspire and nurture the human spirit. The thoughtfully curated handcrafted collection is inspired by a design movement representative of hope and characterised by opulent flourishes of sunbursts, star-lights, prisms, and golden glamour. It celebrates the coffee-making routine — the familiarity of the flavour, the warmth of the mug in our hand and that first delectable sip. The engraved inscription "Here's to joy", on the inside of the mugs is a conscious decision as it is a reinforcing reminder for our customers to take a quiet moment and choose joy before they kick-start their busy routines every day.
How did the collaboration come together?
The Starbucks India Optimist Series was created to inculcate joy, optimism and hope for the future, all values that are at the heart of both the brands. At Tata Starbucks, we are looking at partners and opportunities which catalyse our humane connections with our customers in a fun and engaged fashion. By investing in partnerships like with The Label Life, Tata Starbucks will be able to continue delivering an elevated and ubiquitous third-place experience to our customers across the country, anytime, anywhere. The thoughtfully curated campaign reinforces our connection with our patrons while they enjoy an elevated experience of sipping their favourite Starbucks brew in one of the chic handcrafted collectibles.
What are your favourites from the collection?
The White Sun Burst Optimist mug has already replaced my favourite mug.
What do you think each of The Label Life style editors bring to the table?
The beautiful trio bring in creative credence along with an astute and chic fashion expertise to this thoughtful collaboration. The crux of our collaboration is our shared sensibilities and the joint aim to positively contribute/fulfil our responsibility towards the society and communities we live in.
Finally, what's your source of optimism?
Since childhood, music has been my inspiration and my strongest companion. It has been my pillar of strength and my sustained source of optimism bringing me respite and hope on gloomy days. These unprecedented times have taken a toll on all of us. My two cents to stay resilient is by pursuing activities/goals that bring us hope, joy and optimism. Whether it be a hobby, spending time with loved ones, or giving back to the society, no matter what the avenue/medium, so long the road takes us home to a life filled with peace and happiness.
The Label Life style editors — Sussanne Khan, Malaika Arora and Bipasha Basu — on the lockdown initiative, how they like their coffee and what's their source of optimism.
The merchandise looks lovely! Take us through the designing process. What were your inputs?
This collaboration stemmed during the lockdown from the collective aim to spread cheer and positivity. At a time when we all needed hope and an optimistic outlook, we decided our core ethos for this collaboration would be joy and hope. With joy as the inherent premise, we printed the words 'Here's to joy' on the merchandise so as to serve as a daily reminder to take a quiet moment every morning just for yourself before you dive head first into a new day. Tata Starbucks was the unanimous choice for this collaboration because it is the favourite neighbourhood store which resonates with all age groups and shares the same vision of contributing towards the betterment of the society. Our chic collection is inspired by the art deco movement.
We love how calming and neat it looks...
Chic and minimalism are the two attributes of our Optimist Series collection which symbolise calmness. The elevated thoughtful essentials blend into the morning ritual, bringing with it a sense of calm before embarking on our hectic routines. Being peaceful/staying calm is the secret to a joyful and happy life. We all need to work towards it every single day. Considering its importance, we have inscriptions titled #HereIsToJoy embossed on the handcrafted collectibles which will act as a daily reminder for our patrons to practice and imbibe this philosophy as part of their daily lives. Are you big on coffee?
Malaika: I do love coffee, but ensure to limit it to one cup a day. I indulge in hot water, lemon and ginger every day.
Sussanne: Oh yes! A steaming cortado is my everyday choice.
Bipasha: My mornings begin with a piping hot latte.
What is a match made in heaven with coffee?
Sussanne: The occasional petit four!
Malaika: Almond biscotti.
Bipasha: A bowl of fresh fruit.
Do you have a favourite coffee mug?
Malaika: My favourite from The Optimist Series collection is the Black Sun Rise Optimist Mug because I love the art deco rendition of the rising sun. It reaffirms my faith in the power of new beginnings.
Sussanne: Because I love Gothic homeware and architecture, I own a lot of black and grey pieces, and so, the White Sun Burst Optimist Mug is a gorgeous offset to styles I already own and is my chosen one from the #HereIsToJoy collection.
Bipasha: The chic pouch and the handy notebook are perfect for me as I am someone who is always on the go. It also holds a special place in my heart as it is handcrafted with the help of the specially-abled children from DARE School & Athulya Paper Studio of Srishti Charitable trust, Munnar.
What has been the journey like of working together?
It has been a fun and exhilarating journey ever since its inception. We three complement each other creatively and that reflects in our collections. With an ecosystem supported by a 71 per cent women-led team, we are 100 per cent in sync with what the customer desires. Each of us brings our respective expertise/individual unique personalities to the table and that is what gives our edits a universal appeal.
Where do you derive optimism from?
Sussanne: My two boys (Hridhaan and Hrehaan). They remind me to cherish the every day.
Malaika: My dog Casper! His inherent optimism is what keeps me going.
Bipasha: My immediate family. They are a constant reminder of all the good there is in the world.