Sunshine can well be her middle name. Bubbly and chirpy, her laughter can light up a room. As does the room at ITC Royal Bengal when Srabanti walks in for a special shoot. Post-shoot, the actress chats with The Telegraph on being positive, going with the flow and never planning to retire.
What is fashion for you?
I think it totally depends on you. You are your biggest critic. Wear clothes which you look and feel great in. If you are confident, you can wear anything.
Have you followed trends ever?
I wear whatever I like and don't go by trends. One day I might wear a sari and Western outfits the other day. I love all kinds of colours.
Is there anyone whose sense of fashion you like?
I like the way Kareena Kapoor Khan dresses. Casual and trendy. I follow her a lot. She oozes confidence and has a presence. I love the way she carries herself.
You too have a radiant presence. What's your mantra in life?
Think and be positive. Do whatever your heart desires. You should circumvent negative situations. Live life exactly how you want to live it. More so after the pandemic. Anything can happen at any moment. So, make full use of the life you have by the grace of God. Jeeyo jee bhar ke.
Are you peace loving by nature?
Hole bishal hoye jai, but I don't like it. I am a peace lover. Happiness is most important to me.
How have you navigated the downs?
You have to be your own counsellor. Tell yourself you must overcome this. Bhalo kharap miliye jibon. They precede each other. Help yourself and you must not break down.
Who or what has played the role of an anchor?
My family. My sister is my best friend. My parents and now my son. They have been with me through thick and thin. I am still in touch with my school friends. Aami chhuti pelei shomoy katai oder shathe. I can share my thoughts with them. I am close to my cousins also. They come to my house for addas and meals... my uncles and aunts. I am family-oriented.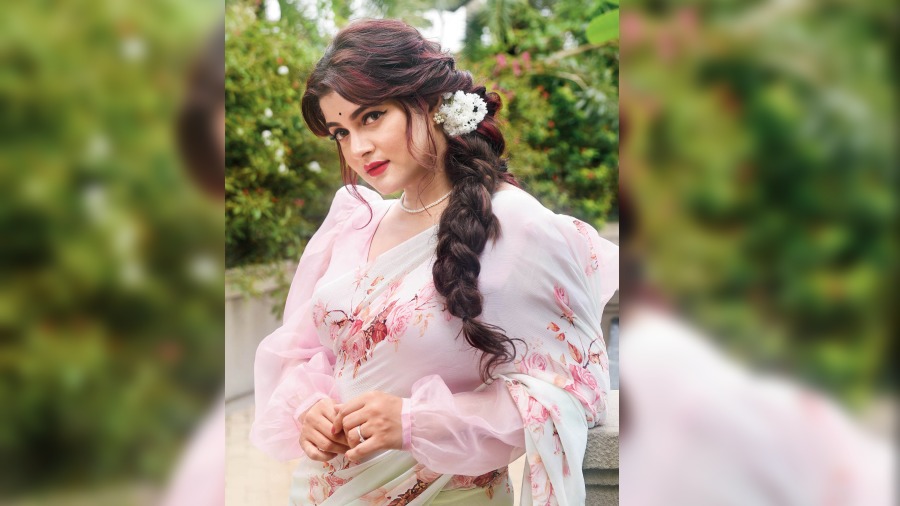 Srabanti looks exquisite in this retro look. Madhubala is an inspiration. The floral sari from Ethnic Boutique is complemented by a messy plait and winged liner. The red lips are wow. The look is complete with a bindi. "I love these kinds of saris and retro looks. I love florals in general," says the actress.
Do you connect with your real self when you are with them?
Exactly. I have grown up in a middle-class family. No one is born a star. My father was in the army. I am the real Srabanti with my family. Industry teo I have a lot of friends, with whom I am real. Even with my followers and audience, I like to be myself because I have got the love and adulation for that. Then of course there is my work which they have liked and appreciated. They have made me Srabanti Chatterjee. I try to give more than my hundred per cent and have got the support of my parents. I have got support from many others and have had their blessings in whatever little I have achieved in life.
How have you not let stardom go to your head?
I have been acting since I was a kid. In school, other students would take my autograph. I have been giving autographs from the age of eight-nine. And, my father has also taught me to never let it go to your head. He says consider yourself lucky that you are getting to do the work you are doing and enjoy that and love it thoroughly. Acting is my passion. Aamar prem. Stardom jekhane je tukui dyakhano dorkar, tar theke extra korle, nijoshoyta chole jai. I am a simple, fun-loving person. Everyone has some talent. I respect that. Aar stardom diye ki hobe? Ektai life. Bhalo theke, moja kore kaaj korle, bhalo laage na?
Your family doesn't treat you as a star surely?
Na, na! I am Gintu at home.
Does your mother, like all mothers, make you do work at home?
Sometimes. Bhabchho ki?! 'Ei ranna ta aaj Gintu'r haathei khabo'. (Laughs)
So, what would you cook for her?
My mother is a vegetarian. Maybe, I'll make aloo posto for her some day. My father loves mutton... So, iilish maachh and mutton... majhe majhe korte hoy. I feel good doing it!
Does your son Jhinuk scold you?
He is 17. Our age difference is of 16-17 years and we are more like siblings. If he doesn't like he'll say 'baaje lagchhe' directly and if he does, 'khub bhalo lagchhe!'
Has he supported all your decisions?
He is my son and he has pushed away negativity and always embraced positivity. Aamra dujon dujoner poripurok. He has felt bad and me too, but then we have made each other understand. Of course it impacts you. It impacts most people, but how you overcome it and move on, is important.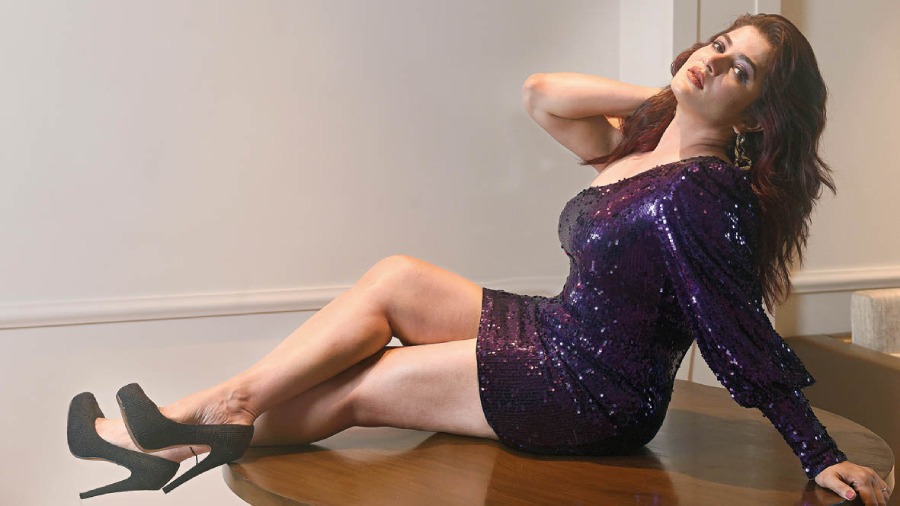 Srabanti is striking in this short purple number. Beach waves, black glittery eyes and nude glossy lips add to the oomph. "I might have worn this kind of a look on screen, but not for a shoot or even in my personal life. I was a little apprehensive as to how I would look, but after I got into it and the look was set, I felt darun," says Srabanti.
You have a lot of friends in the industry. What is the secret?
I am an entertainer. Mimi (Chakraborty) says if she is with me, she is always laughing.... (Laughs) We have worked together and shared rooms. Koushani (Mukherjee), Oindrila (Sen), Nusrat (Jahan), Subhashree (Ganguly)... I know they like me. (Laughs) I don't gossip. Shudhu moja.
Have you made a conscious choice not to get into people's personal lives?
I don't like it at all. To each his own. Neither can I solve their problems nor can they mine. We all have to solve our own problems.
What is the secret to your radiance?
Shono, I am not into zero-figure diets. I like my rice and would have it even if a little bit. And, water. I love drinking water.
And, you are a happy soul...
Always positive. You will get upset. I do too, but then you also have to figure your happiness. If you are happy, you'll glow.
You were born in the monsoon. Are you like water, adjusting and accommodating?
Paani aagar sar ke upar chala jaata hai toh, no (laughs), but more or less, I am understanding. My name means water and I love swimming. Otai toh life. Ota chhara aar ki aache jibone?
And you like to go with the flow?
Right! (Laughs)
So no retirement plan?
Not at all. I am a workaholic.
Don't you feel like cutting down on work after so many years of working?
I want to work till my last breath. Aamar camera'r shathe ekta prem aache.
How do you want to live your life for say, the next 50 years?
Ore baba! I don't want to live that long! (Laughs) There would be ups and downs in life, but we are lucky to be born human and I pray the unconditional love which has come my way, to be there with me forever. Even if someone is being negative, I'd like to be positive around them and I hope that my family will be there with me, like always.
Pictures: Pabitra Das
Styling: Madhab Sarkar
Hair: Gini Halder
Make-up: Babusona Saha
Location: ITC Royal Bengal
Bolly film-makers Srabanti would like to work with:
Imtiaz Ali
Anurag Basu
Kabir Khan
Sanjay Leela Bhansali. "His films are a dream."
Fun peers
Mimi (Chakraborty) and I click. We chill a lot. I would mention Subhashree (Ganguly) and Nusrat (Jahan) also. I like Priyanka Sarkar's acting too. Ankush is very entertaining. Ritwickda'r kothao bolbo. I recently worked with him in London.