Spoilt for choice
Read more below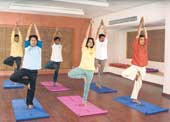 ---
Published 27.08.06, 12:00 AM
|
---
At first look, Urban Yoga store on a Bangalore high street is like any other upmarket apparel shop. Clothes line the shop floor, the décor is traditional and the music is spiritual — in sync with the yoga apparel sold at the store, which opened eight months ago.
But the store offers a surprise. A yoga centre runs alongside the shop, where customers can enrol for a crash course in yoga, buy yoga books, CDs and DVDs or surf for yoga-related information in research papers stored in a laptop at the centre. On their way out, customers can pick up tulsi leaves from the counter, to chew and get healthy herbally. "The yoga centre is a value-added service offered to our customers," says Shyam P. Nair, business development manager, Urban Yoga.
Marketers call this an experiential branding exercise. "The yoga centre brings the clothes brand alive for customers. They see Urban Yoga clothes being put to real-time use. It creates awareness and interest in the brand," says Harish Bijoor, chief executive officer (CEO), Harish Bijoor Consults Inc, the Bangalore-based business strategy consulting firm.
The Urban Yoga store — which has a yoga centre in Bangalore and Hyderabad —is but one example of the innovative concepts retailers are resorting to, to display and hawk their wares.
Consider: last year, Jealous Jeans, a casual clothing brand for teenage girls, set up a modelling ramp outside the changing rooms at its Bangalore store. "We conducted a survey which found that girls don't shop alone. Cat-walking on the ramp aims to make group shopping fun," says Prem Gupta, head, Jealous Jeans. The ramp was just a teaser. Jealous Jeans is currently working on plans to set up modelling studios in its store — minus photographers and real cameras, of course. "Girls can strut around in the studio and feel like supermodels," says Gupta. Jealous Jeans is set to open 20 stores — all designed as studio settings — across the country by the year end.
Watch company Xylys' stores — currently open in Hyderabad and Bangalore —use sophisticated technology to bring the watch brand alive. Walk into a store and you're greeted by an information-packed marble slab called the River of Time. Place your palm on any moving maple leaf image on the slab and it opens up a world of information on Xylys brand ambassadors, watches and time in general.
"This is an entertainment and education tool. It helps customers get close to the brand," explains Suparna Mitra, marketing head, Titan Industries. A Xylys store that will open in Mumbai this month will duplicate the concept.
Clearly, retail is becoming a creative business. Food Bazaar has started a chakki mill at its outlet at Goregaon in Mumbai. This supplies fresh flour to customers. Last year, Shoppers Stop created a store-within-a-store, when it launched its exclusive prêt corner called 'Buzz'. Nautica Navigator — the global lifestyle brand that has set up its flagship store in Bangalore — has its brand identity stamped across its store. The store has striped flooring and portholes on the trial room doors.
That's not all. Urban Yoga is set to roll out an organic food café at its yoga centre in Hyderabad, where customers can fill up on Chawanprash cookies and herbal tea after an invigorating yoga session.
So why are retailers trying every trick in the book to bring in customers? "As the retail industry grows, it is faced with a problem of differentiation. It is necessary for companies to think innovatively to carve a niche for themselves," explains Gibson G. Vedamani, chief executive officer (CEO), Retailers Association of India.
"The idea is to cut the clutter in a crowded market and attract eyeballs," says Bijoor. Adds Gupta, "In shopping malls, scores of brands compete for attention. Retailers have to offer new, exotic flavours to get customers to walk into their store."
Also, the globe trotting Indian consumer has changed. "Price marketing has become passé. Customers want top quality and creative products and services, costs notwithstanding," says Urban Yoga's Nair.
Creative innovations in India's organised retail industry are also perhaps a sign of the good times. "They indicate that the industry is growing and getting competitive," says Bijoor. According to a KPMG report (Consumer markets in India — the next big thing ), the organised retail industry's annual sales are growing by over 15 per cent. "Five years ago, the industry was growing by 7.2 per cent annually. The growth rate has doubled," exclaims Bijoor.
Such rapid growth has made retail stores an integrated part of brand strategy. Says Mitra about the hi-tech Xylys store, "We wanted the store to say something about the brand. Since Xylys symbolises a high achiever, we made superior technology the backbone of the store."
Certainly, innovation is paying off for retailers. Jealous Jeans' ramp store records 30 to 40 per cent greater footfall compared to its six other stores across India. "The ramp store also has a sale conversion rate of 80 per cent versus the 50 per cent sale conversion rate of the other stores," says Gupta. The time gizmo has generated curiosity at the Xylys store. "We get a large number of walk-ins in our store. Of these, 70 per cent stay to check out the watches," says Mitra.
With all this on offer and shops jockeying to outdo one another, the going will only get better for shoppers.