Southern spice
Read more below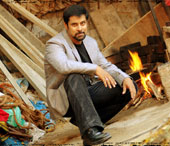 ---
Published 04.06.06, 12:00 AM
|
---
The Tamil cinema's rising super star Vikram is on a new high. And right now it does not matter if his film Aparichit, dubbed in Hindi for north India, got a lukewarm response from Hindi film viewers. What's exciting him is the newfound recognition he's earned in Mumbai. "For the first time people at Mumbai airport ask for my autograph," says Vikram.
To be sure, his modesty veils his real star status. Sample this. Today Vikram's asking price is Rs 4 crore a film. That may be less than what Rajnikanth commands but is comparable to the price paid to Shah Rukh Khan. That's not all. In its original Tamil version, Vikram's film Anniyan (Aparichit) was a super duper hit. Released in 2005, Anniyan raked in Rs 50 crore for its distributors. Interestingly, the Tamil film became the highest grosser in Kerala as well, while its dubbed version in Telegu (Aparichitudu) also did brisk business in Andhra Pradesh.
Needless to say, Vikram is south India's super hero whose popularity cuts across the three states. Among his earlier hits were Dhill, Dhool, Saami and Pithamagan. "Though these films did well, Anniyan has given me a wide reach and the feeling that I have made it to the top," says the actor who started his career in Malayalam films several years ago.
Vikram believes that Aparichit, despite its poor collections in the Hindi-speaking market, has exposed him to a new audience. "The film had a decent start at the multiplexes," he says. "It's given me a new market and I hope to work on it," he says. In the near future, Vikram is likely to do a Hindi film for Ram Gopal Varma and a cameo in Mani Ratnam's next film (after Guru starring Aishwarya Rai) with Aamir Khan in the lead role.
The southern heart-throb is also keen to work with directors like Rakeysh Mehra (of Rang De Basanti fame), Sanjay Leela Bhansali and Farhan Akhtar. "I will definitely read the script before deciding on a film project, though," he says. It's not easy for a south Indian film hero to make it big in Bollywood as one must shift base to Mumbai for that, he feels.
Today, Vikram may be a super star in the south, but success did not come to him on a platter. Despite his looks, talent and determination, it took him almost 10 years to taste real success at the box office. He began by doing odd roles in Tamil, Malayalam and Telegu films and dubbing for other artistes. Early in his career, he worked with Malayalam film star Mammootty in films like Sainiam and Indraprastham. His big break came with director Bala's Sethu. There's been no looking back since.
Vikram vibes well with directors such as Bala, Dharani and Shankar (directors and others in south India don't use their caste-related surnames) who gave him roles that were critically acclaimed and huge box-office hits. Says the actor: "They know the pulse of today's young audience. They understand the commercial aspects of film making and, above all, give me a performance-oriented role."
Like southern super stars such as Rajnikanth, Kamal Hassan, Chiranjeevi, Mammootty, Mohanlal and Upendra, Vikram also focuses on commercial cinema. Says he: "Southern films are hero dominated where the hero is signed up first. Everything else ? the story, director, heroine, ? is decided later."
However, his stupendous success in commercial cinema has not blunted his appetite for offbeat roles that would give him an opportunity to showcase his acting prowess. He claims that he likes doing all sorts of roles but, at the end of the day, the performance has to appeal to the masses.
Besides, the cost of film making is on the rise. Most films now take Rs 12 crore to Rs 15 crore to make. "I cannot experiment any longer as I do only one film a year which has to reach out to the entire south," he says. "I would love to do an Adoor Gopalakrishnan film, but I am forced to do commercially viable projects at the moment as such films gave me the stardom, phenomenal reach and support from fans," says Vikram.
Born to a Hindu mother and Christian father, Vikram was christened Kennedy by his parents. And even as Kennedy, a student at Montford School at Yercaud in Tamil Nadu, he dreamt of being an actor ? he blames it on his genes. Says the Loyola College, Chennai, graduate: "My father, Vinod, had tried to make a career in films but failed. It must run in our blood, as now my young son, Dhruv, also dreams of getting into films."
A passionate actor, Vikram is ever ready to walk that extra mile to play the character. "When I was doing Sethu, I survived on egg whites, carrot juice and beetroot for a month. I lost 16 kg in less than 30 days," he says. Why? Because director Bala told him that he should have just enough stamina to walk on to the sets! On the other hand, for Dhill, he gorged on 25 egg whites and one whole cooked chicken to add to his bulk.
Vikram is now working with A.M. Ratnam in a film titled Bheema. As the name suggests, he is a tough character ? mentally and physically. "So I need to put on some weight and look a little heavy," he smiles.
The actor who is smitten by Robert De Nero's acting capabilities says that he enjoys watching good Hollywood movies, especially thrillers. In India, he admires Kamal Hassan. "And I must say that I gained a great deal by observing the subtle but effective acting style of great actors like Mammootty and Mohanlal."
In the recent times, Vikram has been going to the theatres to watch films. "It's more to get a feel of the ambience," he says. His philosophy in life is simple ? "Never let failure go to your heart and success to your head. I just want to be level-headed."