SOS Kolkata co-stars Nusrat Jahan and Yash get into Puja classics for this shoot
Nusrat and Yash Dasgupta play ATS peers in Puja release SOS Kolkata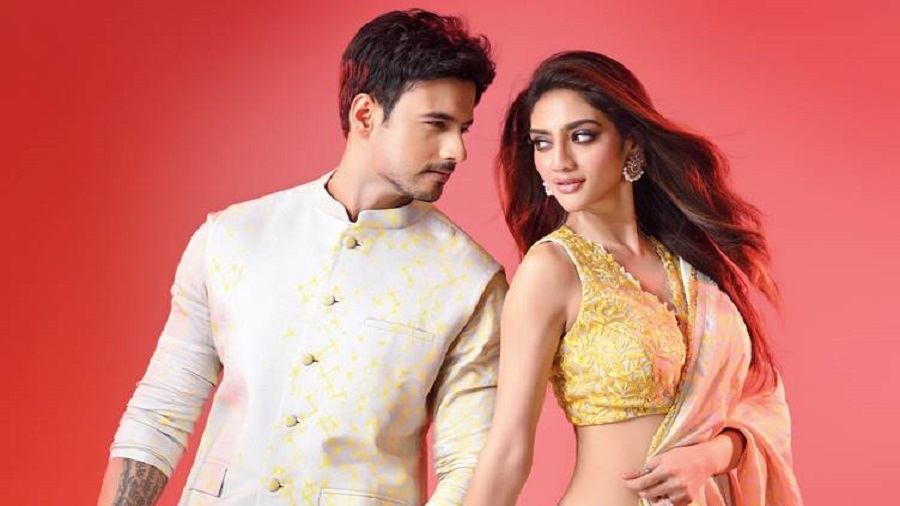 ---
Published 22.10.20, 09:09 PM
|
---
Nusrat Jahan and Yash Dasgupta play ATS peers in Puja release SOS Kolkata, directed by Anshuman Pratyush. A tete-e-tete with the duo on all things SOS and Pujas, of course!

What's your Puja wardrobe like?
Yash: I don't wear too much ethnic, but this time my mom has been insisting that I try it. With the shoot too, my mindset has changed. I went for a Puja opening the other day and I wore kurta-pyjama-Jawahar coat. I am falling in love with it.
Nusrat: Pujas are all about colours. Give me a yellow and I am happy. For the evening give me a blue and I am super happy. Red is probably for a night-out with friends. I thought I will wear pastels. How to avoid a red on Ashtami or a beautiful purple and blue on Navami?

What's great about shooting with each other?
Yash: We share a great bond and have each other's back. We are a team. The shoot was a lot to fun. I like to dress up and this was especially for the Pujas.
Nusrat: I think this is my first photo shoot with Yash. That is something different. He is a nice co-actor. He won't let you fall when you are in those stiletto boots.

What can you tell us about each other that we don't know?
Yash: She comes across as a powerful woman, but she has a different side. She has a kid in her and you need to take care of that... I am not complaining... that doesn't surface in public.
Nusrat: He is not as serious as we all perceive him. He laughs and cracks jokes. Normally, he is a little short-tempered, but at the shoot he was calm and fuss-free.

Nusrat, you are looking fabulous in SOS Kolkata…
Nusrat: I worked out in the last phase of lockdown. In the first phase I only cooked and ate. Then SOS came to me. So, it just so happened that the fit-me clicked with SOS. They had offered me the role opposite Yash, but I chose to play Amanda Jones. You don't always have to be opposite the hero. You can walk beside the hero too. I am done coyly smiling and romancing, not that I don't like it.

And, you are kicking ass…
Nusrat: I have always kicked ass! (Laugh) Now, like literally on screen. I was a little scared though. I have always seen heroes do action and I can't even run properly. I thought of giving it a try because I'll learn something new. I had no idea that false bullets too make noise. I got scared, but then I got a grip over myself. The action director made me do the weirdest possible things. It had to look realistic and that I could get hurt too. And, I did get hurt… aamar haath shoja hochhilo na. This film taught that kicking ass is fun. We all should learn basic self-defence.