Sisters Under The Skin
Read more below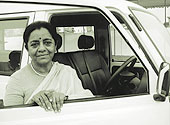 ---
Published 11.04.04, 12:00 AM
|
---
BATTLE OF WITS: (From top) Shyama Singh; Giridhar Gamang and Hema Gamang
One, a barely educated tribal, the other, a member of a high-profile family with creative pursuits of her own. The first was destined for early marriage and motherhood, the second made it big as a designer. No two women politicians could be more dissimilar than Hema Gamang and Shyama Singh, but they share a particular twist of fate: much before the country goes to the polls, these two Congress members of Parliament have lost their seats. Not to political rivals, but to their husbands.
Former Union minister Giridhar Gamang and former Delhi police commissioner Nikhil Kumar are contesting from Koraput in Orissa and Aurangabad in Bihar — seats their wives won handsomely in the last Lok Sabha elections. Though both women nursed their constituencies well in the last four-and-a-half years, they had to give up their seats simply because their husbands wanted to contest from there. And much to their dismay, the Congress, ironically led by a woman, backed their husbands on the ground that they had "better" prospects of winning. In feudal Orissa and Bihar, patriarchy still rules. Women parliamentarians may be the lawmakers for a country, but back at home, they are merely wives. However, Hema Gamang and Shyama Singh are fighting back — in their own ways — refusing to take the diktat of their husbands — and that of the party — lying down. Hema comes from a tribal family in Orissa's far-flung Koraput district. Shyama, on the other hand, belongs to a powerful family of bureaucrats and politicians in Bihar. Her father, C.P. Singh, was a civil servant and mother Madhuri Singh was elected twice to the Lok Sabha from Purnia in the Eighties.
As a child, Hema trekked for miles to go to school. Shyama went to St Joseph's convent in Patna in a chauffeur-driven car. By the time she finished her master's from Delhi University, she was married to Nikhil Kumar, a 1963-batch Indian Police Service officer assigned to the Union Territories. Hema had barely got to class XII when she was married off in 1975 to Giridhar Gamang, the Congress MP from Koraput who had set a record by winning the seat eight times. Giridhar nudged Hema, busy raising three children, into politics when he took over as chief minister in the late Nineties.
Giridhar clearly did not want to lose Koraput, the constituency he had vacated to become chief minister. In a bid to keep the seat within the family, he persuaded the high command to field his wife. In 1999, Hema, ably supported by her husband, contested and won from Koraput. For Shyama Singh, it was, however, a conscious decision to get into electoral politics. Charmed into the Congress by Rajiv Gandhi, the late Prime Minister she had met at a social event in Delhi, Shyama favoured Aurangabad over other constituencies in Bihar in her bid to enter Parliament in 1989. She had good reasons. Former Bihar CM and her father-in-law Satyanarayan Sinha had once represented Aurangabad, the constituency with a strong Rajput population — the community the family belongs to. She lost, with the entire opposition ganging up against her. The next 10 years, she stayed away from "active politics", focussing instead on her main hobbies — gardening and designing. By the time she fought an election again in 1999, she was known more as a designer of exquisite saris and for her prize-winning blooms than anything else. But this time, she won.
"After that it was just work, work and work. It was the busiest time of my life as I devoted myself to my constituency," Shyama, 60, says. She reels off a long list of accomplishments. Roofs came up over the open school buildings; toilets were added to women's colleges; a computer centre was set up in the backward district. They were all funded from the "local area development" funds she received as a member of Parliament. In the Lok Sabha, she refused to remain "a silent spectator" and tried to "make the voice of Aurangabad heard". "I cried myself hoarse in the Lok Sabha over the murder of Satyendra Dubey (the IIT engineer protesting against corruption in the Prime Minister's golden triangle highway project)," she says. But her "crowning achievement" was reviving the 2200-MW super-thermal project her father-in-law had drawn up for Aurangabad years ago. Though railway minister Nitish Kumar took the credit for it, Shyama insists that she had "run from pillar to post" to revive the dead project as much of her constituency still goes without electricity. "It's a man's world and they were jealous of my accomplishments," she says.
Far away in Koraput, Hema, too, had thrown herself into her new role as an MP. Soon after her victory, she travelled through her constituency to "get to know" the people and their problems. "I visited the block headquarters in the middle of the night and held meetings with the panchayat samity members even though Koraput is a Naxalite area," Hema, 40, says. At the end of her term, she emerged as one of the few MPs in the country to spend the entire amount allocated to her for developing her constituency. In her Vitthalbhai Patel flat in central Delhi, Hema took lessons in Hindi and English. "It was so that I could speak and understand what they were saying in Parliament," she says.
Hema believes that her increasing popularity among people and party workers had made her husband jealous. Trouble started after Giridhar was ousted as chief minister of Orissa following a brief nine-month tenure. Since then, he has been jobless. Gamang rushed to Delhi a day after the Congress announced Hema as its candidate from Koraput on March 10. He met party president Sonia Gandhi and demanded that he be allowed to fight from Koraput. "Soniaji agreed after my husband threatened to resign from the party," the wife says. News channels reported that he was also contemplating divorce. Giridhar, however, denied that he had forced his wife out. "The party decided to drop her, not me," he says, refusing to elaborate since "it's a family matter".
For Shyama Singh, the matter didn't become a public issue. A month ago, she had invited Patna-based reporters to her father-in-law's sprawling bungalow to discuss her prospects this election from Aurangabad. She, however, says she gave up the seat on her own once she learnt that Kumar — now retired — wanted to contest from Aurangabad. "It was a difficult decision, but I made it myself. There is absolutely no ill feeling between us," she says. But in the same breath, she says the party workers felt let down. "I had grown so close to them that they wanted me to contest again. It would be hard for them to adjust to a new candidate." Nikhil Kumar says his wife had proposed his name to the party high command. "She even wrote a letter to the AICC general secretary, suggesting my name. I told her not to, but she wouldn't listen," the husband says. "But nobody can take away my right to serve the people of my constituency. I will continue to work for them," the wife adds, rage barely suppressed. Hema has, meanwhile, walked out on Giridhar and moved in with her parents, who are helping her fight the Assembly election from Gunpur.
Though she says that she will not file for divorce because of her children, Hema stresses that she won't go back to her husband either. "I don't think we can live together after what he has done," she says, her voice choking. "I had stood by him for more than two decades, and this is what I have got in return." To her, the greatest "revenge" would be if both houses were to pass the women's Bill and make Koraput a reserved constituency for women.That's a big "if". There are, after all, a great many Gamangs and Kumars in Parliament.