Over the past one year, when the entire world came to a halt courtesy the pandemic, it gave rise to a lot of micro fashion trends. People got to their creative best and used their time to do something unique, which often trended. One trend that has taken the Instagram by storm is scraves. The main trend being scarf tops (wearing a scarf as top in various ways). International celebs like Dua Lipa and Kendall Jenner were spotted wearing woollen and satin scarves as tops respectively. Other celebs have styled the scarf in various other ways.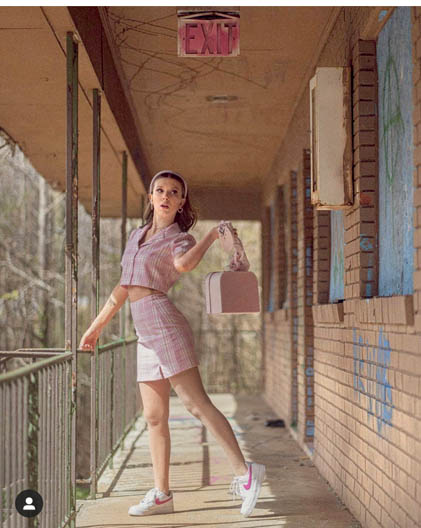 Adding a touch of the trend in your accessory is a good idea. Stranger Things star Millie Bobby Brown has been spotted dressing up her handbag with matchy scarf.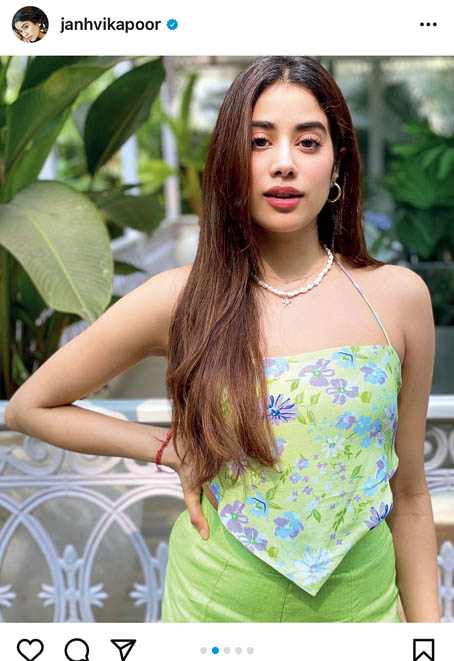 Trust new-gen Bolly beauties like Janhvi Kapoor to have their fashion game on point. The actress has been seen showing some major love for scarf tops lately.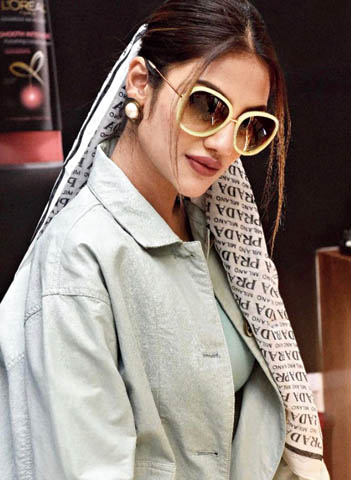 If you have long or mid-length hair, you can tie your hair with a long scarf, just like Nusrat Jahan, who has been rocking the style lately.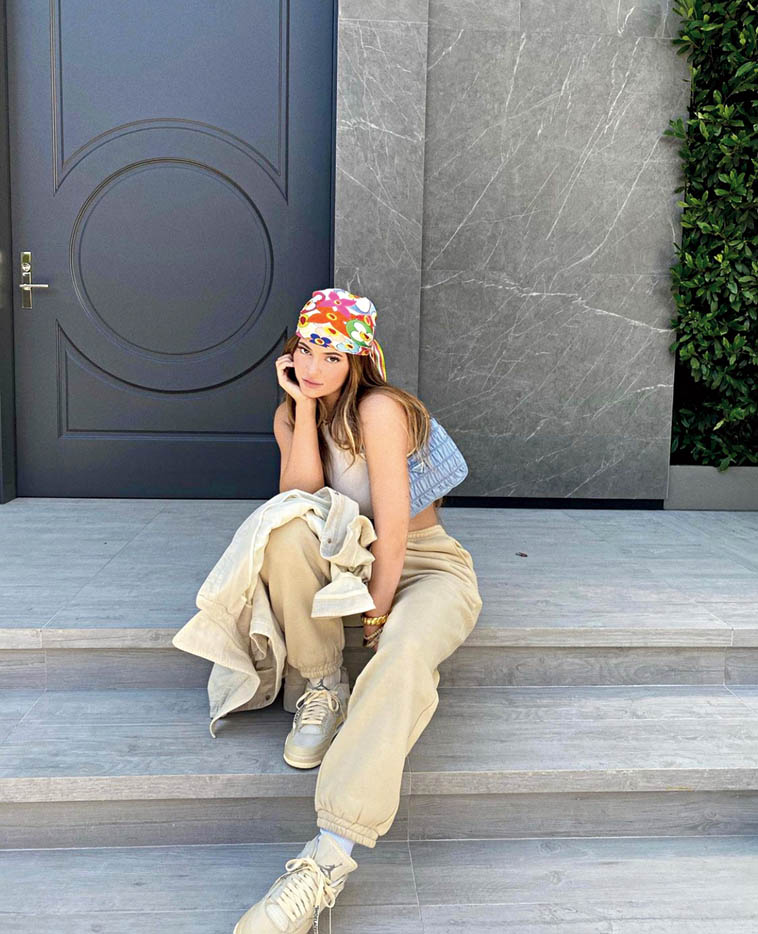 Wearing a scarf in a bandana style around your head has been there for a long time now. Recently, Kylie Jenner brought the look back as she shared a picture on Instagram wearing a multicoloured scarf covering her head.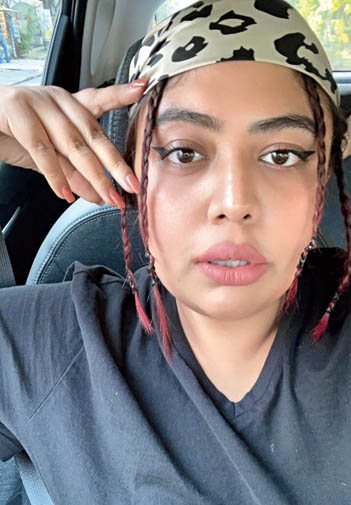 Stylist Ankita Banerjee shares tips and tricks to keep in mind before wearing a scarf as a top. Plus, step-wise break up of two scarf top looks — basic scarf bandeau and as a sexy bandeau top. "The first step is making sure you have a scarf that's big enough. A 35-inch square is a good start, but the dimensions don't really matter. Just as long as it's big enough to cover the parts you want to be covered with a bit extra for more flexibility in style. Ideally, go for patterned scarf that's not too sheer," said Ankita.
DO
1. Opt for a tonal look. Matching colours of the scarf with your outfit will streamline and 'de-bulk' your look.
2. When making your scarf the focal point of the outfit, that is a pattern or bright colour, keep the base one colour.
3. Wear your hair in an up-do or classic ponytail, to reduce bulkiness.
4. Choose colours that flatter and complement the skin tone, hair and eye colour.
DON'T
1. Wear a scarf that is too big for your frame as it will drown you in fabric, add bulk and overwhelm your face and outfit.
2. Tie or wrap it haphazardly. Neat and simple folds and ties are far more stylish and flattering.
3. Over accessorise. Keep jewellery to minimum and let the scarf be the statement.
4. Go for big motifs and clashing prints.
BASIC SCARF BANDEAU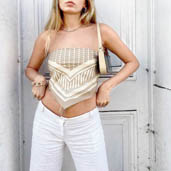 1. Make sure the scarf fits around your bust with enough room to tie it in the back.
2. Take one corner of the scarf and fold it over diagonally. If your scarf isn't a perfect square, fold it diagonally as good as you can.
3. Next, take the long horizontal side — the side with the fold — and fold it over about three to four inches inwards to create a bandeau shape.
4. Take the folded side again and fold it over one or two more times. Fold according to your size. How many times and how small you fold the scarf depends on how big your bust is and how small you want the bandeau to be in the end.
5. Fold until the scarf is the size you want.
6. Place the folded scarf around your chest with the open side at the back.
7. Tie the scarf with the usual overhand knot, just like you would tie a halter top and double knot for extra security if you like.
French knotted BANDEAU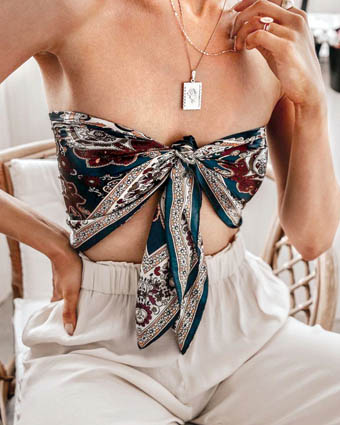 1. Start with a scarf that is large enough to cover your bust.
2. Fold two corners diagonally towards each other, making them overlap. This will make the front and centre part quite wide and the backside very small. You can fold the scarf again if you want the front smaller or narrower.
3. Tie the ends at the back and circle the ends back around to the front.
4. Tie a knot under your bust. This gives your back a sleek, sexy look without the big knot in the centre of your back. And your front side gets a nice little lift!
5. The knot and ends can easily be hidden by tucking them under the front of the bandeau. You can hide the knot completely with a little tucking and positioning. Or you can let a little bit of the ends hang out. Whichever look you prefer is fine.
Shop the trend 1 Wrap around a tiny printed silk scarf around your neck over a solid-colour top. Rs 599 @myntra.com
2 The Audrey Hepburn way of tying a scarf is forever classy. Try this black printed scarf. Rs 199 @myntra.com
3 If you are not a master of wrapping and knotting, opt for this ready-made tie-dye cami vest top that gives an exact look of a scarf tied as a top. Rs 790 @urbanic.com
4 This floral-printed silk scarf can be tied into a lovely bandeau top that you can wear with white pants. Rs 2,790 @zara.com
5 If you want to tie your hair with a scarf like Nusrat, buy this printed scarf scrunchie. Rs 790 @zara.com
6 A bag? A scarf? What about both? A total win! We are crushing on this crossbody bag with scarf. Rs 2,990 @zara.com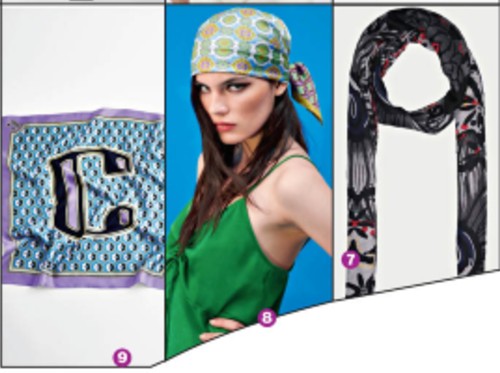 7 If you are not a silk person, opt for breathable cotton scarves and turn them into cute knotted tops at the back. Rs 559 @myntra.com
8 Fancy wearing a scarf like a bandana just like Kylie Jenner? Try it with this printed scarf. Rs 990 @zara.com
9This silk scarf with initials is on fleek! Rs 1,990 @zara.com