Say it with colours
Meet 50-year-old garden décor artist Mondira Verma, who add hues to people's lives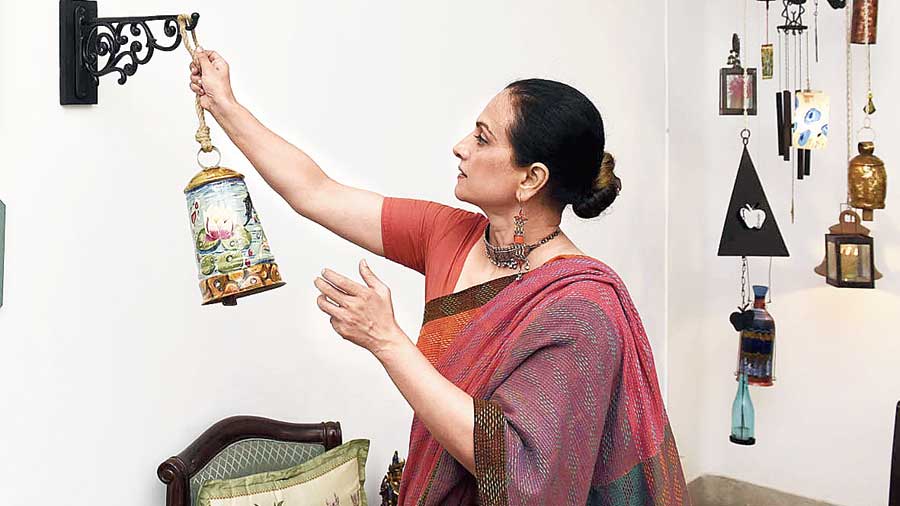 ---
Published 26.08.21, 06:37 AM
|
---
She loves to paint the garden red. Whites and greys are always teamed with shades of gold, vermilion and turquoise blue. Pink is her personal favourite but so is warm yellow. Her persona is as cheerful. Meet 50-year-old garden décor artist Mondira Verma, who is all that and more.
Verma loves to add colours to people's lives, and her own, through her artwork. From wooden bird houses, wrought-iron garden sticks and terracotta pots to the staid coffee table or a discarded vase at home, Verma paints anything and everything in bright hues and quirky motifs.
"I was never trained in art. In fact, I did not want to be bound by rules," says the artist who started her own brand of home and garden décor, Mimosa, in 2018. Before that she had been painting only to brighten things up.
A teacher by profession, Verma took to gardening first. She would move with her husband Mayank to different places and everywhere she went she tried to do up the home garden. In no time colourful birds, bees, butterflies and fishes would appear in the pots, benches and even on the pebbles of her gardens. "I started when I was living in Munger in 2002," says Verma, vibrant in a red, pink and purple handloom sari and bright Afghan jewellery. Moving to Calcutta and getting a job in a city gallery opened up more learning opportunities.
She now dabbles in tribal and animal motifs. "I love details and the play of hues. There is no fixed style that I follow and I have no favourite colour. I work according to my mood," she says, showcasing her freshly-painted garden sticks of animal silhouettes. A green and yellow dragonfly and a pink, purple and teal owl stand ready to adorn someone's garden, dashes of gold and silver in them promising to glitter in the dark. John Lennon and a purple shoe with white laces stands nearby among a basketful of quirky pebbles.
"I prefer using recycled raw materials . I scour then from all over India. I have been working a lot with local terracotta artisans. Even during the pandemic, I have been getting quite a few orders for export,"she says. She works out of the garage space of her Alipore home.
Her home has also been transformed by colours. A plain brass horse, that stood on the living room mantelpiece, is now all blue, black and glistening. A wooden side table now resembles an aquarium. "I paint anything that I find boring," adds Verma, pointing at a vase that was discarded by a neighbour but has now got a new life.  "I let colours do the talking," says Verma.