Say hello to Couture Terrestrial
A new indo-western collection by designer Priyanka Bhalotiaa at Estri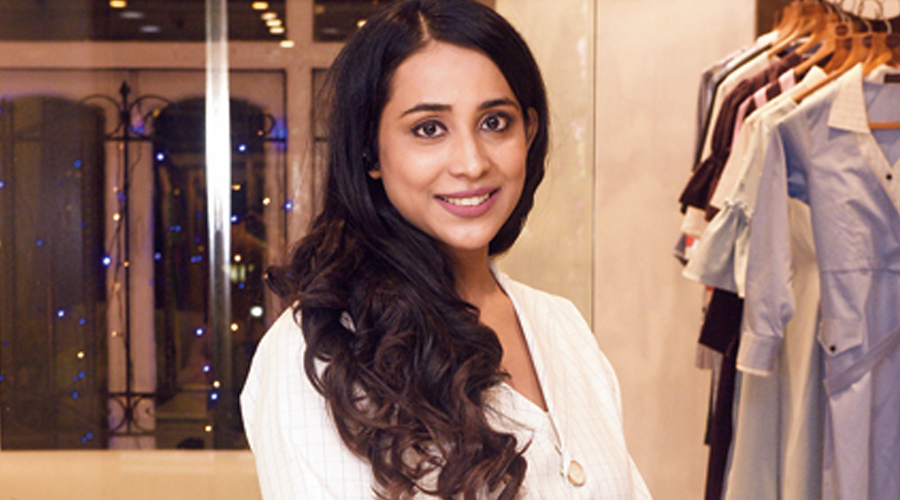 ---
|
Calcutta
|
Published 10.12.20, 12:39 AM
---
Fun, fashion talk, make-up tips and delicious savouries made for a muted yet vibrant celebration with limited guests at the launch of Couture Terrestrial, the new indo-western collection by designer Priyanka Bhalotiaa at Estri, Elgin Road on December 4. Inspired by the "vibrance and rustic hues of nature", Bhalotiaa's collection is an amalgamation of long dresses, pant suits, jumpsuits and other formal to semi-formal wear in hues of bold blue, maroon, browns and also baby pink and warm blue.
"With Couture Terrestrial, we bring forth the most resplendent taste in vogue with subtle shades blended with the perfect hues of vibrancy. Being inspired by rustic earthy elements, I used dark colours as well as hues like pink of sunset sky or blue of the clear sky. Rich imported Italian and cotton fabric of premium quality has been used to design these sophisticated and intricate pieces. Each of these pieces makes a statement in itself and is worthy of evening parties, events and celebrations," said Priyanka Bhalotiaa, designer and owner, Estri.
QUICK CHAT WITH KOUSHANI
What is your winter style statement like?
I believe in being fashionable all the time when I step out of home. Be it the airport look, gym look... though in Tollywood it is not like Bombay that we always have to maintain so many looks, but I believe in that. After being an actress I have always tried to keep my style quotient high. I always keep myself updated with trends and for the winters, obviously sweatshirts, hoodies, comfy joggers. When I step out, I step out in a very casual-chic manner.
How do you dress up for your winter parties?
For party, it has to be sequins. I am already stocking up my closet with a lot of sequinned options... for 24th, 25th and 31st. What I like about winters is that you can team up your winter dress or halter dress with those woollen wrap-arounds worn around the shoulder that look really sexy and a classy belt and a nice pair of shoes.
What is your most repeated party outfit?
I am somebody who is reputed in the industry for not repeating my clothes. I really don't. It is very rarely that I repeat outfits, if I am wearing a party-wear and there are different groups of people who have not seen it before only then I repeat the outfit. I am a shopaholic, I can keep buying all through the year. I don't really need to. If I need anything, I can just tell my stylists to get it done. But if there's an emergency or anything, I need to have it in my closet so I always keep it.
One outfit you feel you cannot go wrong with for a party?
Sari.
Do you love experimenting with your party looks?
I am someone who is always experimenting with the looks, my hairstyle, my make-up. I do not keep myself restricted to anything monotonous. Throughout my journey in this industry, I have kept my style always updated with the trends. Whenever I ask my stylist to style me for any event too it is always according to something from Bombay or Hollywood. Because I really like those styles. I keep nagging my stylist that I have to be the head-turner, I have to be the showstopper.
How do you like your party looks to be?
All glam! Party means all glamming up.
Three must-haves in your party make-up kit?
Lip gloss. I do not do much of touch-ups because I do not really need it and I don't sweat much. The face mist comes second and lipsticks.
What kind of a party person are you?
Crazy and I am also a dancer. I keep on dancing all the time; I can pretend to be completely drunk at a party without even drinking.
Any party faux pas that you can recall?
It happened once when I wore heels which I bought from abroad and I styled it with one of my outfits at a party and all of a sudden when it was my moment to be on stage, my heel broke. So, that was the most embarrassing thing the happened to me, as I literally had to go barefeet, talk to people and come back but I managed the situation quite well with confidence.
One outfit that brings out your most confident self?
Indian outfits. I have more interest in wearing Indian all the time. I wear westerns too. But a salwar or a nice Indo-western fusion wear or maybe a cocktail sari. These are the ones that give me confidence.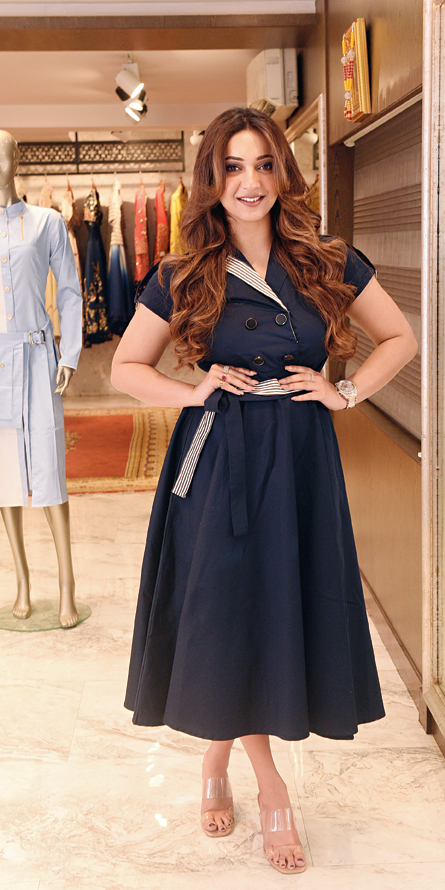 Koushani Mukherjee dropped by wearing an outfit from the new collection, looking sophisticated and stunning in this midnight blue dress designed with a striped half collar and a hanging striped belt. The style is enhanced with metal buttons on the front and metal detailing on the sleeves. "I love something that is very classy and sophisticated, even the outfit I am wearing today from her label embodies that. It defines me, and she is more of a friend. If people are planning to purchase something and even if they want customised outfits they can get Priyanka's advice, she can get you the ultimate look for the season. They are very good with the fitting. I believe in this brand and it is very close to my heart. I want to wish them luck with the new collection, may it win all hearts," said Koushani.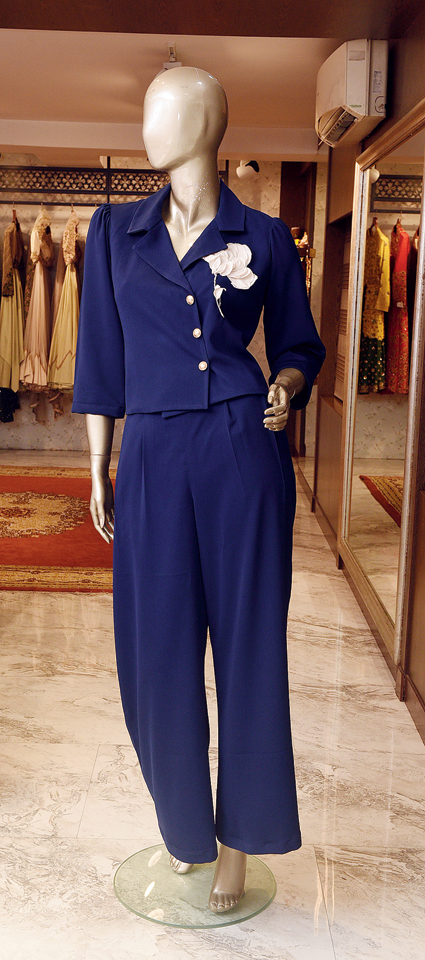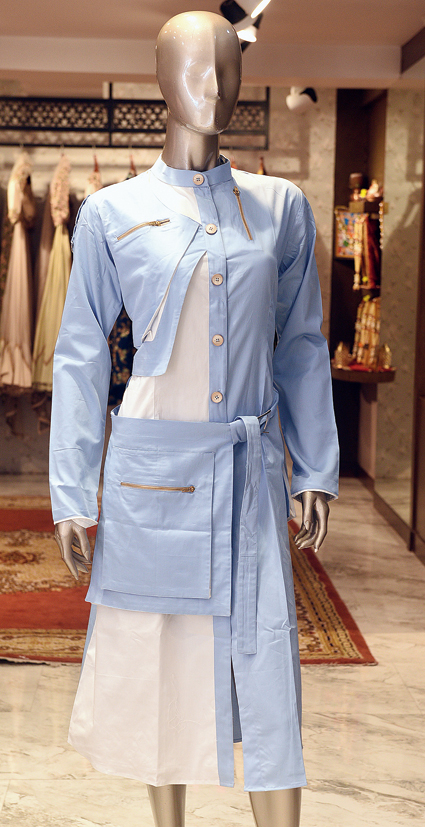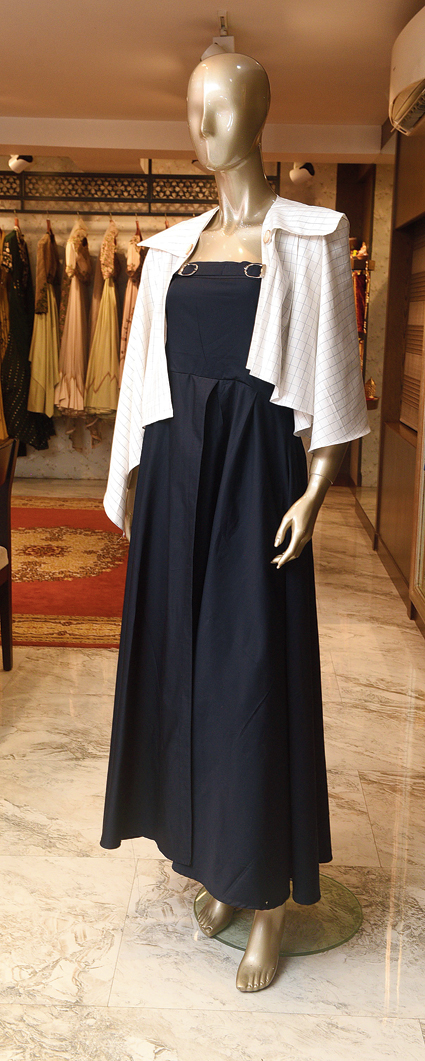 Designed with buckles, buttons, belts and metal embellishments, the outfits in monotone, stripes or checks embody a modish sophisticated look and is perfect as workwear, eveningwear, formal and semi-formal partywear, airport looks or just stepping out for shopping in a stylish and chic manner. Floral and bird designs on several of them add a hint of quirk and drama.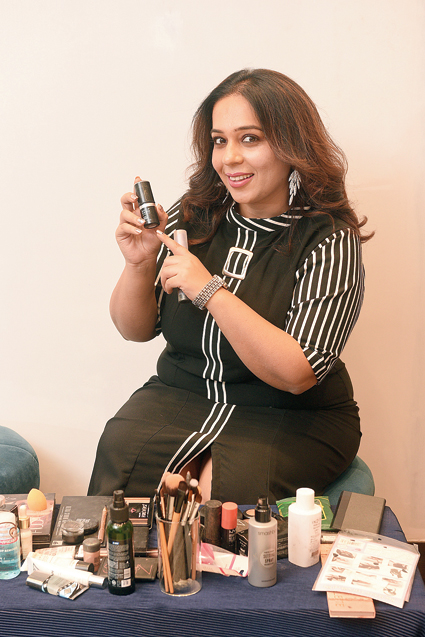 Make-up pro Deepti Mohindar was a part of a fashion chat that was a part of the launch. "If we see the dresses we can easily convert the daywear to nightwear, that is so good for working women. By doing a kohl eye or a smoky eye, one can carry it from a day look to a night or by going with a dark colour on the lips, the outfits from this collection can be converted easily from daywear to party-wear," said Deepti. So what are the make-up trends to try this season? "Go for berries, hot pink and plums rather than red. Lot of shimmer on the eyes and matte cheeks and less of highlighter," she said.
What: Couture Terrestrial by Priyanka Bhalotiaa
Where: Estri, 10/4 F, Elgin Road, ground floor
Timings: 10am to 8.30pm (open all days)
Collection starts at: Rs 2,500 onwards
Available online: @priyankabhalotiaa online portals
Pictures: Rashbehari Das