Sauraseni Maitra makes for one gorgeous bride
A special hair and make-up shoot for The Telegraph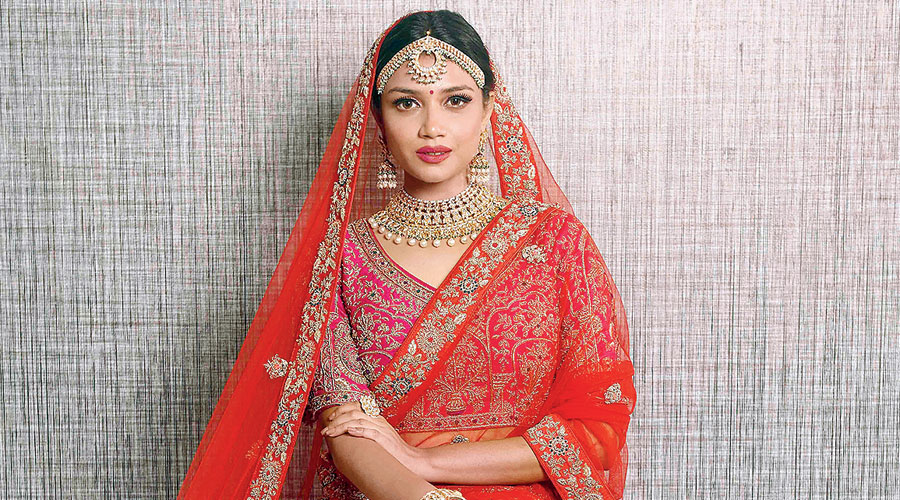 ---
---
Independent make-up artist Deepti Mohindar divides her time between Dubai and Calcutta. Bridal make-up is her forte and she has her November and December calendar almost booked in the City of Joy. Her USP? Airbrush make-up. In a special shoot for The Telegraph, Deepti demonstrated four bridal make-up looks on the lovely Sauraseni Maitra — Haldi to reception. Even with her hands busy juggling the brushes, Deepti shared a host of tips and tricks only for the The Telegraph readers.
Haldi-Mehndi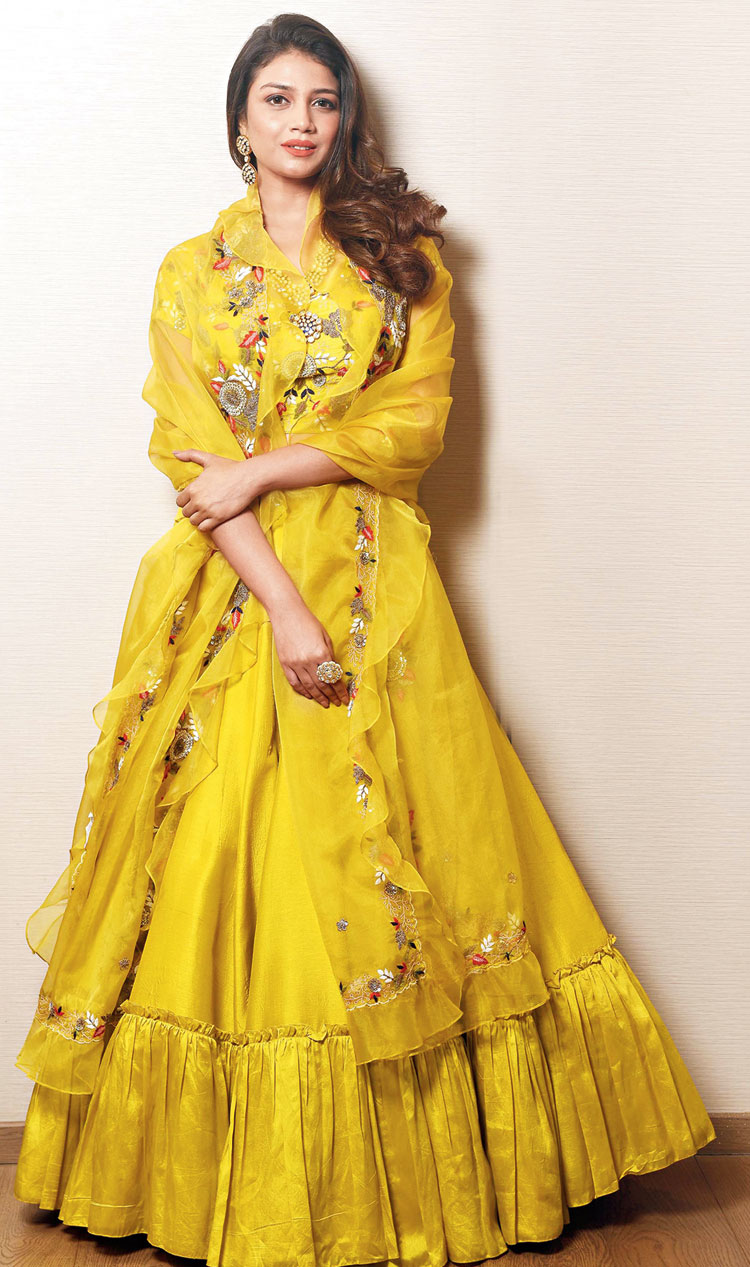 Clad in a bright yellow, Sauraseni looked charming, with a touch of mellow warmth, while posing for The Telegraph. "The Haldi-Mehndi is the first event and is full of fun. We gave her a soft-glam look with a metallic and glowy touch to it to complement the flowy ghagra paired with polki jewellery," said Deepti. With a play of coral and nude shades on the lips and cheeks, metallic shade on the eyes completed this morning-afternoon look. The hair was worn open with soft curls.
"We used highlighters minimally and kept a little matte finish for the make-up to last longer and give the subtle day look. Sauraseni loves applying blush. I have used liquid, cream and powder blush for the dewy effect. Mascara is important. Coral and peach shades always complement the Indian skintone and goes well with yellow or warm tones like orange. I have applied the coral tint as it is trendy, and stuck to peach and coral hues, so that even if the event goes from morning to evening, it looks beautiful," said Deepti.
Sangeet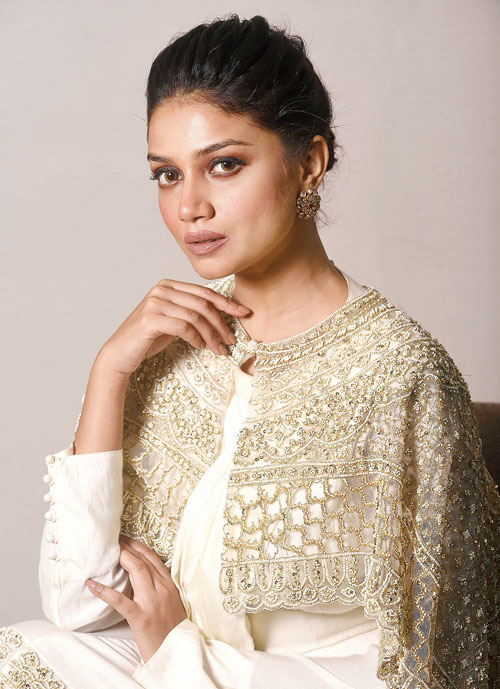 The sangeet look was a balanced colour-play of nude and dark hues. "We give the bride a tight updo so that she can have fun while dancing. The make-up has to be absolutely sweat-proof so that it does not get ruined while dancing. Since the outfit is in a light shade with a touch of shimmer, we have chosen brown-smokey eyes with a generous dose of mascara, nude lips and peach blush for the cheeks. People may opt for bold lips too," said Deepti. The messy finger wave bun was Sauraseni's idea. "The high-collar outfit, with the hair pulled back, accentuates the neck and jawline even more. Sauraseni loves contouring and highlighting. A lot of contouring, highlighting and strobing went into this look to give that perfect chiselled look with a hint of shine. We used the trick of applying foundation on the lips. To get the perfect nude colour on the lips, one needs to get an even tone. If you put a nice foundation and blend it well, the lip colour always stays," added Deepti.
Wedding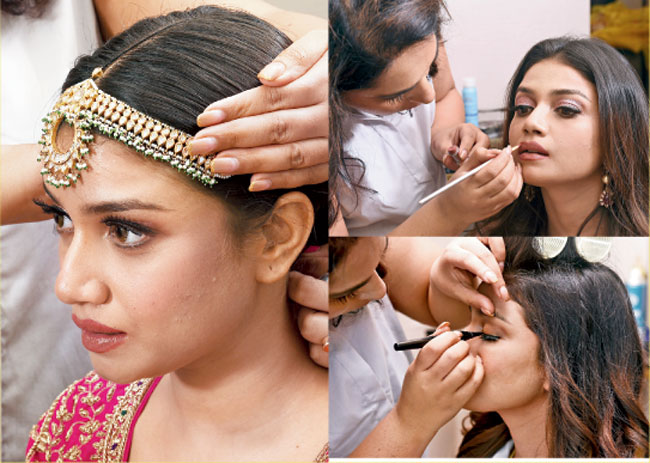 Sauraseni channelled a regal look in this traditional pink-and-red bridal outfit. "This is a quintessential bridal look. We have given her the shimmery, bold and brown eyes since the outfit is a mix of red and pink. We opted for a hot-pink lipstick instead of the traditional red. The bindi is of the same colour. Lots of pink blush, highlighter and long eyelashes complete the look," said Deepti. Beautiful kundan jewellery complemented the look. "When we have to set a jewellery piece on the hair, we see the shape of the face. Sauraseni's face is small and oval. So, the centre parting suits her well. We have taken her hair all at the back like the traditional bun and set the jewellery like that. We try not to give the centre parting and keep it sideways if the face is not oval, so that it contours the face from one side. Sauraseni wanted a small bindi. Bindis make the look when it comes to bridal," said Deepti.
Reception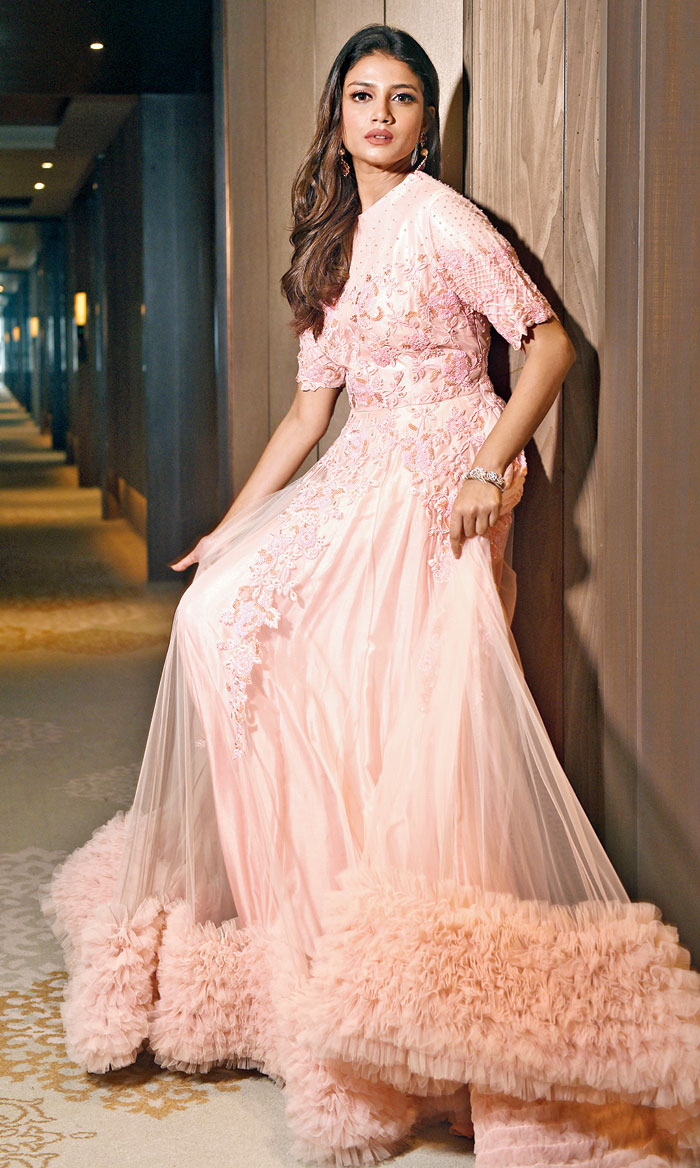 For the glamorous reception look, Sauraseni got into a pretty pink gown. Shimmer on the eyes with mascara, long lashes, hair in soft waves and blush and highlighter added to the glam factor. "The shimmery eyes are done in layers. We put a matte base and top it up with the same colour of shimmer. The whole make-up is in hues of pink, giving a princess-y look. During morning, we generally avoid false lashes and keep it for the heavier look in the evening. For the eyes to stand out, we chose lighter metallic shades with a hint of shimmer. For the cheeks we used a hot-pink shade. When blended well, it looks nice. For the lips we went a little subdued with a beautiful earthy pink because it complements the Indian skin tone and looks amazing with the colour of the outfit," said Deepti.
Quick 10 with Sauraseni
What does beauty mean to you?
I think beauty is a means to self-empowerment. If you're beautiful on the inside, it reflects on your entire exterior personality. It's all about owning your flaws and being comfortable in your own skin.
You seem to know a lot about make-up. Are you very passionate and particular about it?
I do try to learn about make-up but in reality, I suck at doing my own make-up. Thank god I have a wonderful team who take care of my make-up and hair. No matter how much I try to learn I can never do my own make-up properly. It's been only six months that I have learnt to do my base make-up. I swear I can't do anything beyond that. (Laughs) It's not that I am too particular or too passionate about make-up. I love watching YouTube tutorials but when I try to apply those steps on myself, I am a huge flop show.
Any important beauty tip that your mother or grandmother passed on to you?
My grandmother always told me, if you keep your body nourished from the inside, it's going to reflect on your entire body, not just your face. So I try to keep myself hydrated at all times. Apart from that, I don't really get much time to pamper myself. I have dry skin and dry hair. I try to oil my hair at least twice in a week. And a face massage with haldi, curd and tomato helps to remove the tan.
Your go-to beauty hack before any important day/event, is...
(Laughs) Do I look like a person who'll have beauty hacks? On a serious note, the only hack that's my go-to is keeping my skin hydrated, that is applying a good night cream before going to bed and getting loads of sleep.
No matter how tired you are, is there one beauty regimen that is a must-do for you before you retire for the day?
There's nothing in particular. But no matter how tired I am, I try to remove my make-up properly and then the regular cleansing, toning and moisturising. And also, scrubbing.
One cosmetic item that you are obsessed with, would be…
I love blush-on! It is my favourite. Also any kind of lipstick in the nude shade. I am super finicky about lip colour.
Name four items in your bag for a quick make-up look...
A Studio Fix compact, blush-on, nude lipstick and mascara. These are the only things I can actually apply. (Laughs)
What is that one step that you are very particular about while doing make-up?
Contouring. I think all my make-up artist friends will agree, I am super particular and obsessed about contouring. If I don't like my contouring, I get upset.
Have you made any make-up/beauty faux pas?
Oh god! So many. But I think eyebrows. I can't do my eyebrows at all. Once I tried doing my eyebrows myself and ended up looking scary as hell. I had to completely remove them and then go to the event without doing my eyebrows.
Who is the most beautiful person in the world according to you?
My mom. A woman who never needed make-up and still looks gorgeous every day. I think it's her inside beauty that does the wonders.
Pro speak with Deepti Mohindar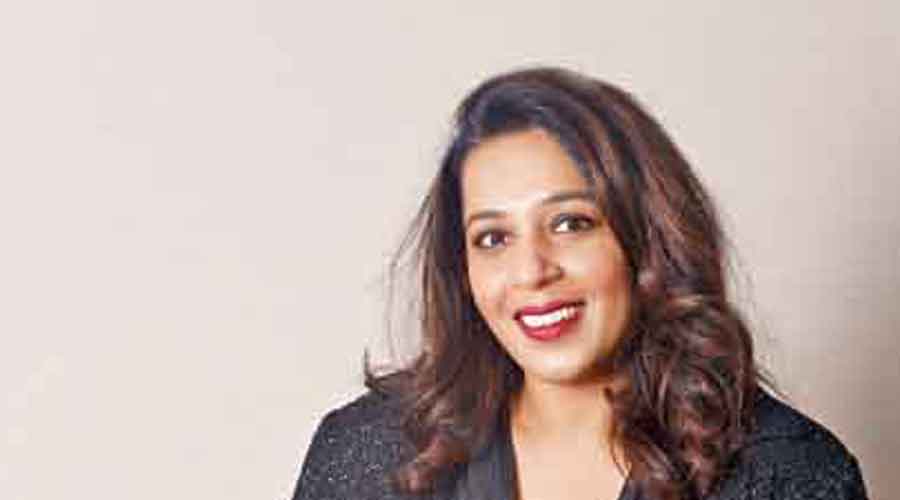 Things to keep in mind when you get your bridal make-up done professionally:
⚫Excessive contouring is not recommended as it makes your face sharper and appear more mature.
⚫Wearing too much shimmer is not a great idea. For example, luminous foundation or highlighters. It tends to make your face look fatter as it reflects excessive light. The look needs to be balanced.
⚫Wearing reliable waterproof make-up is must.
⚫Don't use compact on foundation, instead use translucent powder as it doesn't add another layer and sets your make-up well.
⚫Most importantly, moisturise, prime your skin well but don't use oils as make-up melts faster and doesn't last that long and gets sweaty.
⚫Bridesmaid could carry blotting paper and touch-up lipstick for the bride to avoid patchy lips.
⚫Avoid applying lipstick on dry and chapped lips. It looks terrible in pictures.

Trends of this wedding season:
⚫Use less highlighter and opt for more matte looks. Highlighter eats away the make-up. Apply blush on the matte look with a touch of highlighter so that it doesn't look dry in pictures.
⚫Bold eyes and nude lips.
⚫Lots of peach blushes with tints. Tints were not so popular earlier but now we first tint the cheeks and then put powder blush on it. The tint gives a very natural dewy look instead of highlighters. So, tints have replaced highlighters.
⚫Avoid kajal. It also makes the make-up last longer. Just do the outer line with it.

The bridal make-up rule book:
⚫Listening to the bride and understanding her choice is very important for a bridal make-up artist. If the bride is not happy, the look won't come out well.
⚫Prepping the skin by hydrating it before and after make-up is important so that the skin doesn't feel dry and stretchy throughout, as the bride has so many layers of make-up. Cream-based and liquid-based products can be applied for prepping and priming. The primer should be pore minimiser, to keep sweat at bay. The setting spray is essential after the make-up is done to make it last longer.
⚫ For the wedding day look, don't accentuate one feature of the face. Instead try and balance since there are so many colours in the outfit. For looks of the other days, if one is wearing a single colour outfit like pink, white or lemon, then we try to highlight one feature and keep the others muted. For the wedding day look, we keep everything in the same tone so that it doesn't look over the top as there's a lot of jewellery too and the outfit is usually heavily embellished.
Styling: Sumit Sinha
Jewellery: Bhuramal Rajmal Surana (Johuree) by Chandra Surana Kolkata
Outfits: Estri Kolkata
Location: JW Marriott Kolkata