A look at Saundh's Pie in the Sky, their nature-inspired spring-summer 2022 line
Our collection is a homage to the visceral and personal connection that's been inspired by nature in us, says CEO Sarabjeet Saluja about the collection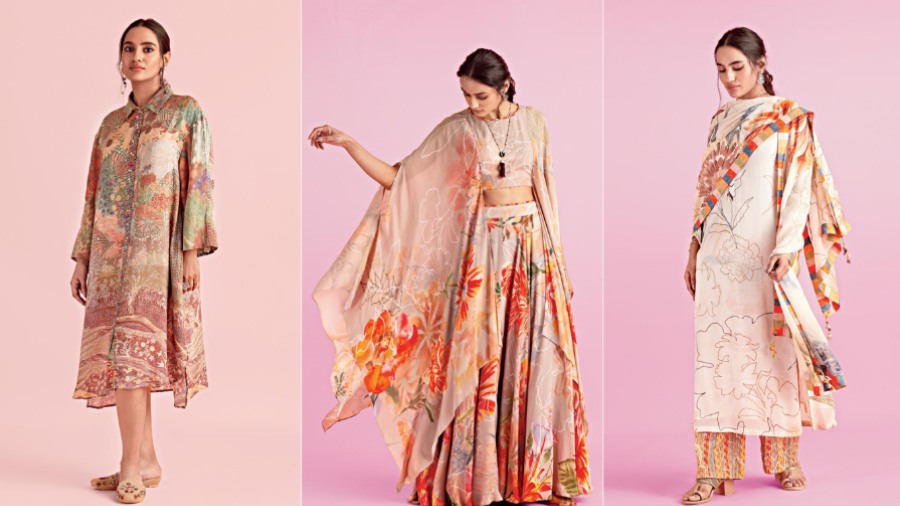 ---
Published 20.06.22, 12:41 AM
|
---
Free-spirited with a touch of the warm that can take you from day to night. Saundh's Pie in the Sky weaves in nature in its spring-summer narrative. We chatted with Sarabjeet Saluja, founder and CEO, Saundh, on the inspirations and the journey so far.
What's the inspiration behind the name?
This season, Saundh builds a connect with nature and its myriad wonders. Reconnect— rebuild — respect, the idea is to forget about the practicality and lead life amidst the fantasies and numerous impossibilities.
All the elements, prints and colours of this collection are inspired by our beautiful yet less discovered wonders of earth. The joy you feel when a bud flowers, as stars shimmer in rippling waters and the moon peeps from the sky. It triggers in all of us a distant memory, an unfettered joy and we all look at our own 'pie in the sky'.
How have you interpreted nature and its elements in the collection?
Our collection is a homage to the visceral and personal connection that's been inspired by nature in us. The rare, phenomenal wonders of nature are expressed as art in bold print stories and elegant textural detailing. The ocean's and skyline's colours, leaf patterns, flower blooming, and even marine creatures; the simplest and most complex aspects have inspired the designers, resulting in breathtaking outfits that emanate the spirit of nature and the underlying message to allow its beauty to exist in its purest form.
The collection spreads into five elements — earth (Prithvi), fire (Agni), water (Jal), wind (Vayu) and sky (Akash). Earth reminds you of being rooted and rejoice in the floral beauty around you, agni will help you discover your inner fire and jal takes you on an underwater adventure with a corals-inspired colour palette. Vayu will let you feel the wind beneath your wings while akash attracts the free-spirited kinds. Which pieces have your heart?
Floral Fantasy Kaftan — for the easy yet chic days.
Vayu Pistachio Co-Ord Set — for a hassle-free AM to PM transition. Frozen Off White Patchwork Jacket — easily pairable with anything in the wardrobe! Fire Boho Double Layered Top — most comfy, airy and the colour is just perfect.
What kind of art and craft has gone into the range?
As an Indianwear brand, Saundh has been inspired by her landscapes, people, art forms, culture and traditions and has pushed a craft-oriented narrative into its designs. There is a story behind every garment and a lot of research, attention to detail go behind translating these thoughts into an ensemble. Sahiba, the parent company of Saundh, comes from a strong legacy of garment manufacturing, designing, digital and screen-printing, and a finger on the pulse of the dynamic fusion trends. Each collection is created with utmost detailing in patterns, colour palettes, silhouettes, and premium fabrics, emerging in its own individuality and a strong narrative.
We love how effortless it all looks. It's a fine balance of casual and dressy. What's the mantra to arrive at that?
Because that's the mantra while we create every garment! Our collections are inspired by various Indian art forms, cultures and landscapes. The translation of these inspirations is always into creating timeless designs that go beyond seasons. Our majority audience is today's urban modern woman. To give them comfort and easiness and yet help them embody their personal style is the core objective for our every silhouette. What has the journey been like so far?
Taking the legacy of Sahiba ahead, Saundh started in 2019 and launched its first retail studio in Delhi in 2020. As a brand that stems from its love for textiles, we intend to create a niche where the gap between designer clothing aesthetics and affordability minimises.
We are now 17 retail stores across 14 cities in India and have a functional e-commerce platform for both Indian and international markets. We currently offer ready-to-wear garments across ethnic and western categories, have a made-to-measure occasional line called Khaas and are also on the verge of a capsule eco-conscious collection. We intent to branch out to menswear, kidswear and home in future too. We are aiming to be a global everyday luxury brand.