Sartorial siblings
Shantanu and Nikhil Mehra on 20 years of their label and what has made the bond stronger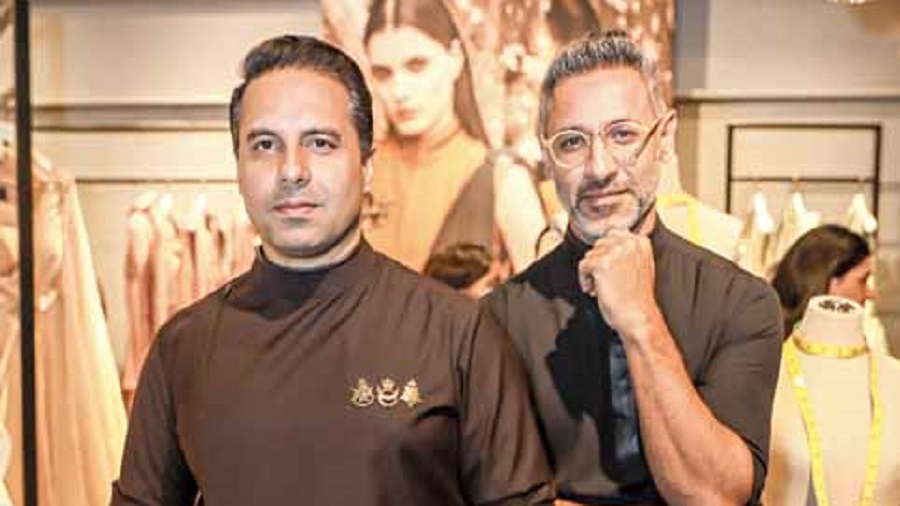 ---
---
For Shantanu and Nikhil Mehra, it happened exactly at the right time. Born out of a leap of faith 20 years back, which saw the Delhi-based brothers leave their US jobs to come back to India to forge a partnership to craft contemporaneity in Shantanu & Nikhil, their brand, the sensibility has only got emboldened with conviction. Stark yet sexy, minimal yet striking and opulently decadent but comprising clean lines and the magic of the understated, the brand has been a red-carpet favourite. The last five years have seen a shift in the language where they have delved deep into their Indianness, but retaining the contemporary cool. The draped kurta was born, which quickly became a brand signature. With presence in major cities like Delhi, Mumbai and Hyderabad, Shantanu and Nikhil have now rolled out a bridge-to-luxury label called S&N by Shantanu & Nikhil. They tell The Telegraph why they have just "arrived"
though.

Do you often wonder how the years have rolled by now when you look back?
Shantanu: Twenty years have been years of learning, evolving and disrupting. I think we have now arrived. The fact that we have been able to launch a new brand of ours, which is a bridge-to-luxury vessel of contemporary Indianwear, more affordable, ready-to-wear and accessible (S&N by Shantanu & Nikhil)… this is where we always wanted to be. We wanted everyone to have a piece of Shantanu & Nikhil. The next 10-20 years will be the real years of democratising fashion, maintaining a certain status quo where the brand is narrating stories and continues to make consumers more inclusive with who we are as a brand.
If I look back, the idea was very simple… to kick-start a story that was contemporary. When I look at early-2000, it was all about being overtly traditional. The market was small and niche and it could only understand a certain dialogue that was being communicated through clothes, which was about India is of colours, embroidery and rich textures. We would instantly say that as a brand we were not about colours but about decadence, silhouettes, minimalism, structure-meets-fluidity, breaking the shackles of wearing a lehnga for an occasion and instead give you a gown. This is where as storytellers and designers we wanted to push the envelope though the market didn't exist for us but the future looked very good. We could see this young, urban, Indian millennia at the forefront.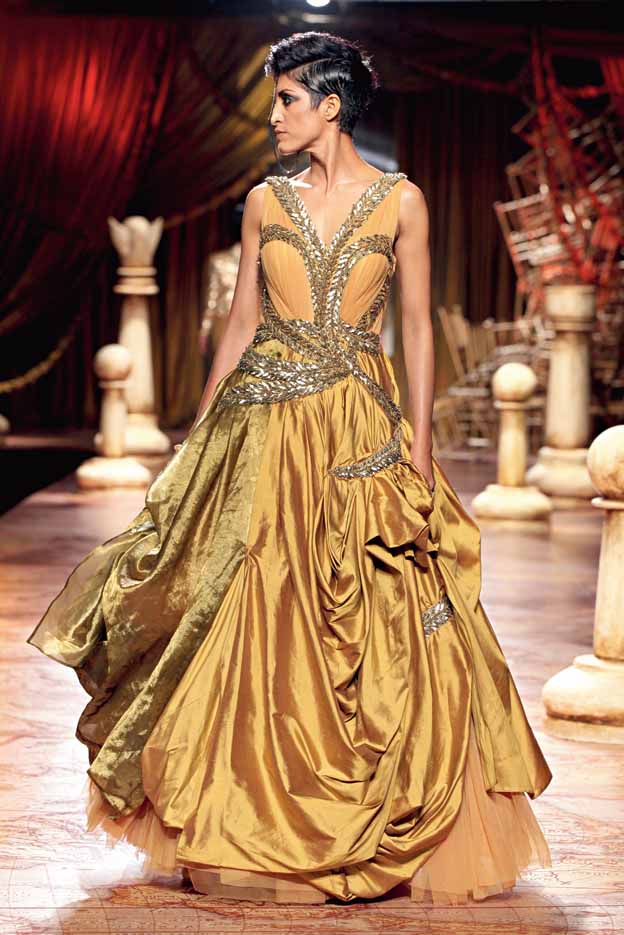 For the first 10-12 years we were constantly putting that message across and in 2015, we wanted to bring about a strong shift in our menswear. In the occasionwear segment, menswear was always typical. We felt we need to bring in a rather sartorial language of drapes and a bit of femininity. There were military influences and patriotic-chic flavour started to come in. We built that whole 'India proud' togetherness and story, bring back the joy of being an independent India and what would it mean to the millennials of today. Also, how do we bring in a sense of gender equality.
We saw a paradigm shift in how occasionwear from being traditional could become contemporary through shift in silhouettes, shapes and forms, minimalism and textures. Lightness suddenly became the new word.

What was your vision as a designer when the brand was born 20 years back?
Nikhil: We believe ourselves to be contemporary disruptors with strong 'India proud' sentiments. While our motivation was to create something offbeat and define our own 'anti-trend' notions and beliefs as a brand, we started Shantanu & Nikhil with a vision to see our clothes on every global Indian. Our 20-year journey has lent strong signatures to our brand narrative like the drape philosophy, the gender-fluid aesthetic and a strong Indian heritage undercurrent. Now with the launch of our bridge-to-luxury occasionwear brand S&N by Shantanu & Nikhil; we have already taken a major step to achieving that and going beyond. It's 'India's brand for the world' as we like to call it.
Both of you left your jobs in the US to come back to India and start a fashion brand, in 2000. Was it a gamble considering fashion was still so nascent in India?
Shantanu: We were at a time in the US when the economy was booming. Immigrants had the greatest opportunity to work and we both had cushy jobs. India was just opening the doors of liberalisation. There was an arrest in the economy. I think we both had a risk appetite.
We thought if we could continue to enjoy our work and not be burdened by the pressure of making money for a few years, that brought us together.
I just saw an innate ability in Nikhil's way of interpreting that exotic fusion. I could definitely see a futuristic India. That was a good enough dose for us to kick-start this.

Shantanu, what did Nikhil and you bring from the US experience to the table?
Shantanu: Very clearly, we put our cards on the table. I told Nikhil that at no point should he compromise on art. I will make sure that I ably support him operationally. We were aggressive. We realised that opening our own flagship store was the best form of direct marketing.
We opened our first store in Delhi almost two years into being in the business, at Greater Kailash 1 in Archana Arcade, which was at that time the most visible and transparent shopping complex. We also came from a very middle-class family with an upbringing which meant we have to value money. Nothing was given to us on a platter. Everything was earned. We understood the dynamics of how rupee makes rupees.

Were your parents supportive?
Shantanu: They have a very big role to play in the way we are. They were democratic and gave us opportunities to excel and gave us a pat on our backs when we came back. Both Nikhil and I are distinctly different people, almost like chalk and cheese. Nikhil was rebellious and in those days it meant you would a get a 'no' for an answer. I was on the other side of the fence sitting pretty with the emotional quotient intact.

The timing was perfect, wasn't it?
Shantanu: I think so. We could go higher on the learning curve and make mistakes and move on. There is so much cut-throat competition and peer pressure now, I feel sorry for the young kids who have so much talent but they got lost somewhere.
We did get a jump-start that way and courtesy that, very early in our lives, we got an opportunity to dress Mr (Amitabh) Bachchan for KBC 2... the Indian cricketers to walk on the ramp for the first time and Serena Williams. We have also collaborated with Adidas to create a lifestyle product line. We were lucky that we could understand the market and where we were going wrong and pushing the envelope before we found our signature. Along the years we found our balance.

What were the challenges?
Shantanu: There wasn't a steady market. The business-to-consumer was being unravelled at that time. It just so happened that Lakme India Fashion Week started in 2000, pretty much opening the doors for fashion to be stretched. It wasn't a democratic set-up. There were a handful of us showcasing and a handful of growth enablers. It was a great branding decade I would say but the avenues of organised retail weren't there and there were few mom-and-pop kind of multi-designer outlets, almost predatory in the way they were positioned.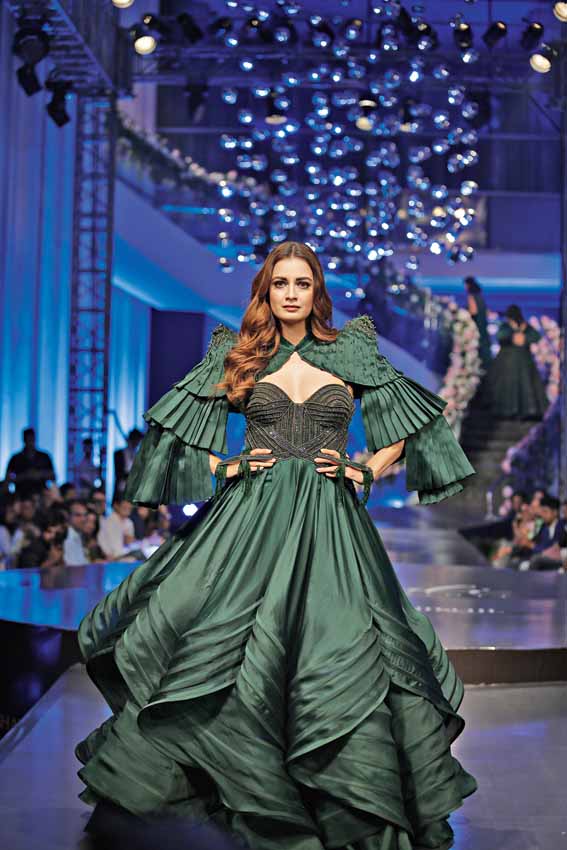 Milestone collections...
Shantanu: The one collection that gave us a sense of balance and understanding was Camel Safari in 2006. Structure, fluidity and gender equality started to subconsciously resonate from here. With She's The One, we dished out everything that we felt should be a modern bride's wardrobe. The Regiment, 2017, is a favourite. It set the journey for us going forward the next 20 years.

Nikhil: The collections through our formative years as couturiers— Sand Dunes, Camel Safari, She's the One and The Regiment, to name a few, would be our key milestones. The distinct narratives of each of these collections have helped sound our brand identity and lent various elements that have iconised the brand. Our biggest milestone collection, however was, The Cabinet Mission. With this we brought in the heritage and spunk and an 'anti-trend' emotion to the brand. It not only gave us our core values like a patriotic-chic aesthetic, minimalism and emphatic storytelling but also played incubator to S&N by Shantanu & Nikhil, which is now the embodiment of this very spirit of rebellion and millennial India.

You had to go with a begging bowl to be a part of the multidesigner outlet and if you weren't a part of that, that meant you haven't arrived. Opening your own store needed capital assistance and financial capability. The bank borrowings were not at their best. So, one had to struggle to keep the business of fashion alive. But definitely, one could experiment a lot more and one could be forgiven for that.

What was the first Shantanu & Nikhil collection like?
Shantanu: I remember very fondly that 2000 was the beginning of fashion opening up. In the second year of Lakme India Fashion Week, we were lucky to have participated. Raghavendra Rathore had to opt out last minute and we were given that slot. We wanted to own the runway and in that sheer excitement, we threw out a collection which pretty much shocked the world, to the point that sexy bustiers with lehngas started to show on the runway. Leather details had started to come in, corseted torsos which became romantic on the hemlines, open sherwanis in corduroy and leather, epaulettes… our love for military started in that collection. 'How could you?' (was the sentiment).
Two-three years down the line, we kept dishing out the same collection. That's when things started to settle down.

How have the sensibilities evolved with time?
Nikhil: The evolution of the couture space in India and the paradigm shifts it has witnessed over the last few years have aided our spectrum of growth. With innovation and emotion as central pillars of the brand philosophy, we have transitioned from couturiers to storytellers. We have constantly redefined our design sensibilities to communicate something meaningful and relevant to today, from our transient play of colour to reinterpreted silhouettes, change is embedded in the brand ethos.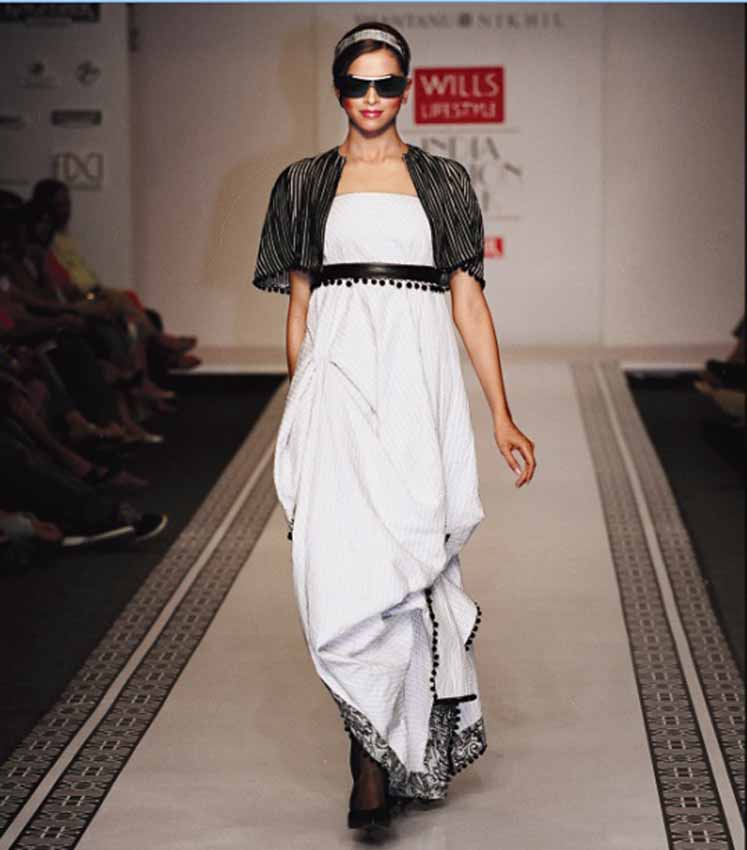 What prompted the makeover five years back?
Shantanu: As a brand we were clear that we have to start narrating stories. India was only about creating products. The wearer never stood out. I felt we were not being true to ourselves, that the story was being narrated through a product and not a brand. That's where the disruption happened in 2015 where we felt that are we enjoying what we are doing or are we just dishing out categories.
We revisited the Indian heritage and nostalgia pre-Independence. What was that moment in our lives which gave us the maximum joy? It has to be 1947 and the fight for 1947. Since then have we lost some part of our joy?
We were trying to go for the West. That lost purpose of nationalism triggered that whole debate. We started doing collections that were given certain titles like The Regiment, Independence, The Recruit. They were dabbling in social issues like empowering women, egalitarianism, harmony, togetherness and pride. And, we let clothes do the dialogue. We made it a lot more contemporary where heritage started to meet spunk.

What would you say are the signature Shantanu & Nikhil silhouettes?
Nikhil: Our silhouettes are a juxtaposition of sorts, where there's a rather fluid energy to strong, structured silhouettes and the quaintness of traditional India is translated in contemporary form. Being the signature drape creators for men in India, we have added a sense of liberation to structured Indian ceremonial wear with iconic silhouettes like the draped kurta and draped bandhgala. Similarly, we have created a sense of fierce romanticism for women, where structure and dramatic shapes meet dainty, easy-flowing drapes in staple silhouettes like the cocktail gown and neo cocktail lehnga.
Are Nikhil and your domain clearly defined?
Shantanu: If you have to run a brand successfully, you'll have to be completely immersed. If I am giving Nikhil the knowledge of where the market is heading and how we are currently positioned on the fashion food chain, it is imperative I know the product well. Similarly, he also knows a lot more about marketing and business development than he ever knew.

So, what are the advantages and disadvantages of working with your own brother?
Shantanu: (Laughs) Nikhil and mine is a strange story (Shantanu is older by two years). We never got along as kids. We were close but not close enough. It was only when we were in the States that the isolation of the country brought us together. I was in Ohio and he in Los Angeles. It can get lonely. You are chasing a certain dream and you are all by yourself. We would talk almost every day, giving each other a supporting hand. We have our own area of expertise, but we are driven by the common objective of making this brand globally acceptable.
We have positive arguments. There are more advantages as family understands the pain points.
What are your design dreams for the brand?
Nikhil: Our primary design dream is to take our fashion narrative to a global audience. We would like to use our fundamental design values to forge a more inclusive and conversational ecosystem, where the focus is on art, creativity and emotion. We hope to ignite vital change through our designs, be it a shift in mindset or driving sustainable consumerism. The brand has outspokenly exhibited its stand on egalitarianism and continues to imagine a future of empathy and equality where design becomes a community for change.
Shantanu: Last year we had a merger with Aditya Birla Fashion & Retail. They wanted to invest in our business. They saw our sartorial language having the wings to really scale up.
We have also launched a fully functional, tech supported, end-to-end value chain incubated e-commerce vehicle now on our website (www.shantanunikhil.com) which is also a shop now for S&N. The pandemic forced us to fast track.

What will be the ripple effects of the pandemic?
Shantanu: You are looking at almost 60 per cent contraction in luxury sales across the world. India is a bit different. Couturiers as long as we continue to celebrate through our collections and there has to be weddings and families will have to enjoy it. The scale might be less. Design has to be treated as precious commodity now than ever. I think you'll see transparency in the design process more than ever and clear demarcation between how a wearer looks as opposed to how the product looks. These are tough changes and it is challenges that make an artist absorb and become better at their job.