Sari fans unite globally with #sixyardsand365days
Sunita Budhiraja's Facebook group aims to make handloom saris daily wear and help generate income for weavers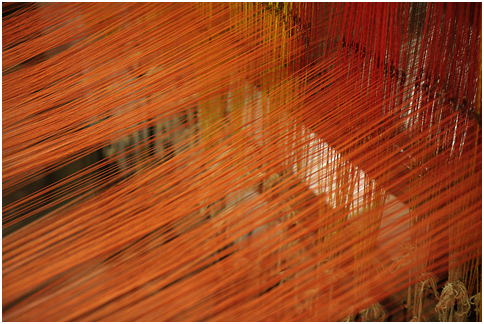 ---
Published 07.10.18, 02:16 PM
|
---
She saw her mother weaving yarns on her spinning wheel as a child. Years later she has taken up the cudgels for handloom saris and weavers through a Facebook group. Sunita Budhiraja, an author and a communication professional, is a picture of calm, except that her eye never misses a six-yard drape with a unique weave.

The sexagenarian, who has been a sari connoisseur since she bought her first piece with her own money at the age of 18, has been involved in uniting sari lovers, weavers and entrepreneurs from all over the globe through the Facebook group — #SixYardsand365Days. Her aim is to popularise handloom saris as daily wear and help generate income for weavers and knowledge for connoisseurs.
What began as an experiment with just three members on August 2015 now has 28,000 members from India and beyond, with the Calcutta chapter contributing around 2,300. Around 9,000 sari lovers are waiting to be inducted into the closed group.
"Love for handloom was in my genes. My grandfather owned a loom factory in Lahore before Partition. Even later my nana's house had charkhas and I remember my peers spinning yarn and giving it to weavers to turn them into proper saris," said the Delhi-born who has always preferred the six-yard to other garments and encourages other women to follow suit. Budhiraja was in Calcutta to preside over a #SixYardsand365Days meet on September 29.
"I was inspired by the #100sareepact movement that encouraged women to tell sari stories and bring out their often forgotten six yards. I realised the power of social media during that movement. Till then I had always looked upon Facebook as a hindrance," said Budhiraja, whose three-year-old group now boasts many former #100sareepact members. There are members from Greece and Pakistan too.
#SixYardsand365Days encourages sari tales and also holds contests between storytellers. "But it is essentially a platform for sharing knowledge and promoting different weaves. Commercial activity is, however, not encouraged," added Budhiraja. From Dhaniakhali to Telia Rumal, more than two lakh saris have been posted in the group and weavers in Madhya Pradesh, Benaras, Assam and Bishnupur helped.
Members are encouraged to post pictures of themselves in their saris within 48 hours and are honoured for important sari-wearing milestones. There are members who have already clocked 400 saris since they joined the group. Budhiraja has clocked 950 saris since August 2015. The group, however, gives members no deadline to complete milestones.
According to her, buying one cotton sari helps 60 weavers and one silk, 80 weavers. "Our members buy an average of 10 saris a year. So that way we are helping around three crore weavers a year," she added.
Over the years she had been mulling ways to popularise handloom saris. The digital platform proved to be the most potent. "We now have women opting for saris over other garments. Some have turned entrepreneurs too. Over 50 per cent of our members are below 50 years old. Linens and handlooms are exciting the younger lot these days," she added. "When in doubt, always wear a sari. That's our mantra."
As handloom saris get a fresh lease of life through social media campaigns, Budhiraja has just one wish. "Let's make some weaves like Banarasi, Balucharis and Patanis affordable by increasing their demand," she signed off.