Second time's a charm, they say, and designer Sabyasachi Mukherjee exhibited so with the ease with which he handled what is only his second Instagram Live session, on February 26, belying the technophobe we got to witness during his first go at it, sometime last year. And this time, he had Linda Fargo, the doyenne of fashion retail and also regarded as the gatekeeper of style at New York City's hallowed Bergdorf Goodman, for company.
Showcasing at Bergdorf's for the second time since he exhibited an exquisite collection of haute joaillerie last year, this pop-up interestingly came on the heels of his much-talked-about Rs 398-crore deal with the Aditya Birla Fashion and Retail Limited earlier this year. Mukherjee makes no bones about the fact that one of the reasons behind the deal was driven by his sentiment that the brand now belonged to the country at large — and here he was, taking his homeland to the world by sartorially transforming the historic rotunda of the iconic 120-year-old NYC luxury departmental store into a slice of India, with his collection of apparel, accessories and jewellery. Watching the impossibly chic Fargo seamlessly trying on the Calcutta-based designer's creations as she complimented Mukherjee as the "best of what India has to offer" more than once, was an added bonus, apart from listening to the stories behind many of the designs.
As skilled as he is in design, as delightful are his stories of inspiration ranging from Frida Kahlo's eclectic style and Madonna's punk-rock persona to Calcutta's well-heeled, well-dressed ladies and Rajasthan's artistic heritage of minutiae. Mukherjee's fascination with the Belle Epoque is not surprising as he earmarks the 1920s as his favourite era of style and Fargo added context by pointing out how the world was hoping for a Flapper Age after the year that we all suffered through. It was especially striking to see Fargo try on a black trench coat, (handmade with silk in Murshidabad, pointed out Mukherjee) with the brand's signage featuring the Royal Bengal Tiger on the shoulder flap looking as if it belongs there at Bergdorf's. The lehngas, the saris, the colours and the inherent Indian-ness of jewellery also represent the fruition of the designer's longtime dream of showing his clothes as they are in New York, without compromising on the character of the brand.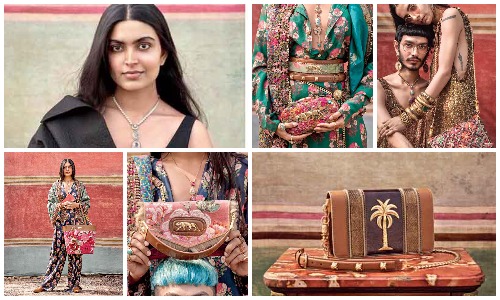 Fargo's admission of the volume of sales could also be taken as a recognition of the Indian diaspora's purchasing power as well as international interest in the fashion of the east without the need for it to be toned down to fit western sensibilities. Therefore the interest in pieces of stunning jewellery that feature extraordinarily detailed latticework, an elephant studded with diamonds or a clutch bearing embroidery reminiscent of the gara is of no surprise whatsoever. But like the worldly Indians of today, Mukherjee's sensibilities are, even if ethnic, also very contemporary and chic as was his inclusive campaign for this particular collection. Therefore when the Darjeeling coat that was inspired by the sacred threads on totem poles in the hills and lined by brocade woven with 24-carat gold is layered on a mannequin with a sequinned shift dress, Mukherjee underlines the painstaking Indian craftsmanship behind this Aakash-Tara dress — "every single sequin is sewn by hand and then soaked in a tea-and-coffee liquor" that renders it what Fargo called a "dégradé colour" or a vintage, museum-like feel.
The couturier's ease of stacking high-low is intrinsic to this collection as well, as he describes his sensibilities as something that can be worn with a casual T-shirt and ripped jeans as well as a glorious gown or Fargo's favourite turtlenecks. "I like jewellery that creates a bit of visual controversy," said Mukherjee, possibly explaining the appearance of a vintage gold Casio watch alongside his manifold more expensive designs in many of his campaign images. With no offence to the devil, it must be god who is in the detail for Mukherjee as can be witnessed in designs such as an Indian Mughal piece that has "enough depth to create gravity in the stone, yet light passes through it", thus making it luminous.
As the World of Sabyasachi continues to command pride of place at Bergdorf Goodman till March 15, we cannot wait to see what the bonafide style-maker does next as he goes about his business of unusual matchmaking between unsuspecting icons such as Gustav Klimt and Madonna to beget ethereal fashion like only he can.
Pictures: Sabyasachi Calcutta & Getty Images