Abhishek Dutta on how to get your festive staycation look right:
This year keep it simple. Opt for outfits with asymmetrical cuts or different sleeves to add a stylish touch.
Relaxed fits and anti-fits are best. Go for kaftans, jumpsuits, shift dresses and kurta dresses.
Minimalism is the key. Opt for solid and ombre shades. To come out of the whole gloomy mood of pandemic, opt for brighter hues too. Tangerine, aquas and parrot greens are best suited along with the quintessential festive favourite scarlet red.
Opt for different prints rather than heavily embellished garments. At the most, go for a bit of sequins to add bling.
Accessorise simple with noticeable statement jewellery like long earrings or broad cuffs.
While vacaying to capture the festive mood, do explore your ethnic wardrobe. Opt for light linen or cotton saris and kurtas. Ivory always works wonder.
Give a rest to your heels and slip on your flats for a relaxed look.
This time we are going vocal for local. So try and wear something that is handwoven to support local artisans.
Riya's favourite was this red (picture above) asymmetrical cotton dress with floral embroidery detailing and stylish cutaway bell sleeves. The handwoven silk scarf in white with a traditional red border is Abhishek's twist to tradition. "Adopting the traditional shada sari-laal par concept, we gave an Indo-western spin to this outfit by pairing it with the scarf," he said.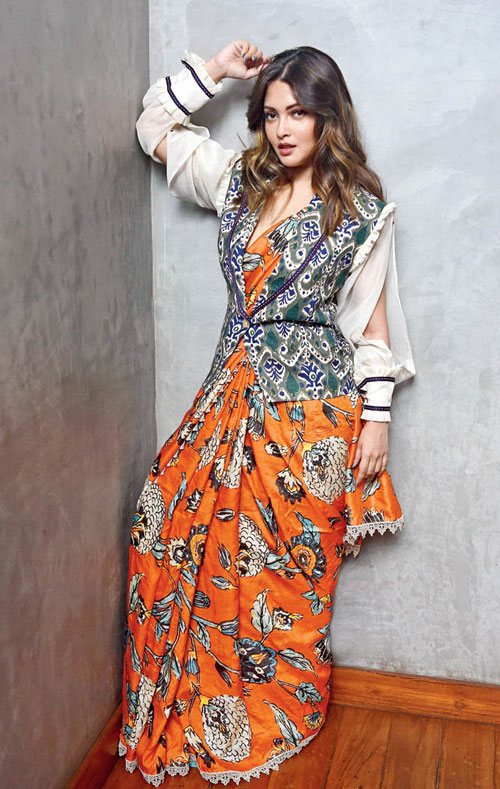 Riya looked beautiful in this bright orange handwoven Murshidabadi silk digital-printed sari designed with a crochet border. This soft and lightweight sari has been layered with a fibre-printed cotton jacket with cutaway sleeves. "The jacket adds a vintage vibe to the look and we are also promoting 'vocal for local' by using handwoven fabrics," said Abhishek.
For me this collection was very experimental because personally I wear very simple clothes. I know Abhishek's clothes to be very colourful and bright. This collection is very nice and it was playful with prints, ruffles and sequin work. It was quite new for me. Whether I am dressing up for the festive days or any other time, I always choose comfort over anything else. But I do love to experiment with clothes Riya struck a fun pose in this white sequinned and printed dress. The slit with contrasting tape work took the oomph factor a notch higher, perfect for a cocktail evening with friends while vacaying. "This outfit is also ideal for the pop-up parties that happen during the festive season," said Abhishek.
We have designed our festive staycation collection with an emphasis on relaxation. This year, the festive season is more about relaxing with closed ones instead of mixing in the crazy crowd. We as designers also have a social responsibility. So, we are also asking people to avoid the crowd and choose to celebrate by vacaying at a staycation. The materials used for the collection have been chosen keeping comfort in mind, and we have balanced it with design detailing adding the festive-glam touch This easy-to-wear mercerised cotton jumpsuit in a soothing white is graphic printed with a trendy ruffle detailing along the plunging yoke. The bottom is an aaron fit, with sequin. Riya looked radiant and pearly-fresh channelling a relaxed vacay vibe in this comfort wear. "This is perfect for the present weather as well," added Abhishek.
We have opted for a simple natural make-up look for Riya. Since the collection is staycation based, we are not going very heavy on the skin. The eyes have been defined with kohl and mascara and there is a smudgy look with a colour-play in shades of brown. The hair is set as naturally wavy. For the red outfit, we added a bit of glam with a touch of red on the lips. For staycations, keep it simple on the skin. Use colourful lip colours. If you want to play with the eyes go for colours like blue and pink
Prasenjit Biswas, make-up pro
Pictures: Pabitra Das
Hair and make-up: Prasenjit Biswas
Location: AltAir Boutique Hotel