Rituparna Sengupta talks fashion, food and everything Puja!
Traditional to the T is how Rituparna Sengupta describes her usual Durga Puja wardrobe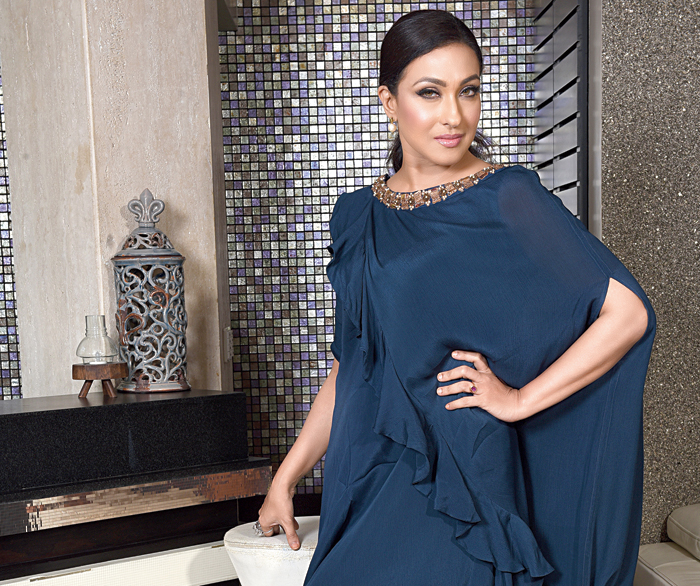 ---
---
Traditional to the T is how Rituparna Sengupta describes her usual Durga Puja wardrobe. "No matter what anyone says, I love decking up in the most traditional way during the Pujas... ektu kajol, mathaye phool (some kajal and flowers in the hair)," she said. However, the actress isn't afraid to experiment and proof is this lookbook that she created for The Telegraph along with fashion brand Levell 5 and its four designers.
What comes to your mind when we say Durga Puja?
It's the most important celebration for us. I think we all wait for it to come... it doesn't matter whether you are a child or a grown-up, the excitement is the same. Puja brings lots of things together and it isn't just about the religious aspect. Blessings from elders, family-bonding, togetherness… it's about all that. It's also about colours, grandeur and people coming together. There isn't any routine but a certain level of dedication. Durga Puja connects us to our roots.
How is it different now from when you were growing up?
The childlike enthusiasm is still there and that's not going anywhere. Back then, it was innocently beautiful. Those were some beautiful days where we used to compare and count the number of dresses with cousins, urge mothers to buy one more pair of clothes. Now, even though we have in abundance, that one gift, that one well-earned dress during Puja, is like a priced possession. The whole concept of para'r pujo, all the warmth, planning and going out with different sets of friends, family, extended family... these things can't be erased from the memory at all. I am busier now with endorsements, as a judge and brand ambassador during the Pujas… but at the end of the day, going back to familiar places, friends and family coming up to complement you, everyone eating together in the gated communities, para… it's all so worth it.
What is that one Puja memory which you will never forget?
There are many, but if I have to pick one, it has to be this one time when one of my cousins and I went out pandal-hopping and got lost. We couldn't find our way back and then had to ask for help.
You must be missing pandal-hopping now….
I do miss the whole fun of doing that without being mobbed! Things are different now, of course. I have my work and apart from that, I have to divide my time between Singapore and India, since my family is there. Otherwise, when everyone is here, we go to my mother's place, or visit friends' houses where they have pujo. My husband organises a musical evening, so our friends come over. It's all about friends and family during the Pujas.
What are your plans this year?
I will be travelling to the US for work. My heart is going to be here though. It's sad that I won't be here.
What about binge eating?
Most important is Ashtami'r bhog. One can't miss that! I am a foodie and Puja is the time when you can indulge and not think about diet charts. I go to a lot of restaurants as well.
What does your Puja wardrobe comprise?
For me, it comprises everything traditional… I love traditional outfits. But I do go for a bit of fusion looks at times. This is where Levell 5 comes in. They dress me very well. I love their unique drapes. Otherwise, traditional, cotton or linen saris, Gadwal, Kanjeevaram, Dhakai with a bindi. I love wearing big bindis. Durga Puja is the only time when one can go out-and-out traditional. Saris are beautiful and always in. I don't mind experimenting with drapes. Mornings are for Dhakai, cotton-linen sari with borders, mostly whitish or in soft, earthy colours with light, silver jewellery. For night, we can take out all the Jamdanis, heavy silks… they look gorgeous and classy. The whole pujor shaaj, with garlands, bindi, batua, bangles... I love it!
Do you go big on make-up or keep it simple?
I don't put too much make-up during Pujas… Just some kajal, bindi and lipstick. That's all.
Any new buys?
I randomly pick up things wherever I go. I have this beautiful tussore Benarasi, a designer linen sari and an absolutely traditional shaada sari-laal paar…. My mother-in-law has gifted me a beautiful sari, in black and gold, a Kanjeevaram and my mother has given me a cotton-linen sari.
Do you exchange tips with your daughter Rishona or is it the other way round?
She tells me how to do my hair and eyes! She is very interested in fashion and is a fashion-forward girl, undoubtedly. She is going to wear a custom-made sari for Puja. My friends have promised her that they are going to gift her a lehnga.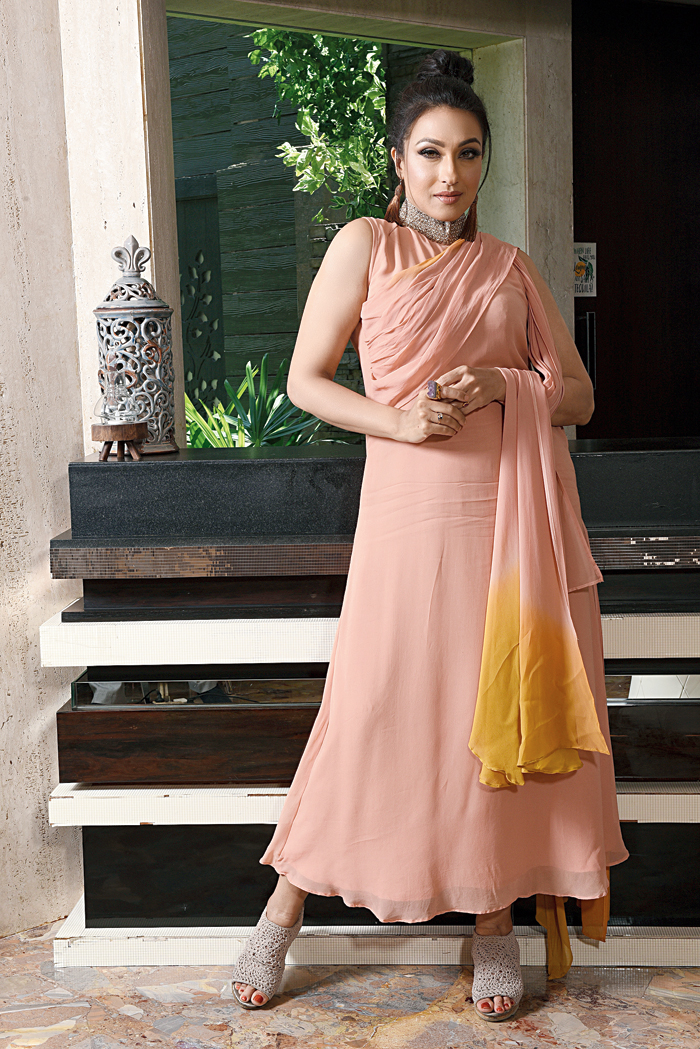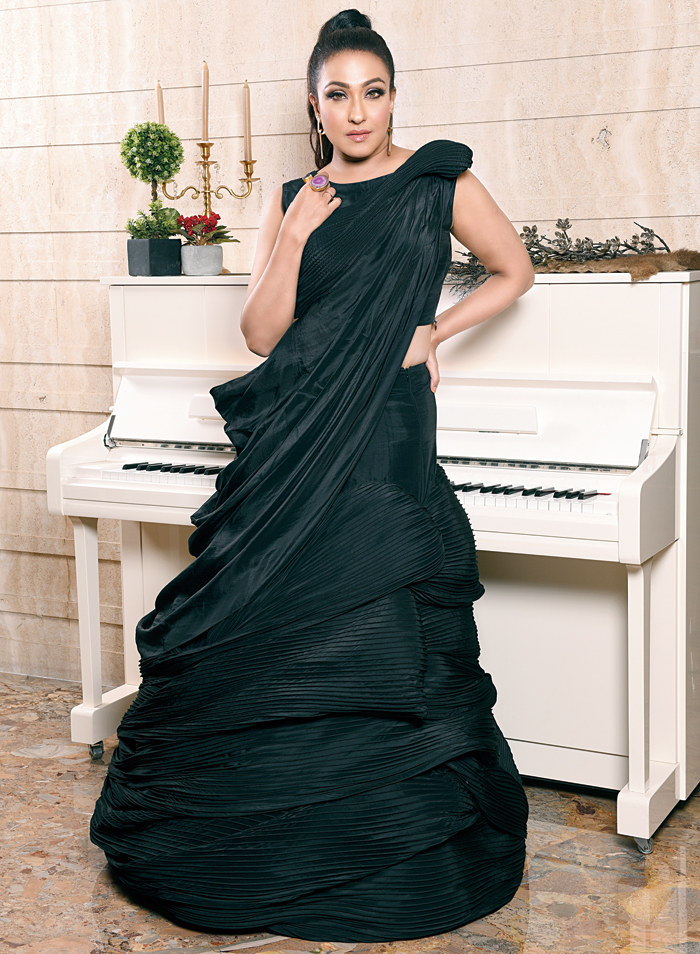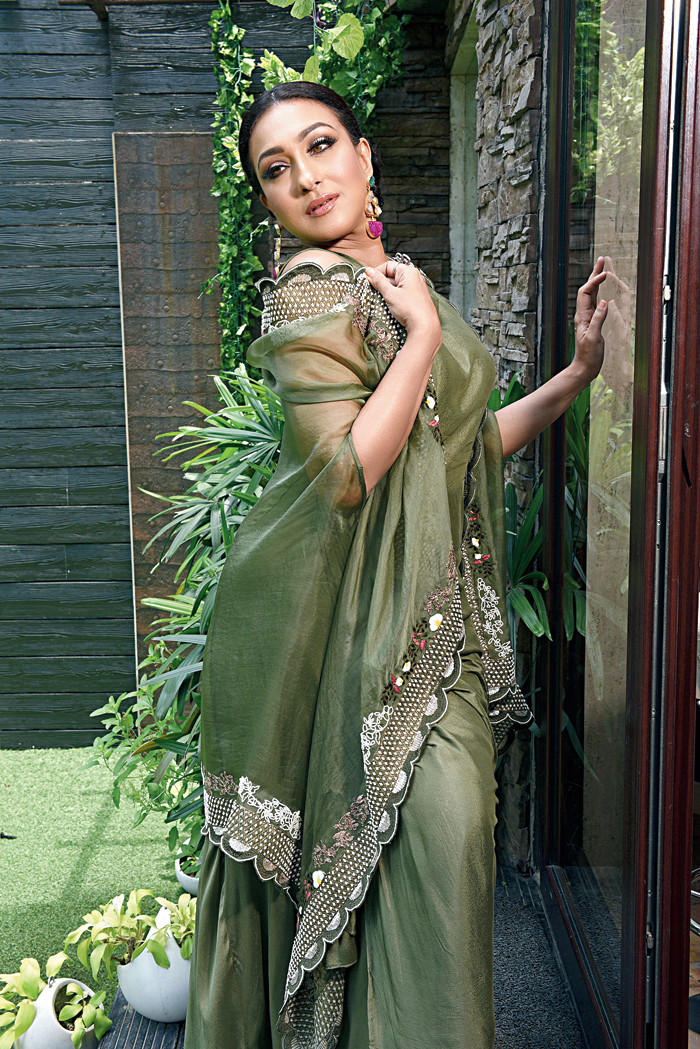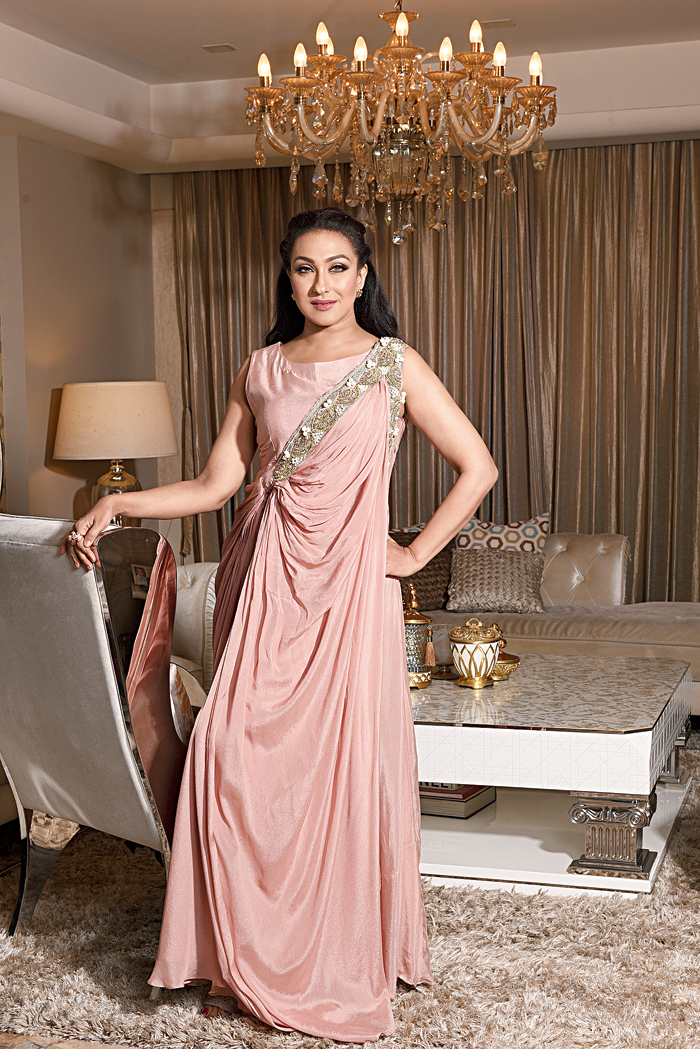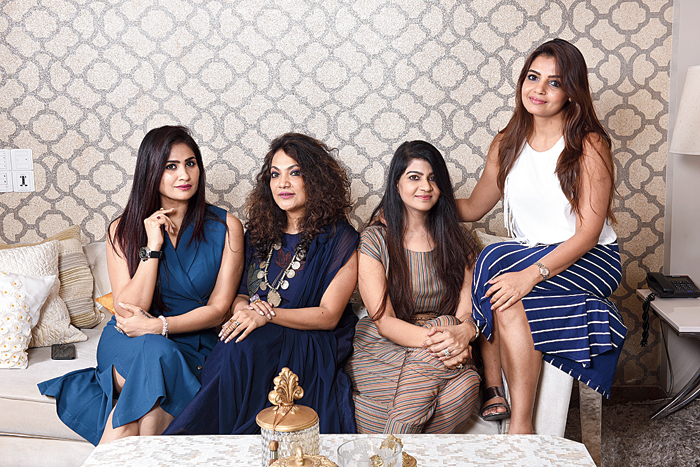 Designers speak
Designers and sisters-in-law (l-r) Shweta Malpani, Abhilasha Kajaria, Neha Malpani and Rashmi Malpani have been in the business for the last 15 years and what drives them is their intuition. "We were into manufacturing but for the last five years, we have started retailing as well. We have two stores in Calcutta now — one in CR Avenue, the other in Park Street. The newest one will open in Forum Courtyard in the second week of October. We have also added 12 more stores and those are franchises in small towns," said Abhilasha. "Towns have good prospects. So we wanted to have our presence there. Our third store will have dedicated sections for occasionwear and casualwear," added Neha. Levell 5's forte lies in formal garments as well as festivewear with fabrics like crepe, georgette and silk being used. "We have good suppliers from Benaras and Bangalore. You will see a lot of weaving in our garments. We are also doing a lot of chikankari work on dresses and crop tops," said Rashmi.
They say that too many cooks spoil the broth, but in this case, it has never been a problem. "We have all got our workspace segregated. We don't interfere in each other's departments. Someone is doing purchase, someone's doing sales or accounts... we have meetings once in a week. What works the best for us is that we are very different people. So the final collection that comes out is unique — a good fusion," said Shweta.
Hair, make-up and styling: Kaushik-Rajat