Rhythm divine
Read more below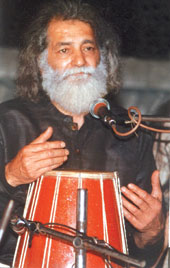 ---
---
FOOD OF LOVE: (From top) Artist Manjit Bawa who is known to be a Sufi music lover; Hans Raj Hans; Abida Parveen; Rabbi Shergill; the artiste?s eponymous album
Until a decade or so ago, every adolescent worth his cracking voice would try to perfect that one baritone. Rabbi Shergill, though long past his teenage, seems to have had a lot of practice, too. ?Arrey, aap ko toh hum har roz suntey hain apni gaadi mein,? Rabbi does a mean Amitabh Bachchan mimicry, recalling the superstar?s conversation with him.
Rabbi needn?t have bothered trying to get Bachchan?s voice right. His own voice has been bowling over many a person of note, the Big B included. There?s Nobel laureate V.S. Naipaul who said he didn?t understand the lyrics, but the music touched his soul. Then, there are half a dozen Bollywood filmmakers who?ve tried to get him to sing his compositions for their films. He refused almost all of them, to finally come out with his own album after five years of struggle.
Now, the world has finally woken up to Bulla Ki Jana Main Kaun, Rabbi?s rendition of a song by the 18th-century Sufi poet Baba Bulle Shah. The video is currently being aired on music channels, and the album is set to hit the music stores this week. Blessed with a voice that can melt granite, the 29-year-old singer-songwriter has penned and composed most of the songs, a semi-Sufi, semi-folksy kind of music with a lot of Western arrangements that he claims is his own style.
?I think I have come up with this kind of music because of my emotional intelligence,? says Rabbi. ?This intelligence owes itself as much to Tolstoy and Hemingway as to Punjabi literature; as much to the guitar playing of Jeff Beck as to the Ragis of Punjab.?
Madan Gopal Singh, one of the proponents of the Sufi revival movement in India and a Sufi scholar and singer himself, believes that Rabbi can be called Punjabi music?s true ?urban balladeer?, as opposed to the ?Punjabi folk mimics? that television channels are bursting with. ?His sounds have as much of Bruce Springsteen and Bob Dylan as Punjabi folk,? says Singh. Not surprisingly, people have stood up and taken notice of Rabbi?s Sufi venture into the realm of the modern.
Rabbi, however, is blas? about all the attention. The only time he really comes alive is when he?s with his music. But Sufiana, he stresses, is more of a vehicle to catapult him to glory. Rock and roll, says the man who plays the guitar and composes on the synthesiser, is as much a part of his songbook.
Yet, he belongs to a new generation of artistes who form a part of the Subcontinent?s great Sufi revival. He has read the scriptures and understands the concept of Sufiana ? a loose ideology of an all-encompassing spiritualism. But for him, it?s also about being in the right place at the right time.
?I?m not just a Sufi singer. Maybe, the Sufi part of my music is more attractive to the listeners,? says Rabbi. He has a point there. Sufi music has its loyal band of listeners, which is possibly the reason why even mainstream artistes are singing Sufi songs. Ila Arun of the raunchy Ghagro fame enthralled everyone with her kalaams at the annual Jahaan-e Khusrau Sufi Music Festival in January. Folk artiste Hans Raj Hans, better known for his peppy Bally Sagoo-remixed Aaja Nach Ley kind of numbers, released a pure Sufi album, Tera Ishq, last month, claiming he was going back to singing songs that were close to his heart.
The late Pakistani singer, Nusrat Fateh Ali Khan, and his compatriot, Abida Parveen, sang Sufi songs through their folk traditions of qawwali and devotional music. But these days, Bollywood also has the likes of Kailash Kher, whose Allah Ke Bande from the film Waisa Bhi Hota Hai Part II is one of the hits of 2003.
Ironically, Waisa Bhi director Shashanka Ghosh wanted Bulla Ki Jana instead of Allah Ke Bande. When Rabbi refused to part with his pet song, Ghosh convinced Rabbi to sing another song in a cameo appearance instead. Rabbi refers to the song euphemistically as ?an experiment gone wrong?. The lyrics, not his, go: Laundiya ki pallo mein gau ki boo aawey... kya kare, baby? Loot gaye hum, darling (the dame?s scarf stinks of a cow... what can I do, baby? I?m floored, darling). Luckily for him, the song sank without a trace.
It, however, made Rabbi realise that playback singing was not his calling. He had held out for five years without giving up his music to Bollywood ? despite a plum offer from Pooja Bhatt for Paap ? and he didn?t want to start. Finally, he found a believer in the Mumbai-based Phat Phish Records who?ve signed him on a three-year contract. Life has been smiling on him since.
Rabbi began like any other Delhi boy, by having conventional ambitions, which included a year at the Fore School of Management, before he dropped out to the dubious thrill of odd jobs at FM studios and composing ad jingles for Nova ghee and RX-T motorbikes, all the while writing his songs and sounding out demos.
A successful and renowned composer approached him one day to ask if he would be willing to ?sell? his music. He offered the upcoming singer money for his compositions, but asked him to forfeit all credit. That was a turning point of sorts. Rabbi refused, and decided to go to Mumbai and try his luck there.
But for every unscrupulous composer, Rabbi also had a friend. Minty Tejpal, younger brother of the more famous Tarun and co-founder of the Tehelka Group, decided to make a success out of this quiet singer who came from nowhere. Four years ago, Tejpal had quit as Channel [V]?s executive producer, and come back to tehelka, then a website working on their cricket match-fixing expose, when a friend told him about Rabbi.
Tejpal heard Bulla Ki Jana and Aj Nachna. And he knew he had a winner. It was Tejpal who played the songs to Naipaul and gave a tape to the Big B for keeps. But Tehelka went bankrupt in 2001, and Tejpal couldn?t, as planned, finance the album. In August last year, Phat Phish, an independent new-age filmmaking company, took Rabbi on board.
Rabbi has had very little formal training in music. His family background (his mother is a Punjabi poet, and his late father was an interpreter of Gurbani, the sacred Sikh texts), with his extended family of farmers living in village Chak Mishri Khan near Amritsar, and his keen interest in the scriptures provide him with inspiration for his songs. In fact, the tune for Bulla Ki Jana was composed one fine day when Rabbi was reading Bulle Shah?s teachings, and this particular song coincided with his then current mood.
?Bulla Ki Jana is all about us not knowing who we are, of thinking of life in terms of boxes, until we are enlightened. And then, you realise how meaninglessly you?ve compartmentalised life,? he explains.
Rabbi hopes to rise into the national consciousness through his songs. ?I don?t care if they play my videos a few times, I want to go beyond that,? he says. Pakistan, where Sufi music finds a special place, has already discovered his talent; his shows in Karachi early this year were sellouts. A couple of weeks later, everyone at the launch party of Tehelka magazine in Delhi wanted to know more about the bard who had surprised them with his music.
Muzaffar Ali, the organiser of the annual Jahaan-e-Khusrau festival in Delhi, isn?t surprised by the interest Rabbi?s music has generated. Sufi music, he says, is an ever-evolving tradition. This year, too, saw quite a few innovations. Shye Ben Tzur of Israel has made a mark with his Sufi songs in Hebrew. Choreographers like Astad Deboo have introduced dance to Sufi music, and the Wadali Brothers have won accolades for their songs in the film Pinjar. Rabbi himself continues to write songs for films, even though he won?t sing them.
Not in films, maybe, but all Rabbi wants to do right now is sing. He hasn?t yet chalked out his path, and he doesn?t know what?s in store for him ? or which way he is going. But Rabbi isn?t worried. For, as he sings, Bulla Ki Jana Main Kaun ? ?I know not who I am...?