Uniting for the cause of fashion
Anamika Khanna and Sandeep Khosla meet on Zoom session on "consent, credit and compensation" for craftsmen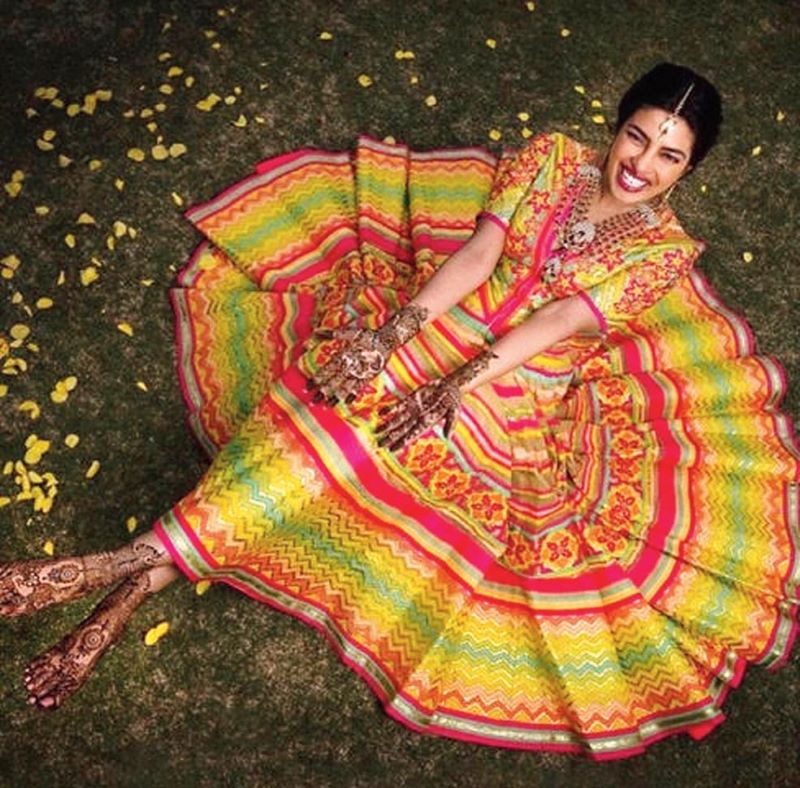 ---
---
What results from the coming together of two sartorial stalwarts on the same screen for a select set of people to pick their minds is an enriching perspective on the entire gamut of the fashion alphabet. Such was the evening of June 24 as Anamika Khanna and Sandeep Khosla were united, albeit through Zoom, during a session organised by the Calcutta chapter of FICCI Flo and steered by fashion and sustainability activist and former journalist Bandana Tewari, that touched upon all the pressing matters that the multibillion-dollar Indian fashion industry are concerned with. While an agreement on business taking a hit was unanimous, it also was the same when it came to them championing the cause of fashion being touched and felt, and therefore, their subsequent belief in a more scaled-down concept of fashion shows sans the ever-contentious business of front-row seating. The causes of "consent, credit and compensation" for artisans and craftsmen were brought to the fore with great conviction by both the designers whose respective labels are known for their Indian craftsmanship, while also weighing in on the myopia of seasonal fashion, especially in a largely mono-seasonal country like India. Excerpts:

Reckoning and Realisations

Anamika Khanna: I started okay because all of us were treating it like this much-needed forced break that we had been promising ourselves forever. But soon enough, this lockdown started feeling like a reckoning and I started questioning life itself. When you watched how the migrant workers were walking back home, there was also this realisation every single day that we have so much to be grateful for. We took everything for granted and when the cyclone came, we did not even have phone lines. That feeling that nothing is permanent is really strong. And with everyone talking about businesses failing and the economy crashing, one can't help but worry as there is a battalion of people depending on you for their livelihoods. But you can't just sit and worry because you have to get up and work out of it to be able to take charge. So I have gone through all of these emotions.

Sandeep Khosla: It's been absolutely crazy for me because Abu (Jani) has been in London through this as he could not come back. This (the lockdown) was all too rushed as there was no time to plan for anything — whether it's your workers or to even get a hold of your parents. My parents are aged 91 and 85 and they're in Punjab all alone. It's been crazy thinking about the way forward for the business as well, though I have been a great believer of the resilience of us Indians always. When you're supporting 700 people, you don't know what to do because you don't know how long this situation will last. I had a panic attack one time and asked my doctor to do something! But I sorted myself out, went for walks and even discovered new people in my building — life went on!

Damage to Business

Anamika: One can't pinpoint to one thing as across the board, the fashion industry has been hit hard. The demand is obviously not the same as you have stock that you need to sell and you have people that you need to provide for. If you don't have fashion shows, what happens to the huge number of people who are employed in various capacities in the industry? So it's not like only the top or the bottom of the ladder that's been hit. Everyone's been hit equally and at this point, everyone is just managing or trying to stay afloat. Orders have been cancelled, payments are stuck and you don't want to pressurise anybody but so many people depend on you — it's like a cycle and we are all entangled in it and it will take time to detangle this.

Sandeep: We were already going through a recession through 2019 and then just as the market started picking up in 2020, it all came to a complete halt. Our artisans play the biggest role for Abu Jani Sandeep Khosla — it's all about craft and make-in-India. The way forward for us has been just rethinking and redoing and maybe, it means that we have to do just the finest and the best work for the few of us at one level so that we can give our artisans the work they deserve and keep them going. Fortunately, we just sell from our stores so we don't have to deal with outside order cancellations. But even we have loads of stock that we were in the middle of.

Consent, Credit and Compensation for Indian art and craft

Anamika: I have noticed for a while now that fine handiwork is reducing and somewhere, there's been a deficit of respect for our artisans. And going down the chain, the future generations of artisans are not interested to continue forward as well. So this demise of handicraft was happening slowly anyway and this situation has accelerated this process. It is imperative for us to start respecting ourselves first. We attach more value to anything that is made abroad and don't do the same with what we have here.
Sandeep: I agree and we also need to be more inclusive to respect our minority communities. Our artisans mostly belong to the minor communities and I have always worried about what will happen to my people! Out of my 700 people, 50 went back home but the others are still with us in Mumbai, which is a feat to achieve by itself.

Indian design, by and large, does not seem to exist abroad though international brands take inspiration from Indian brands constantly. But we don't have a standing over there. So first and foremost, we need to have respect there and our craft needs to get acknowledged first. Once we start the three Cs here, they will have to acknowledge us and the people who are doing the work for them. It should go as "Made in India" and not "Made in Paris" when the craftsmen are here.

Scaling Down to Include the Truly Committed

Anamika: I agree that fashion shows went out of control and larger-than-life became more important than the collection itself — you were as big as the big show that you did. But the touch-and-feel of fashion and the exhilaration of a fashion show can't be substituted with seeing it on a screen. I hope it does not go away but I agree that we need to make it simpler — reduce the madness and carbon footprint of such events but still do shows that are relevant. Burberry has already announced that they will do an outdoor show in September 2021 but are also saying that whoever can't attend it can watch it virtually. We can't have that madness of flying from city to city and sitting in the front row. I think all of us designers have faced more trouble with the front row than the setting of the show itself! I have received hate mails because of this and it's been the biggest problem of my life! All of this needs to be curtailed but I don't think we should completely let go of the beauty of a fashion show and its extraordinary moments.
Sandeep: People will bounce back and it is about touch-and-feel because craftsmanship has to be seen and admired closely. Of course virtual shows can be held but then the plagiarism market will make much more sales than we can ever make! It should be 50-60 people that you invite for a small fashion show and that's it.

Repeat Value & Retail

Anamika: I think it has a lot to do with societal pressure and we also indulge them. There are also people who won't repeat something because it's there on their Instagram. It's crazy! Even bridal fashion basically comprises heirloom pieces that should be reworn.

As for retail, while everyone is talking about going online, I am unable to understand how they will take the human touch out of context. Clicking a button in your pyjamas to buy something is not the same as when you experience the shopping. You can't buy your wedding outfit like that. I don't think a mad rush to open lots of stores is needed but I don't see online fashion substituting brick-and-mortar either. For higher-end products, people still want to connect and don't want to just buy it online and get done with it.
Sandeep: We don't do seasonal fashion because there is hardly any season in India! I keep telling all my brides that they have to
re-wear what I make for them and it's so nice to see people who wear our stuff on repeat.

As for retail, we will have visits by appointment to begin with and have two-three customers at a time. I recently went to Good Earth and there were three customers there but it's good to know that people are out shopping still and we are waiting to welcome them, but in limited numbers and with great safety. I don't think you can sell couture online anyway! I have had online queries for consults but they will come and meet you one-on-one once to finalise the order.