Rannvijay Singha on the importance of being well groomed. Men, are you listening?
The personable and warm MTV Roadies winner is a part of a grooming brand for men, called Whiskers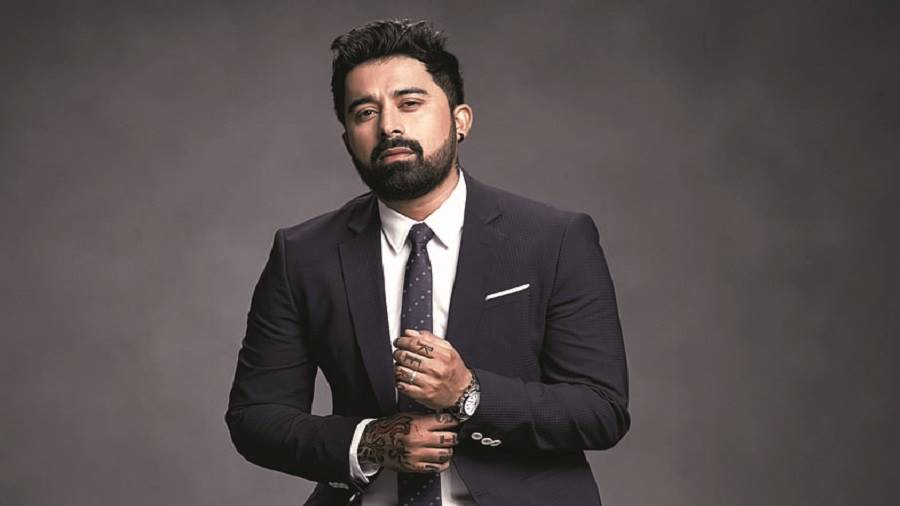 Rannvijay Singha
Sourced by the Telegraph
---
Published 29.07.20, 09:37 PM
|
---
He grew up in an army family in the midst of well-groomed men. And, that has stayed with Rannvijay Singha. The personable and warm MTV Roadies winner, now a successful anchor who has also dabbled in films and has a massive youth connect, is a part of a grooming brand for men, called Whiskers. "The idea is to make people aware about men's grooming…. 'Oh yaar mere paas time nahin haan… I am a rough-and-tough kind of a guy'… but when you are interacting with people, it shows your personality. Appearance is important when you are representing yourself and expressing yourself. It is an ongoing process. I am glad that the market has opened up a little bit," Rannvijay, the co-founder, tells The Telegraph. Excerpts.

What is proper grooming for you?
My father was in the army. I was always surrounded by army officers. My uncles, my grandfather… everybody was an army officer. You see army officers... they are always well-groomed and well turned-out, spick and span and smart, with a nice haircut. I always thought that that's the way to be... to have your shirt tucked in. It was an everyday thing. That's the way an officer would present himself.
Eventually with generations, time changes. So now the haircut is not similar to the army officer's, but it's always groomed and styled. Your nails are always cut because I was in a boarding school. Grooming is part of basic hygiene and actual discipline according to me. You got to dress smart and according to the occasion.
My father and grandfather have beards. If you see my dad's photograph, his beard is always well-groomed and in shape. In the olden days, they used to put sarson ka tel and it was organic. Now with the kind of lifestyle that we lead, I think you need to take care of it. It should look good and not scruffy. Everybody likes somebody who takes pride in themselves and takes care of themselves. The pride is in whatever look they want to go with.

When did you become aware of the importance of grooming?
In boarding school. Of course I am in the industry where fashion (plays a large part). So, you try long hair. But personal grooming… being clean, using a deodorant, moisturising. I am very rough and tough and I don't have to prove it by looks. My actions would prove that. I might be on a bike going to Leh but can't be having chapped lips. Some people tend to overdo it also. Grooming is personal. It depends on what balance you want to create.
Since I have started growing my beard, it was great to have the Whiskers beard oil because that gives a great fragrance and texture. Even Prianka (wife) says it smells great. So, do it for yourself and also for the people around you.
When did you think of launching a brand?
Between my other partners Aakash (Goswami) and Hardik (Varia) and myself, we've been thinking about it for a couple of years, but got into it full-fledged last year. We wanted to do something different and come up with things which are not available. If you have a tattoo, that also needs to be taken care of. A lot of people over the last 10 years have gotten tattoos. We came up with a tattoo product which is not at all available in India. We came up with tattoo wax. It gives it a good shine and it nurtures it. Then there is a moisturising cream. A lot of these things were thought of as a consumer. This is a made-in-India brand which I am very proud of.
If you see the product, it is no less than any international brand. My mother-in-law is from London. When I showed her the product, she said: 'Isko Selfridges mein kiu nahin rakhte?' I told her: 'I know the quality is such, but we as Indians also deserve this'. Made in India and also consumed in India is what we want.

Why the name Whiskers?
The name is royal. It is not very obvious. Beard is in now. Even in the metropolitan cities, a lot of people are growing beards. Whiskers will connect with everyone. It is a cool and catchy name. Women like whiskers because it is not too masculine and something that cats have… big cats. I wanted the brand to connect with women too in the sense that they would want to pick it up for men in their lives. With Raksha Bandhan approaching, sisters could buy it for their brothers. The logo is that of a cool, uber chic, confident man.

Do you also believe that 'Jiske paas mooch nahin ... uske paas mann hi nahin hai?!'
We are in a world where human beings are fighting against discrimination. At this point, we should be okay with everything. We are saying bachche ko bhi yeh maat batao ke woh male hai ya female hai. At the end of the day, we got to respect people for who and what they are. I have seen my father and grandfather in a beard. So, for me, I am most comfortable with a bit of a beard. I haven't shaved for many years.

A lot of people snigger at boys who love grooming. There is nothing feminine about grooming, right?
Not at all. I am saying if a boy relates to be feminine, there is nothing wrong with that. Grooming gives people confidence.

What are your favourites from the range?
If I go out, I use the hair products from Whiskers and use the beard oil a lot. The tattoo cream is so nice that I sometimes use it as a moisturiser. There is a charcoal face scrub that I use. I am so heavily emotionally invested in everything, even the packaging, it is almost like saying aapne bhai o or beheno mein se batado favourite kaun hai!  

Do you have a grooming ritual?
It varies and depends on what I am doing. If I am on a trek, at a higher altitude area, the only thing I do is brush my teeth and wash my face. I cut my nails as regularly as I can. I trim my beard every four-five days. If I am trekking or going on a bike ride for 10-15 days, you can't take so many things, because you are only operating out of a bag.

Do the ladies in your life — your wife and daughter— have a say about any part of your grooming ritual?
After I take a shower, I generally put the beard oil and my daughter (Kainaat) will hug me and say: 'Dad, I like your smell'. When I met Prianka for the first time, she did notice that I am a guy who smells good.

You have been an youth icon. What are you telling your daughter about boys?
By not specifying a difference between a man and a woman is the most natural way to bring up a child. As kids, we played the same sport. The equality between a man and a woman was not a problem in my head till the time I was in the bubble of the Indian Army. Today there is a lot of chatter thankfully. When you don't discriminate, kids learn that. Right now there is a football class going on where girls and boys are playing together.