Rajesh Pratap Singh decodes the world of Satya Paul's Valley of Flowers
'We have gone back into the late '60s and '70s and taken references of the floral prints, but we have interpreted in a very modern way'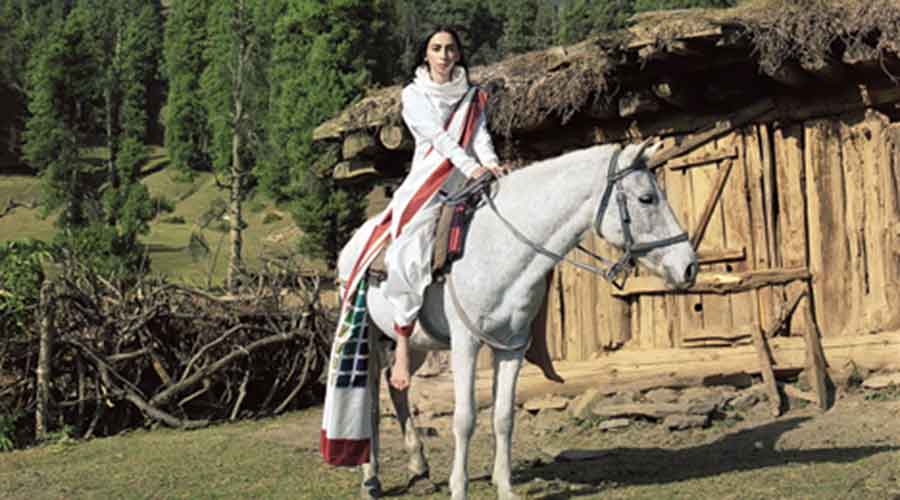 ---
Published 20.11.20, 08:36 AM
|
---
Satya Paul's Valley of Flowers has a certain charm with a sense of abandon at the core. Abound with floral motifs, the collection draws from the '60s and '70s, in "spirit" and interprets it in a contemporary language, reimagining Satya Paul at the same time. Rajesh Pratap Singh, creative director of Satya Paul, tells Telegraph, how. The collection looks romantic. This is Satya Paul's 'first collection of ready-to-wear tailored suits, dresses, kimonos, leather accessories and a line of handcrafted leather bags'. So, it's a new beginning for the brand…
Satya Paul is known for its great prints and bold colours and graphics. The idea was to extend it to something which is more relevant and much younger and catering to product categories which don't exist right now. While we haven't taken the focus off the saris, we have just extended the product category.
Do you have a romance for the retro as well? Was that the idea behind revisiting the '60s and '70s?
We haven't kept so much of retro. We have gone back into the late '60s and '70s and taken references of the floral prints, but we have interpreted in a very modern way. It is like a collage and patchwork of the graphics from that era, but the interpretation is completely new and modern. We absolutely love the tailored suit… so, reimagining the suit, right?
The idea is to have a new structure, the silhouette for the romantic flower and the idea was to use the Satya Paul language into a more masculine and structured way. We have kept the spirit there, but just a younger, modern, stronger version.
What do you personally love about the '60s and '70s?
For me, it was the music, the album covers which I can remember. Also, years ago we happened to visit this amazing group of people who had come and settled down in the hills. Just interacting with them was amazing. It is a collage of memories, beautiful and graphic visuals which one saw.
In its strange ways it is a similar world and the youth of today are facing a world of challenges, may be different challenges, but a similar feel. Tell us about your favourite artistes…
The music from the '60s and '70s, was like nursery rhymes for my generation... so much happened at that time. So many rules were broken. Just the idea of breaking so many rules was beautiful and not just breaking rules for the sake of breaking rules, but for the sake of experimenting. The idea of freedom.
Whether it is Dylan or other artistes from the era, they are definitely a part of the playlist. We keep going back to it and it still makes sense and it is still relevant. How we use all that information and we funnel it and filter it from today's point of view, is important.
The bags look interesting…
We wanted to have our own original Satya Paul shapes. We started working with shapes that are basically ergonomic, clean and pure. We studied the armhole shape of T-shirts, more architectural, clean pure lines and for colours, we kept them a little bright with contrast edging, so that while it is classic and timeless, it is true to the brand… colourful and bold. The named are inspired by the mountain peaks.
You have said that the collection is for the free-spirited woman. What is actually being free-spirited for you…
Free-spirited and freedom means different things to different people. I think to be pure, bold and uninhibited is something which is important. It is important for women to be strong and not be put into structure or box or a cliche. Everybody needs their own interpretation and not a second-hand interpretation of what people want you to be.
Do you have iconic silhouettes in mind when you talk of the '60s and '70s?
So many things happened then. I love the basic, simple A-line dress that Yves Saint Laurent had come up with. The construction was so amazing. It is so simple and beautiful. The idea is not to replicate, but, to have your own interpretation… the A-line short dress, the MOB short dress and I think we have done a version of it in this collection, which I thought was quite interesting. The simplicity. It is something very pure.