- Rajahs of the road
Read more below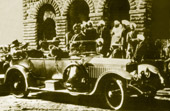 ---
Published 04.07.04, 12:00 AM
|
---
GRAND DESIGN: Bhupinder Singh of Patiala (centre) with entourage
One of the new "maharajah and maharani" combinations is businessman H.S. Narula and his wife Surina, who have a Rolls, a Silver Seraph, in Britain at their estate Hyver Hall in Hertfordshire, and a Rolls in India, a Silver Spirit.
"The Rolls in India was bought by my father," he says. He would not be surprised, he says, if Rolls opens a dealership in India. "Bentley already has one," he adds.
The best known authority on the Indian connection is author, car enthusiast and collector John Fasal, who says: "I am writing the definitive book on the subject of the Rolls-Royce and the Indian maharajahs, based on my 35 years' experience of the subject. There is so much, it will be a two-volume book."
The book will be published next year. The maharajahs certainly kept Rolls-Royce afloat, as their "successors" may do in the future. In Freedom at Midnight, Dominic Lapierre calculated that on an average, each maharajah had 3.5 Rolls-Royces.
After the Second World War, the first one off the assembly line was bought by Pratap Singh Gaekwad of Baroda. In 1908, the maharajah of Gwalior bought one nicknamed the "Pearl of the East" after it had made a record trans-India run. The Nizam of Hyderabad was said to have 50, and used one as a "semi-state coach".
Enthusiasts included the maharajahs of Bharatpur, Bhupinder Singh of Patiala (he had at least 27), Dharbhanga and Faridkot.