Rahul Mishra steadily creating an international footprint
The designer has showcased at Paris Fashion Week for 11 seasons now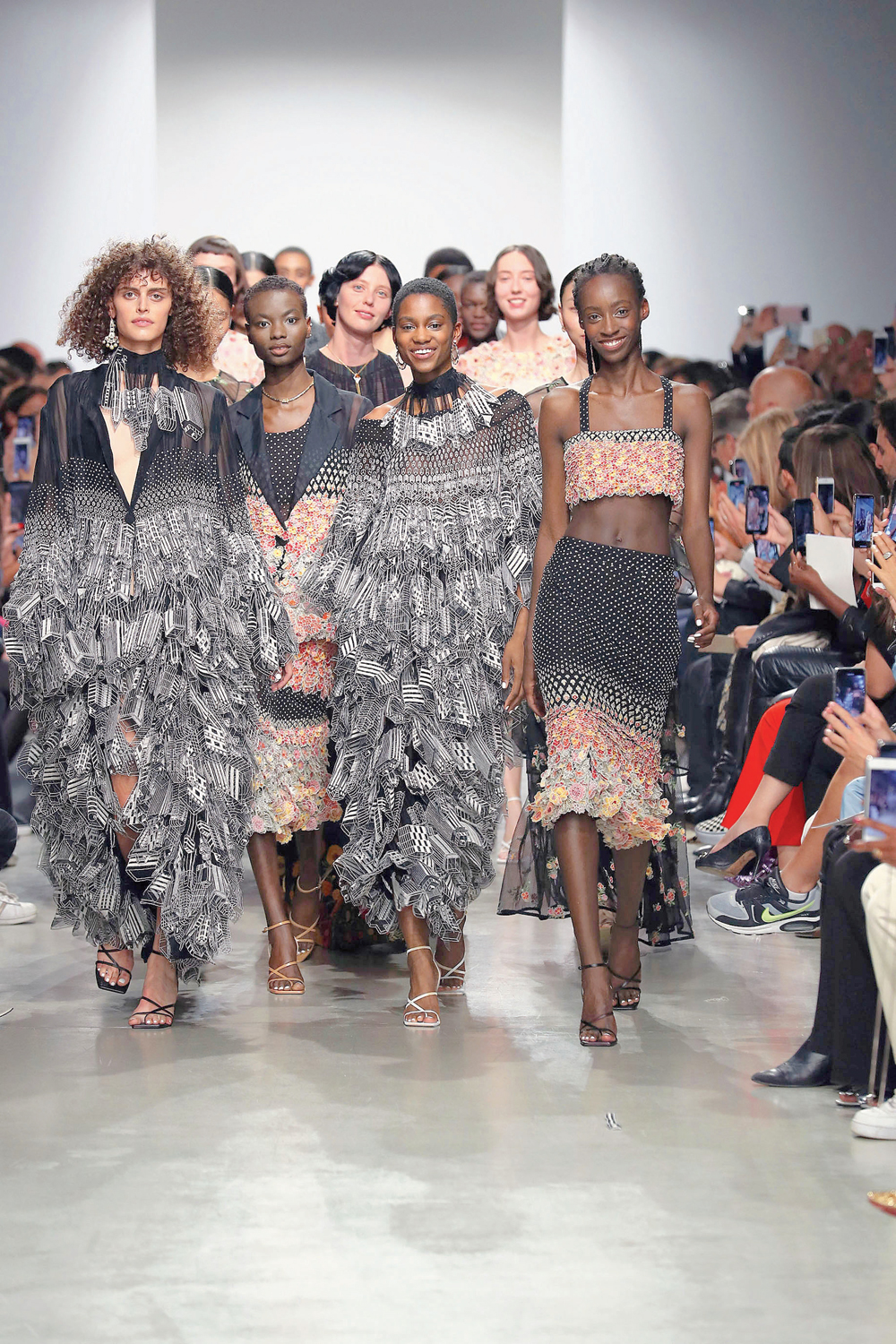 ---
---
He disarms you with his candour and down-to-earth demeanour. If you're prepped with questions for an interaction with Rahul Mishra, a few minutes into the chat you forget all about them and end up engaging in an adda, which stretches much longer than your stipulated time. That's exactly what happened when The Telegraph met him recently when he was in town for the Vogue Trunk Show, partnered by The Telegraph. At 40, Rahul already has the coveted International Woolmark Prize (2014) and 11 seasons of Paris Fashion Week under his belt. The affable designer spoke to us about his dream, spending quality time with daughter Aarna, the six-year journey of his label, inspirations and being a global designer. Excerpts...
Belated happy birthday (November 7)! How was your big day?
Since four years life is revolving around my daughter (Aarna). Birthdays are supposed to be for her. For me, every minute that I get to spend with her is everything! She is growing really fast and she is a proper birthday hijacker, she has to cut all the cakes. And this is the first time she wished me 'Happy Birthday'! In the morning when I told her that it's my birthday, she was like "No, it's my birthday". But by evening, she realised that it was actually my birthday and she gave me a hug and wished me. That was really sweet and the best thing on my birthday.
It was an intimate thing with my parents, my wife and daughter. Being with your daughter is fun because kids need you now... they will soon grow and have their own world. I also made a big Aarna wall with 50-plus pictures from our recent trips to Santorini, Paris, Vienna and her earliest pictures with different family members. I also stayed away from my phone for the most part of the day.
Does your daughter understand what you do?
I think she understands the fun part of my work. She has been to two Paris Fashion Week shows, she had seen two India Couture Week shows. She seems to be influenced by the "model aunties", she imitates them... she would walk like them... she is into nail polish, lipstick, dressing up. She does her own styling, she will choose what she wants to wear, how she wants to wear. Earlier when we used to ask her 'Aarna what do you want to be when you grow up?' She would say Lion King and now she has started saying designer! (Laughs)
Lets talk about your journey. It's been five years since you won the International Woolmark Prize. How has life changed since?
Winning or losing doesn't take you far but the attitude in life takes you far. The journey is important and after Woolmark there were a lot of expectations, pressures and I also knew next year someone else will win and then people will forget me. Winning the Woolmark Prize is a matter of luck and talent but more than that is the attitude you have post that. We have participated in 11 seasons of Paris Fashion Week consistently. The brand has established a good global footprint now.
I have not held on to the products that won me the Woolmark Prize. You have to move on… that product was relevant for 2014-2015 but now we are reaching 2020... so what's new, we need to see what the market needs. The award helped me to get confidence about investing the energy and money on a global platform. Like today when I showcase alongside Hermes, Chanel and other brands…
I will share a story. When I had won the award I had gone to the president of French Federation (of fashion) and told him that I want to showcase at Paris Fashion Week and that I am a Woolmark award winner. He said "So what? There are so many prizes that are happening!" (Laughs) And he was like it's a simple process of jury, you have to go through that. Submit pictures of your latest collection, your report and if the jury decides, you are in. And that kind of incident kicks the star out of you and you realise in such big international platforms, you are as good as your last collection.
Nevertheless, the Woolmark Prize has been a great shaping experience. It's like you want to be an engineer and you get through IIT. But then it's just the start of the journey where you need to continue to do well. Same for this award, they make way for an opportunity and you have to grab it and keep making the most of it.
We now have stores in Mumbai and Delhi… our bridal business is growing really well and we are looking at opening stores in Hyderabad and then Calcutta. But it's not just about opening more stores. The problem with us is, we are a 100 per cent handmade brand. We only do work with hand embroidery and opening stores is easy but to keep stores full and manage all the orders in time and to keep everybody happy is a task and a battle on its own.
You have been participating in Paris Fashion Week for so many years now. We all know the process is very expensive. Is it worth it for you, from the commercial point of view?
From the business point of view, I am making money and more than making money what matters to me is we are growing every year. From the inception… my company that is six years old, from day one we have been a profit-making company and we are growing at more than 50 per cent every year.
Paris is very expensive; one way for me to do it was to keep looking for sponsors and that I thought was futile, as it takes too much energy and they often come up with their own ideas for the shows and the integrity of the show often gets spoilt. Secondly, what I have looked at is, since overheads are more, how can I increase my business space to be able to bear the extra overheads. Paris is a complete sustainable model for us and it offers me a great window in terms of one big, fair chance to be a big global brand. Any brand that you build, shiddat lagti hai, time lagta hai and patience and perseverance lagta hai.
Apart from patience and perseverance, what else worked in your favour?
Paris has been really lucky for us in that way. I feel it's all a matter of timing. When I got the Woolmark Prize I could experiment in my first season with getting the sizing right, the right business and so on…. We did burn our hands with some of the most famous stockists of the globe not paying us for even things that they have sold.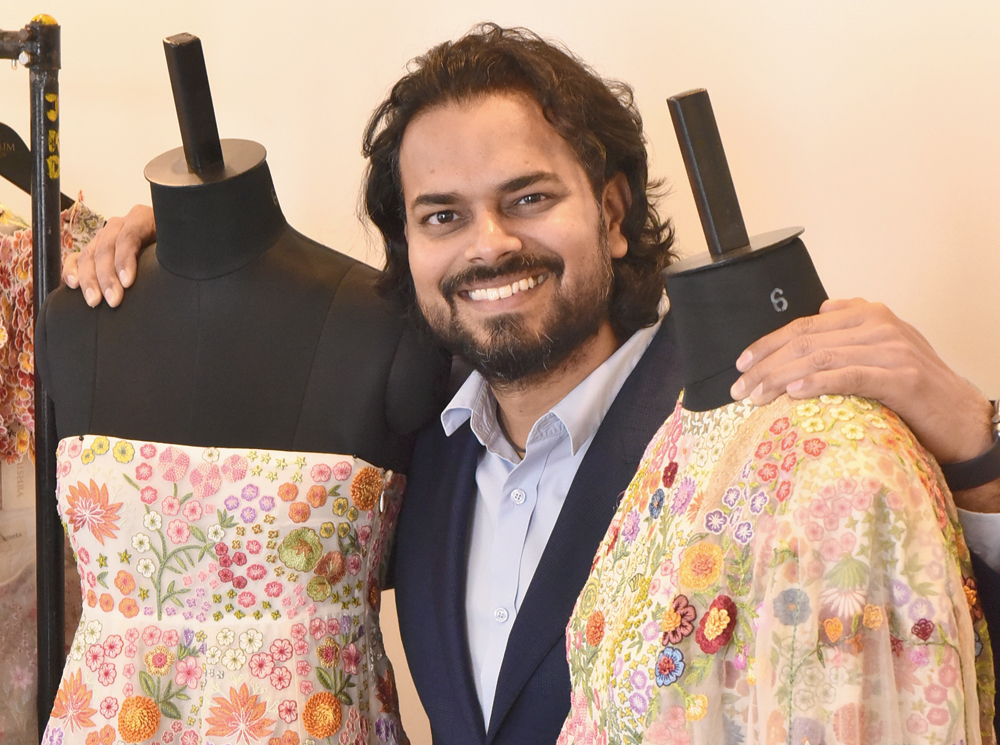 Most of the departmental stores in the world have become like reality business stores. Most of the stores are very less about their independent designers and selling their collections... there concept is, they have dedicated like model floors to mega brands with huge turnover. Luckily for us I have got a decent understanding of the international fashion business and how it operates.
In that way, I know which are the target markets, like for one of our big Japanese retailers, we are doing a white wedding collection, so all the colourful clothes you see there (points at the stall), they will be converted to beautiful bridal gowns with absence of colour. We have got a lot of royal families who are our direct clients... one of the richest Italians, she is my direct client.... So we could build a very strong haute couture brand, so that way our growth graph is moving towards the haute couture story.
Strategically, I am shifting to this because departmental stores are struggling more and more. That's also why season after season our brand is getting into niche brand category in Paris also... and even in India. I have realised that less expensive stuff which are ready to wear, there are way too many people out there... it's like overcrowded and streetwear is just not selling. It looks great on magazines but it's just not working for anybody. I feel a niche, better-crafted product has got a better future. This time I did a very theatrical kind of collection for the Paris Fashion Week, I thought it was a very non-commercial collection but my this collection has done double the business!
Paris has given me a very strong creative growth as a designer. Designers I feel often get carried away with just business growth but I feel the two go hand in hand. Any opportunity should not be left behind; if you are getting a chance to grow your business and grow yourself creatively, I feel that is where evolution of a brand comes in.
What makes your designs stand out? Where do you draw inspiration from?
First, I never tried to stand out, rather I tried to personalise things. Recently I have been toying with the idea of inspiration... well, what is inspiration, and I came to a conclusion which might be wrong but it is my hypothesis. I feel inspiration is of three kinds — tertiary, secondary and primary.
Tertiary is where you see Pinterest and Instagram and you can only see an image but can't see much even when you zoom in. Secondary is all man-made inspiration like library, craft village, a piece of motif, a museum where you see Van Gogh's Sunflower, come back and you do it in your own way. Tertiary I don't believe in because computer-related things are not me, I am more like I have to go to a library, search or go to a museum and understand what has gone inside the artist's brain. But now what I am working is with primary inspiration. It is when you are travelling to a place where you see things in physicality, like when you are seeing a sunflower in your own garden and what feeling it evokes in you and tells you. Primary is what is created by God and there is no filter in-between.
So different places have always had an influence on you... be it your house with the pond in Malhausi, UP, or Paris. You went to Bhutan recently... what did you take away from the mountains?
Before Bhutan I was in Maldives. And Maldives mein this time I took a dip. I am not much of a swimmer. My first attempt was snorkelling and it felt like I was drowning. Second day, we had got a boat and had decided to go into the ocean and dive from a coral reef… I told myself if I don't do this time, I will never have the courage to do it again. The best thing is when you encounter your fears! I went ahead, I did that and it was completely meditative. You are disconnected from the world and you feel so small… so I brought back those beauty and memories and worked on my mood board.
I will show you something, see this bougainvillea and can you see the genda phool (points to embroidery on an outfit)? You know where this inspiration came from? In my factory lawn, my maali saab ne very sweetly planted this bougainvillea and also planted the marigold plant which bloomed… so you see I am enjoying this phase of life where I am discovering things like a child. In Bhutan we met the king and he said take as many inspirations as you want and I was like wow!
Gulmohar, Gulistaan... flowers have always been a major inspiration for you...
You know, our affinity for flowers is not just an incidental thing, it is engineered by the design in our DNA to respect and love flowers and fruits. What we have in this world are plants, flowers, leaves or architecture and I often take inspiration from architecture or flowers.
What do you think is the key to making a design global and draw attention of the international market?
One thing is sure that do not try to do what other brands are trying to do. One has to find their own unique voice. That's about the talent, but talent is just one-third of the game. The rest two-third is about planning strategy and knowing technically when you are ready. Because just by making good designs, taking orders is just 30 per cent of the job. Delivering those orders with proper quantities, proper sizing is another thing. Then comes marketing, reaching out to the right kind of audience. I am a brand and it is really important that I have a following which is directly related to the consumption of the product which I am creating today. So a focussed and smaller group is better than a larger and scattered and not-so-focussed group. I feel a designer is not like a film star who needs millions of people to go and watch a film. A designer's job is probably limited to thousands of clients who are consuming his clothes and hundreds of media professionals who talk about them.

What is your target number?
My target number is not money but my dream, to be able to work, influence the lives of one million craftsmen. I want to have that number. Have you heard of this Japanese word 'ikigai'? Ikigai is this (shows an image explaining the concept). It's a union of everything… passion, mission, vocation and profession. I follow this. I feel I am lucky to have that balance. What we design is allowing them to participate in this journey of making clothes. I believe instead of creating so many clothes, I rather create a design that involves a lot of participation, which is employment.
My fashion is very slow. Why do I work with hand-embroidery? Because I love it and I have a big purpose behind making any garment. The world already has too many clothes than what we need today. The bougainvillea example that I gave you, what is a way of creating something out of that? It could be I go and get the idea printed, it's a half-an-hour job. If I screen-print it , it's a longer process, it will create eight hours of job, if I computer-embroider it, it might create a job which might be for 40 hours… if I go for machine embroidery, it could be 200 hours. When I make a hand-embroidered lehnga, it's going to create a job for 3,400 human hours. So for me the product valuation is dependent on how much employment it is generating.
I always say any product that you are creating, three Ps are very important — 'purpose', which defines the 'process', the process is either machine, hand, or digital… then comes 'product'.
How do you handle pressure? You have so many things going on…
Work pressure is quite a lot... so what I have realised is slowly keep utilising the time, and keep working. I must also make a very honest confession that I have not been able to feel so much pressure because I have got Divya (wife) by my side. We are married for more than 10 years now and the most amazing thing about her is she is a very grounded person. She keeps things really under control. She is the one who is managing the finances and I have no idea what is selling and what is happening. She handles everything so smoothly with the wonderful team of mine. She is also my biggest critic and she is not easily happy with what I create and she is very honest about it. One day I had a show in Lal Kila beginning of this year and I did Indian outfits... in a four-designer show I did 12 outfits... I remember she saw the show and she messaged me: 'Rahul it was simply beautiful and my heart swelled with pride'.
From coming up with a concept to working on it and finally giving it the final touches before it takes off on the runway... the whole process is like building a relationship or planting a seed and seeing it bloom. Once it's done, how do you deal with it before you are again swarmed by new ideas? Do you feel empty then?
It's a wonderful question which nobody has asked me ever! I often get depressed after my shows and I often feel disoriented even while answering the best of media in the world. After the backstage when you are doing pack-up anywhere, you have literally lived with a dream for six months. It's like your baby and every day you would go to your office just to see that collection grow in front of your eyes and suddenly from tomorrow there is nothing to look up to. So this time I told Divya that rather than scrolling the reviews post a show... after the show we went to Santorini. In India after a Couture Week you start looking forward to the Vogue show. But after Paris show there is this hollowness. So this time it felt good to go on a vacation, and may be we will follow this pattern post the Paris show too. That way we go somewhere and also take inspiration and come back (laughs) and start another journey.
Almost everyone is going the sustainable way, but it is still believed that the fashion industry is contributing big time to pollution. What is your take on this?
The fashion industry will become the number one contributor (to pollution) by 2030 I feel. I feel the very idea of sustainability is to create clothing that is purpose driven and not market driven. The craftsmanship and beauty of art needs to be taken care of, and in that way I feel green washing is something a lot of big companies are doing. This shirt that I am wearing, just to grow that much of cotton, then to dye and all the processes, it takes thousands of litres of water. Where fresh water is not there, cotton is the ugliest. Then comes washing, drying… more fresh water.
Over production is a problem. As a brand we only do need-based clothing. I am still using iPhone 6 because if I throw this away and buy a new one I am adding to another consumption. This shirt, this denim that I am wearing, I have been wearing for many years. I do not shop much because I don't need to. I think the world has enough for people to satisfy their need. Everybody has to find their own value of sustainability.
Coming to dressing up celebs, from Priyanka Chopra Jonas, Deepika Padukone, Shraddha Kapoor to a millennial like Janhvi Kapoor, they've all worn your label. What makes it so versatile?
Touchwood, we have got so many requests about sourcing that a lot of time my store in Bombay is half empty and I have to stop sourcing. Sourcing-wise we go very slow and I am happy that these girls who are already beautiful look beautiful wearing my clothes.
Who is your muse?
I do not work on the muse idea. I often work on the idea of art, very honestly. As a poet I often work on the idea that what do I have too personal or intimate to show to the world. Then after that I am really thankful to all these people who pick up my clothes or wear them. I have realised in my life that music, poetry and art are something that travels across ages, borders. Recently someone sent Divya a picture of a wedding where both the families across various age groups were wearing our pieces from head to toe. So this picture is going to be a big part of their lives and in a way we, too, are going to be a part of it. It feels great! Our clothes have an age-free and gender-free identity that is a conscious effort by us. If flowers look beautiful, why can't men wear them too?!
Who is a millennial bride for you?
One big change that I have noticed in the wedding pattern is… 10 years back a bride would walk in with her family where they would decide everything that she is going to wear. Now millennials are so well travelled, she knows exactly what she wants, she is probably studying in New York or works here… she is deciding about what the family will wear! Long ago brides used to think they had to wear the heaviest lehnga weighing 20kilos! Nowadays I get a brief from the bride that I am getting married in a destination wedding, without shoes, so can I have a lehnga which is like this? She has already done her research on what she wants. These millennials are not necessarily spending too much on the wedding but on the experience that they cherish.
Any other wedding trend making it big now?
Inter-twinning is something I am really enjoying a lot. Then lightness. When I had started my career I used to love organza since my Italian days but I couldn't sell one lehnga then. But now 90 per cent of my clothing is organza and it is an awesome fabric because it gives the most beautiful shape and the embroidery work comes out best in organza.
Have you ever thought of making costumes for Bollywood?
I did get some offers but I could not do that. I am more like a free thinker doing things completely on my own terms. In that way working in Bollywood requires a lot more teamwork. Recently I was in a flight with Mr Bhansali (Sanjay Leela) and someone from his team said they would like to work for a movie with me but I just smiled because I know how he is passionate about craft… but I don't know if I can manage in that time, the commitment... whether in my own lazy slow time I will be able to create what he wants. I am a very slow designer and filmmaking requires a very fast turnaround time. I have also missed a lot of celeb dressing opportunities, be it Lady Gaga or Kim Kardashian. Because time is really short when they inform and they want it done quickly, which I am not able to do. Even for Beyonce! Though I had done some pieces, which she has taken with her and many times we don't follow up with them if they have worn it or not.