Rahul Khanna on why he veers towards classic dressing
'Fashion is ephemeral, it comes and goes, whereas style is long-lasting and is an expression of your personality' says the actor about his Chokore India collaboration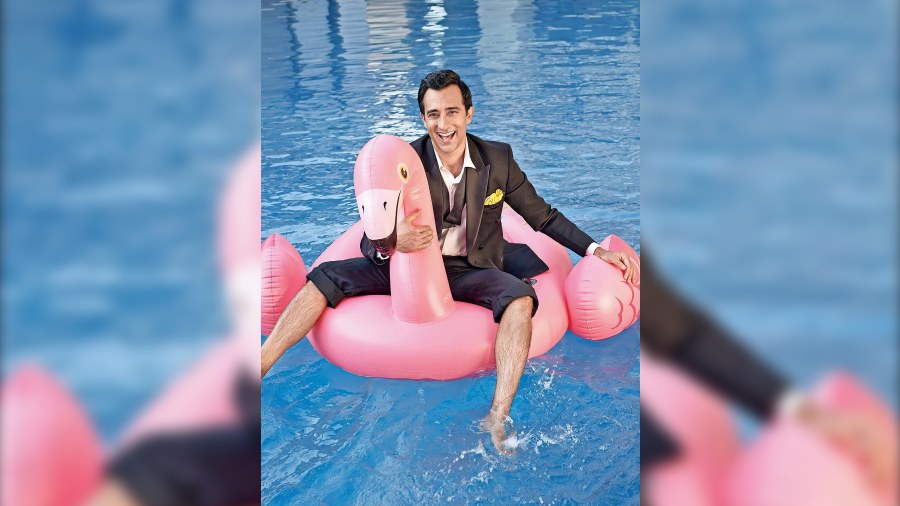 ---
Published 03.08.22, 02:09 AM
|
---
Rahul Khanna has forayed into the world of fashion by conceptualising and curating an exclusive men's accessories collection for Chokore India. Titled RKXC, the line — in keeping with the actors' distinctive style — comprises exquisite silk neckties, classic bow ties and pocket squares.
The Telegraph caught up with the always dapper Rahul on the collection, why he veers towards classic dressing, turning 50 and why he still has some growing-up to do.
Congratulations for the collaboration with Chokore India. RKXC is classic and timeless and seems to be very you. How did it happen?
The whole collection is based on my own accessories collection and my experience in sourcing for my collection. As someone who has a certain classic taste, I find it very hard to find foundational pieces that last a lifetime and never go out of style. It's always easy to find things that are heavily embellished or jazzy, but nothing that is really classic and clean... something that a gentleman could have in his wardrobe forever. That's why I set about making this collection.
What's the response so far?
It's been great. We are only a week old. Everyone who has seen it has really liked it. People who have received products from the line are very happy with the quality. All our ties are made in Italy and are extraordinary. The material for our pocket squares has been very meticulously sourced.
You have described the collection as suited 'for anyone who loves classic menswear, no matter the gender they identify with or conform to'. Would you say it's a gender-fluid line?
I wouldn't call it gender fluid because the pieces are definitely very masculine. It is what we know as traditional menswear... classic black tie, a navy blue necktie or a black bow tie will always be classic menswear.  The point I was trying to make is that there are so many people now who don't fit into the binary concept of male or female... they identify differently, they are exploring their gender.... Some of them may not outwardly present as men, but are drawn to menswear. I want them to feel very welcoming and free to explore the collection. Every time I see a woman in a jacket and a tie or a woman sporting a bowtie or using a pocket square as a scarf, it delights me. So what I said was meant in the spirit of inclusivity
You are a clotheshorse who looks good in everything....
That's not true! I just know how to make it work! (Laughs)
Is your classic sense of style inherent or have you veered towards it over the years?
I think I have always responded to things that were very clean and classic. Over the years, of course, my tastes have been refined by the people I have worked with, and the exposure I have had to travel and to different cultures. In the entertainment industry, we are very lucky to be able to work with stylists and designers who really know their stuff. My interactions with them have given me an appreciation for both fashion and personal style. So yes, my tastes have refined over the years... they are not the same as they were.
What does fashion mean to you?
Fashion is interesting to me, but I am more interested in style. Fashion is ephemeral, it comes and goes, whereas style is long-lasting and is an expression of your personality. You can use fashion to express your style.
Within the broad base of classic, how would you define your style at this point of time?
At this point of time, I am moving more towards an unfussy sort of style. I don't like anything that's unnecessary. I like clean lines. I like my style to be functional and elegant, almost in the mathematical sense. I like to go back to the basics and refine that in its purest form. The simpler the garment, the better. I am now more for a simple, plain white cotton kurta-pyjama... it's efficient, it's elegant, it's versatile.
I like people who have a strong sense of self and express it through their style. Unlike me, someone may have a maximalist, blingy sense of style, but if it's true to their sense of self, it's great.
What have the must-haves in your wardrobe been through the years?
I think every man should have a classic button-down shirt , or several of them so that you always have a clean and crisp one to wear. One thing that I have always had is an elegant navy-blue suit because it can be worn during the day for a business meeting and can also be worn at night for a cocktail party. Another essential for me is a good bandhgala suit which I can wear to traditional events like weddings or any kind of Indian function. And, of course, a solid navy tie, a black tie, a black bow tie and a white pocket square... if you have all of those, you are pretty much good to go.
Are there any grooming musts for you?
To just be squeaky clean! (Laughs) If you start from there, you are already ahead of the game.
You are someone who always looks comfortable in your skin. What's been the key to achieving that?
I wouldn't say I am totally comfortable in my skin, but it's something I do aspire to. The people who I know who are comfortable in their skin are the most attractive people to me, they just have a nice air about them. I wouldn't say I am there 100 per cent, but I am working towards it.
Did you ever have a wild fashion phase?
When I was working with MTV, we had access to some pretty amazing pieces of clothing. At one point, I owned a fake leather black Dolce & Gabbana shirt and I thought it was the coolest thing. Until one day when I wore it out in the heat and it kind of stuck to my skin! (Laughs) It was the most uncomfortable, horrible thing. It was like that episode of Friends where Ross wears those leather pants and he can't get out them. It was pretty much like that for me!
You look good in whatever you wear because you are so fit. What do you on a daily basis to stay fit?
I am a little obsessed with health and wellness and eating clean and exercising. I love being active. When I work out, I do crossfit-style high-intensity workouts. On the days I don't work out, I go for a swim or for a long walk. If I am in a place where I can go for a hike, I borrow someone's dog and do that. If I have just 20 minutes in a hotel, I do a quick run on a treadmill. Or I take an online yoga class.
I am very much into what I eat. Over the years, I have become more conscious about what I am putting into my body. I do eat quite clean. I love food, but I make sure I don't eat sugar or highly processed foods. I like simple, home-cooked food.
No cheat days for you?
I do have cheat days. But I am finding out more and more that I don't enjoy cheat days that much because my body just doesn't respond well to bad food. But yes, if I feel like eating a huge piece of chocolate cake, I will eat it.
You just turned 50, though you don't look it of course! What does this milestone mean to you?
I remember when my parents (Vinod Khanna and Geetanjali Khanna) turned 50, to us as kids that felt really really old! (Laughs) But I don't feel any different, I don't feel grown-up! (Laughs) I still feel like I need some growing-up to happen. I wish they would give me a pamphlet to learn how to deal with it.