Raghavendra Rathore turns mentor with his design school in Jaipur
The designer best known for his signature stylish bandhgalas, has just given shape to his dream project - The Gurukul School of Design (GSD) in Jaipur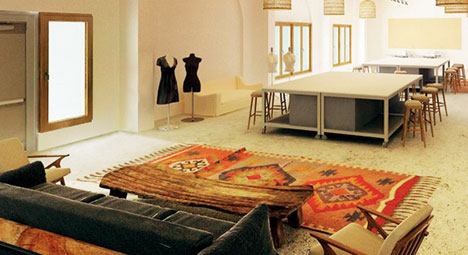 ---
---
Raghavendra Rathore, the designer best known for his signature stylish bandhgalas, has just given shape to his dream project — The Gurukul School of Design (GSD) in Jaipur. The school was inaugurated on August 28 to welcome students to the four-year bachelor's degree in design. t2 dialled Rathore to chat about the institute.
How did the idea for The Gurukul School of Design come about?
GSD will allow students to replicate what a designer does in real life. At the very core of the GSD methodology is design 360 degree. I started GSD in partnership with Amrapali Jewels, in order to contribute in the making of a new generation of fashion entrepreneurs.
The school will have the traditional Indian concept of guru-shishya. How does it feel mentoring fashion's next gen via the traditional Indian teaching methods?
The GSD pedagogy allows students to sharpen their interaction with modern tools. It prepares them for working on a cyclic approach, which will become the norm as they start their own businesses. This methodology allows ample opportunities to apply knowledge in real decision-making revolving around design. It also gives an insight into various genres and categories that otherwise would never have been imagined to be linked to design.
What's the programme structure like?
The course is spread across four years. The learning is divided throughout the week in a way so that the design process has a genesis, evolution and self-realisation. At GSD, emphasis is laid on inspiration that comes from the stimulus of all senses.
How are you going to deal with competition from the premier fashion design schools?
Established design schools have a strong legacy of good work. Each institution has something unique to offer to the students. GSD will teach the value of world culture through its interpretation of the gurukul way of life and impart specialised knowledge to students to enable them to become entrepreneurs as soon as they graduate. Unlike many schools, here students will be taught a lot more than just design. They will be taught all facets of design as well as the business of fashion.
How much involvement do you have in the programme's structure or the classroom teachings?
Right from the inception, we all have been fully involved with GSD. Industry stalwarts would be regularly invited for masterclasses and as for me, all my life I believed that the world of craft, design and fashion could transform if creativity starts to stem from human connections, compassion and interpretation of distinctive pieces of overlooked art. Hence, I would often come to the campus to interact with the students.
Will you place GSD graduates in your company?
They will have the freedom to work as entrepreneurs or with industry professionals. They will be welcome to be a part of Raghavendra Rathore, Jodhpur.
What message do you have for budding fashion designers?
Manage your time well, be patient and let the growth be organic. Don't be afraid to experiment with your passion. Being a designer today is not just about being creative but also about being able to establish your signature, present and speak well.
Tell us about your upcoming autumn-winter collection.
It is a mix of various classic silhouettes reinvented, with a strong emphasis on customised hand-woven and printed materials.
You're also launching a sustainable line in October.
The sustainable fashion collection taps into Indian textile heritage. It uses natural khadi yarn and looks at unexplored techniques of handcrafting materials. It is imbued with the distinctiveness of the heritage of Jodhpur.
Because of its versatility, the khadi fabric was the choice for this collection. While hand-spinning, the fabric is interwoven in a way that allows air circulation in the fabric, offering it a unique quality of keeping its wearer warm in winter and cool in summer. My brand has always refrained from using synthetic fibres. The intention of this collection is to eliminate the negative environmental impact through sensitivity, empathy and skill.
Starting September 27, you are having a 40-day pop-up in Dubai at Robinsons...
Everything classic, with just the right amount of contemporary and transitional outfits, will be there for our UAE customers. The bandhgala is a perfect ambassador of Indian style with its inherent lineage of Indian heritage in a contemporary world. It's interesting that it can be worn differently, in different parts of the world — with breeches, or with denims. It has the ability to fit into any gentleman's wardrobe.
QUICK SIX
A fashion myth you want to bust: That socks should match the trouser. Patterned and coloured socks are a huge style statement at the moment.
A celebrity whose wardrobe you want to steal: Tom Ford.
A vintage fashion trend that should make a comeback: The safari suit or the bush shirt-pant look. Also, the bandhgala-collared shirt.
If you were an article of clothing, you would be: The classic bandhgala.
One fashion trend that you have always hated: Socks with sandals!
A fashion tip you want to give everyone: Don't try too hard. Keep it classic, stylish and dapper.