Pride and prejudices
Read more below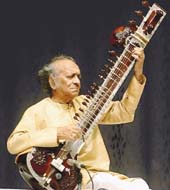 ---
---
Ravi Shankar (top) and Vilayat Khan
The group that had come to watch Meghe Dhaka Tara at Delhi's Habitat Centre last week consisted of card-holding members of the Ritwik Ghatak fan club. Film scholar Madan Gopal Singh initiated a discussion on the film and the animated audience went deep into Ghatak's magic, examining every whispered nuance. In the midst of what was clearly an earnest group discussion on the cinema of Ghatak, a young man got up. All that was fine, he argued, but just where was the element of humour in Ghatak, a trait that was so perceptible in Satyajit Ray?
The flood of words that followed surprised no one. Everybody had something to say about the films and styles of Ghatak and Ray, and the debate, as old as it is current, rolled on. An old joke says it all. If four Poles get together, they form a Jazz quartet. Four Argentinians play polo, four Italians set up a bridge team and four Liverpudlians, a rock '' roll band. But when four Indians come together, they form two factions, both centred around a leader. In emotionally-volatile and icon-loving India, where heroes tug at heart-strings like weavers on a loom, there is just space for one on its High Table. And everybody has a rigid view on who deserves to be on the pedestal, and who needs to be dislodged.
"This is an urban middle class phenomenon," says Ashis Nandy of the New Delhi-based Centre for the Study of Developing Societies. "We are looking for heroes, but we want our heroes to be vulnerable. We put somebody on a pedestal, but we also set somebody else up to find faults with," he says.
The factions cut across fields and ages. Eons ago, there were some who believed that Baiju Bawra was the real artiste, while Mian Tansen just had a good press and a benevolent patron. Centuries on, the debate continues, though the protagonists tend to change, as do the realms they rule. For generations, Indians have been arguing about who's better — Rabindranath Tagore or Nazrul Islam, Vilayat Khan or Ravi Shankar, Satyajit Ray or Ritwik Ghatak, G.Aravindan or Adoor Gopalakrishnan, Lata Mangeshkar or Asha Bhonsle, Sunil Gavaskar or Kapil Dev, Smita Patil or Shabana Azmi — and even Sushmita Sen or Aishwarya Rai.
Last Sunday the death of the sitar exponent, Vilayat Khan, showcased the wars that still rage. Most obituaries were laced with guarded, or occasionally even open, references to the bitter rivalry that formed the centre of the relationship between Vilayat Khan and Ravi Shankar. That the rift showed little signs of healing was apparent when followers and disciples paid homage to the maestro after his death. Nobody, they stressed, could play the sitar quite like the Ustad. The emphasis, clearly, was on the word "nobody".
Ray (top) and Ghatak
But the debate — on who-is-better and therefore who-is-not — is a futile one, holds Hindustani classical singer Rashid Khan. Khan, who has known Vilayat Khan since childhood, stresses that all artistes have their strengths and weaknesses. "Though people are divisive about their heroes, I feel that it is wrong. One can't declare that one artiste is greater than the other," says Khan. "There are some people who are avid fans of Ravi Shankarji and others who swear by Chachaji. This is a matter of individual choice and taste."
But logic has no place in a world where passions rule. According to former bureaucrat and music lover H.Y. Sharada Prasad, the singer, Gangubai Hangal, used to say that there were times when Vilayat Khan even refused to admit that Shankar was a sitarist. "After all, he learnt from a sarod player," Hangal quoted Vilayat Khan as saying about Shankar's guru, Baba Allaudin Khan of Maihar.
Legend has it that the warfare — mostly carried out by camp-followers — reached a stage some years ago when Ravi Shankar told a disciple of Vilayat Khan that he was willing to have a jugalbandi with Khan. "Let's settle this debate once and for all," Shankar told the disciple. "But there is one condition — if he chooses the raag, I'll set the taal, and if he selects the taal, I'll choose the raag," he said. Vilayat Khan got in touch with Ravi Shankar to politely turn down the invitation. "Dada, I have the greatest respect for you," Vilayat Khan is said to have told Ravi Shankar, his senior by about seven years.
But not everybody is ready to place the blame on the camp-followers. Some, like music critic S. Kalidas, believe that the camps may well be the off-shoot of petty jealousies within the cultural world. "Often, disciples form camps because gurus want them to do so," says Kalidas, who studied music under the vocalist, Mallikarjun Mansur. "The Guru-shishya parampara trains you for that. Followers believe that their guru is the only God, for there cannot be two Gods," he says.
Once, in the presence of a disciple of another Ustad, Kalidas recalls having referred to Mansur as his god. "Arrey Kalidasbhai, bhagwan to ek hi hotey hain," the disciple retorted, referring to his own guru.
Personal rivalries — and their manifestations — have been the fulcrum of literary and cultural debates in India. Long after the deaths of two of India's greatest litterateurs — Rabindranath Tagore and Kazi Nazrul Islam — men and women in smoky coffee houses continue to talk about whose work was better.
"I don't know why we have to make such far-fetched comparisons. I suppose there is this tendency in man to constantly fight, to debate," says the poet, Joy Goswami, with a careless wave of his hand. "I feel each artiste delights us in his own way."
Goswami stresses that he, for one, has never sought to compare the two. But, he adds, if he were draw a comparison, he would do so with musical allegories — Tagore would be like an alaap, and Nazrul a bandish. "Both have their places in the vast repertory of Bangla literature. In fact, Tagore too had admiration and respect for Nazrul," he says.
Satyajit Ray and Ritwik Ghatak were two men who evoked similar passion among cinema watchers. But associates hold that quite like Tagore and Nazrul, the directors themselves appreciated each other's works. Ghatak greatly admired Ray's Apu trilogy, and was especially fond of the second of the three-film series, Aparajito. "He used to cry every time he saw those films," says Ghatak scholar Madan Gopal Singh.
Actor-director Gyanesh Mukherjee, who has worked with both Ray and Ghatak, recalls an evening at Ghatak's house, soon after Ray's Kanchanjungha was released. He says: "The moment I stepped in, Ritwik exclaimed 'Ki cinema korechey dhenga, dekhechish? Ja giye dekhey aaye (Have you seen what a brilliant film that beanpole has made? Go and see it)."
Film buffs — especially Ghatak fans — like to recount a story about Ray and Ghatak that may be apocryphal but is certainly illustrative of the relationship between the two. Ghatak, who had a drinking problem, had been put in charge of a tiny relative. He was desperate for a drink, but didn't know what to do with the child. So Ghatak went to the market when, suddenly in the distant horizon, he spotted the tall figure of Satyajit Ray. "Here, will you hold the child for me? I'll just be back," Ghatak told Ray and disappeared into the crowd. Apparently, Ray was left holding the baby in the market through the day, while an unabashed Ghatak continued to irrigate his throat.
Tagore (top) and Kazi Nazrul Islam
Stories such as these continue to weave their magic around heroes. And many believe that the tales that do the rounds of film circuits emanate from cinema students and teachers of the FTII in Pune. "The rivalry between the Ghatak and Ray camps starts right there," says Singh, who points out that filmmakers and former teachers such as Mani Kaul and Kumar Sahani were taught by Ghatak and were old Ghatak supporters. Ghatak, he stresses, had a following that had all the traits of a die-hard cult. "We were all a part of that," says Singh. "We were concerned by the fact that all the international limelight had been hogged by Ray, whereas Ghatak had not won a single national award in his lifetime," he says.
It is this sense of under-recognition that, Singh believes, leads to the formation of a rival camp. "Margins inspire the vocal support of a significant — and I would say articulate — section of people," he says. Nandy agrees. "We like to believe that our heroes lost grandly, that they were misunderstood, or undervalued," he says. "That is why when somebody is successful, we like to set somebody else up," he says.
Clearly, success in the world of the Arts is often viewed with suspicion. Supporters of the Malayalam film-maker, G.Aravindan, were vocal in their opposition to Adoor Gopalakrishnan, who was seen by the camp merely as a successful director. There were artistes on the one hand, some Aravindan followers would assert, and craftsmen on the other. "He is a Caaarrrpenter," a Mayalayam film buff once said with suitable emphasis about Adoor.
Joy Goswami tells a tale about Pablo Neruda to underscore the futility of comparisons. There was a time, he says, when the Chilean poet had been shortlisted for a Nobel prize and was being tipped off as a prospective President of Chile. "A young journalist wanted to know his feelings on the matter," says Goswami. Neruda evaded the question for as long as he could. But the journalist wouldn't give up either. 'Say you have the Nobel Prize on one side of the table and the designation of the President on the other, which would you choose?' Pat came Neruda's reply: 'I would choose to leave the table.'"
"In the same way," says Goswami, "it is really unfair to make comparisons. Each is good in his own right and it would be wrong to belittle either."
That, of course, is easier said than done. For, as Nandy says, the search for heroes is only rivalled by another quest — that for his feet of clay.