Picture postcards from Namza, a couture and dining brand from Leh
Jigmet Disket, one half of the brand, talks about how the venture was a realisation of their dreams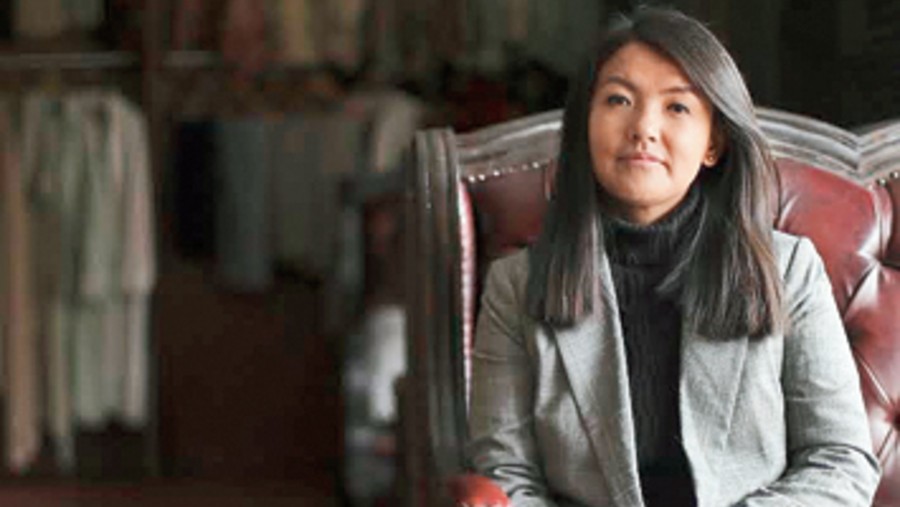 Sourced by the correspondent
---
Published 10.05.21, 04:58 AM
|
---
When we caught up with Jigmet Disket, one half of Namza, it was snowing heavily in the joint capital of Ladakh. "I am in a thick warm jacket and sweater and sitting in front of a blower and talking to you," said Jigmet. We could feel the warmth in her voice. Much like the decadent, luxurious, royal with a striking contemporary soul that is Namza Couture, made special with the warmth of tradition. In between planning a trip to Leh and marvelling at the picturesque setting of their flagship store that also houses their restaurant, Jigmet chatted with us about how Namza Couture and Dining was a realisation of their dreams. 
How old is Namza Couture? What does it mean?
We started Namza in September, 2016. It is an honorific term for clothing and it also means weather. It is mostly used in Ladakh only and has a Tibetan influence as well. Padma (Yangchan, co-founder) and I had known each other for a while before starting Namza. She designs everything at Namza Couture. We were both born in Leh and went to boarding schools in Chandigarh. I did biotechnology from Delhi and even Padma was in a Delhi college. I worked in a pharmaceutical company for a short while and then I came back to Leh around 2013. It was a great feeling to come back to Leh as I had spent a long time away from it. We both were pulled towards the culture of Leh and we wanted to come back and do something with couture and the food in our homeland. They are our twin passions.
The idea was to champion all things Leh…
Yeah. Our couture collection is influenced from the Silk Route. Here we are trying to promote our own dresses and woollen fabrics, all that we can make from scratch in Leh itself and are inspired by the different tribes of Ladakh. We are also working with other natural fabrics like linen, silk and cotton. We have a rich livestock of wool, like sheep, yak, camel and goat. Goat wool is used in pashmina (Lena). We are majorly working with sheep wool, which is then converted into luxurious jackets and capes. Yak wool (Khulu) is a little coarser than sheep wool. If there is a demand, we make clothes too but essentially we make shawls and stoles. Then we have pashmina with which we make shawls and stoles too. It gets expensive, so we custom-make clothing only if we have a demand, like jackets. We source brocades from Varanasi and pure linens from Delhi. We source from Gujarat too.
The clothes are contemporary yet with a touch of tradition…
Mogos (traditional dress) are worn with Tilan (blouse) inside. There are handmade pleats on your waist and right above it wear your belt to hold the dress and you wear your pants inside. We work with both hand embroidery as well as with machines. A lot of people from Mumbai and Delhi want to wear our traditional Ladakhi dresses. Then we customise in cotton and linen. Our latest collection will be inspired from the Brokpas of Ladakh region.
There is a lot of colour…
Earlier, there were just two or three colours in the entire Leh when it came to traditional clothing for women. It was either maroon or indigo blue or brown or black. Now, we are trying to bring in more and more options.
The bridal collection looks gorgeous…
In Leh earlier we used to wear mostly Tibetan brocades. Laces were added for richness. People wore embroidery long back and now we are trying to revive that culture and work with more and more traditional motifs and give people more options.
What have been the challenges of building a brand from scratch in Leh?
I wouldn't say it's been really easy or smooth for us. Padma and I are both the first generation entrepreneurs from our families. So not much experience on the business front. Both of us have been working really hard. The road ahead seems easier now, but the first four years we have really worked hard.
Are there enough artisans to do the kind of things you want them to do?
To be honest, the number of artisans were decreasing when we started, but I think people have understood the value of handlooms now. There are various self-help groups working with women in the villages who are ready to take up projects from entrepreneurs like us who are ready to pay them for their skills. Most of our artisans are based in Phyang village and we also work with independent weavers who work from home. More and more people are trying to learn the skills and pass it on to the next generation. It's great to see how the handlooms are gaining momentum in Leh.
You also took Namza Couture to London Fashion Week…
We showcased our AW'19 collection at London Fashion Week in 2019. Our collection was made from our home-grown, naturally-dyed handwoven fabrics. And, the response was overwhelming and the experience was very good. There was a lot of appreciation from our local community also. It was a proud moment for Ladakh as a whole.
Tell us about Namza Dining…
We are trying to revive our authentic Ladakhi cuisine, some of which are now vanishing from our households. Leh is so much under the pressure of modernity and with lives becoming so fast, we are trying to preserve that. Every year Padma and I go to various parts of Ladakh and try various dishes. Each region has it own speciality. We try to add more and more dishes. We try to use all local spices and herbs.
There are influences of the Silk Route in the region such as Yarkhandi Pulao, a signature dish of Namza Dining influenced from Yarkand region of central Asia. We use Zathuk (nettle leaves) to make Zasthot (nettle soup). Then there is Drapu (dumplings in a sauce of ground walnuts, apricot kernel and spices) and Cabra (caper's shoot) used for making a vegetarian dish served with Khambir (traditional sourdough bread of Ladakh).