Payal Khandwala: The gentle non-conformist
She makes "considered" clothing for the modern woman with Indian heritage at its core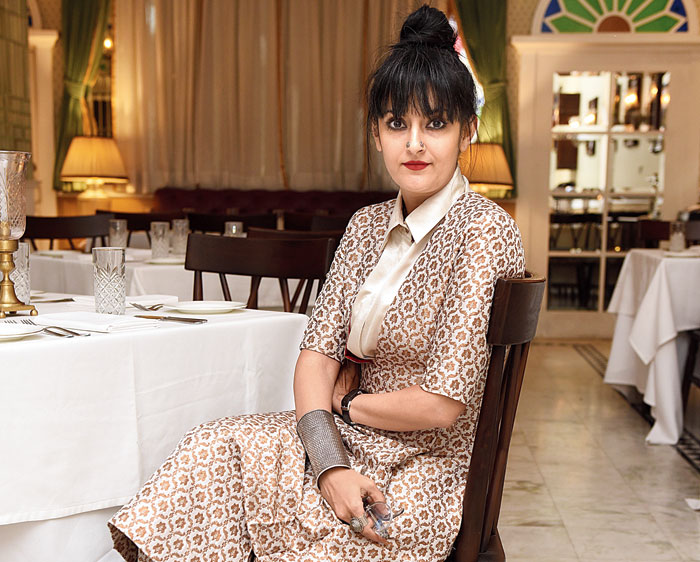 ---
---
Spunky, artistic, stylish and a lady who means business — designer Payal Khandwala is an embodiment of her eponymous label that makes "considered" clothing for the modern woman. Borrowing from her fine art and design backgrounds, her designs are, therefore, works of art, using colours and crafts that show the diversity of India and yet are functional and mindful of what a woman today needs. With sharp tailoring, simple silhouettes, bold colours and an overall minimalistic look, Payal's brand has grown steadily over the years, with women from all walks of life wearing her designs. We met the designer on the sidelines of Chivas Studio presents The India Story Five, in association with The Telegraph, before she showcased a mix of her designs, featuring brocades and other works, on a marigold stage. Excerpts: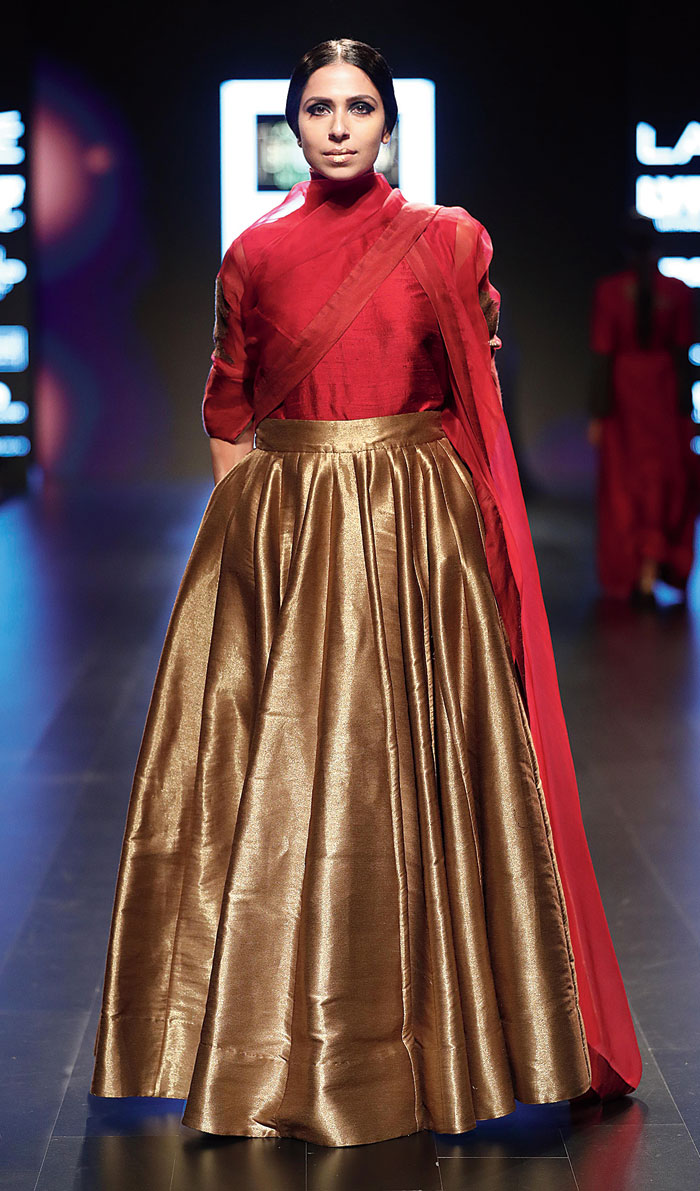 Origin story
I always say that the things that excite me when I paint and work on my fine arts are the same things that excite me when I am designing clothes. I never really looked at clothes through fashion lens.
I love colours — playing with colours, mixing them, making paint. I am very comfortable with colour and that's one of the big communications that has subliminally transcended our label — that becomes our differentiator, that being the most obvious one. But also things like line, proportion and formal elements like composition, negative and positive spaces — all the things that I think about when I am painting are the same things that I think about when I am making clothes. So for me, I am always concerned about what the length is between the shoulder and the waist and from the waist to the hem and if I change those things, how will the silhouette and shape change, what will it do to the body, how will it make the body look. So if I am doing a certain sleeve, it's not because this sleeve is what everybody is doing right now, it's about how it will maximise the shape of the person wearing it. I always want things to work around the body and not necessarily constructing something that's working in itself, independently of the body. So for me, the prism with which I look at everything is from a fine art background (apart from intuitive things in play when happy accidents happen). But for the most part, it's certainly things like colour theory, how the eye will read two colours, how the human brain interprets symmetry and asymmetry, how far can you go when you cut something on a bias and those kinds of things are things that I find challenging and that's what excites me.
Considered clothing for Indian women
For me, relevance is very important. A lot of people do things based on what is cool. I am not really interested in those things and I don't think those things should be confused either with what is relevant. For me, they are considered clothing because they are relevant to my life — the choices I make, how I like to sit when I go out, do I like to cross my legs, do I not, am I formal or informal.... I am very practical as a girl so I want things to fit into a suitcase, neatly packed, I don't want things to be fussy and cluttered, I like things to feel soft and nice against my skin. So these are also the things that I think about while making clothes, therefore they are relevant to my life.
What am I going to wear in the morning when I go to drop my daughter, what will I wear when I go to work and then dinner or cocktail or a wedding? So with my label, I am trying to suggest options for women if they get the DNA of the brand and trust me to make those choices, I will make all of those choices. That's what happened during my wedding. I didn't know where to go and would have liked one person who was on the same page to do all of it.
Global and ethnic
I studied fashion before I studied fine art and when I moved back from New York, I was getting my own clothes tailored as I couldn't find clothes that I felt had a certain kind of worldview that was intrinsically Indian. We are not apologetic about colour as we shouldn't be either and I love that. I always felt like there weren't enough separates and that most of it looked too costume-y. Then if I was travelling abroad and I wore these, I kind of stuck out. So I wanted something that could transcend those boundaries of traditions and heritage but still be able to tap into that because we are so lucky to have it.
I wanted to make something that was truly the voice of a new India. Like with the brocades, we started doing all our silhouettes in that because why limit it to something that we have already done in the past, even if the lehngas, blouses and the saris are beautiful! It's already been done so how do you look at it in a different way, through a different lens?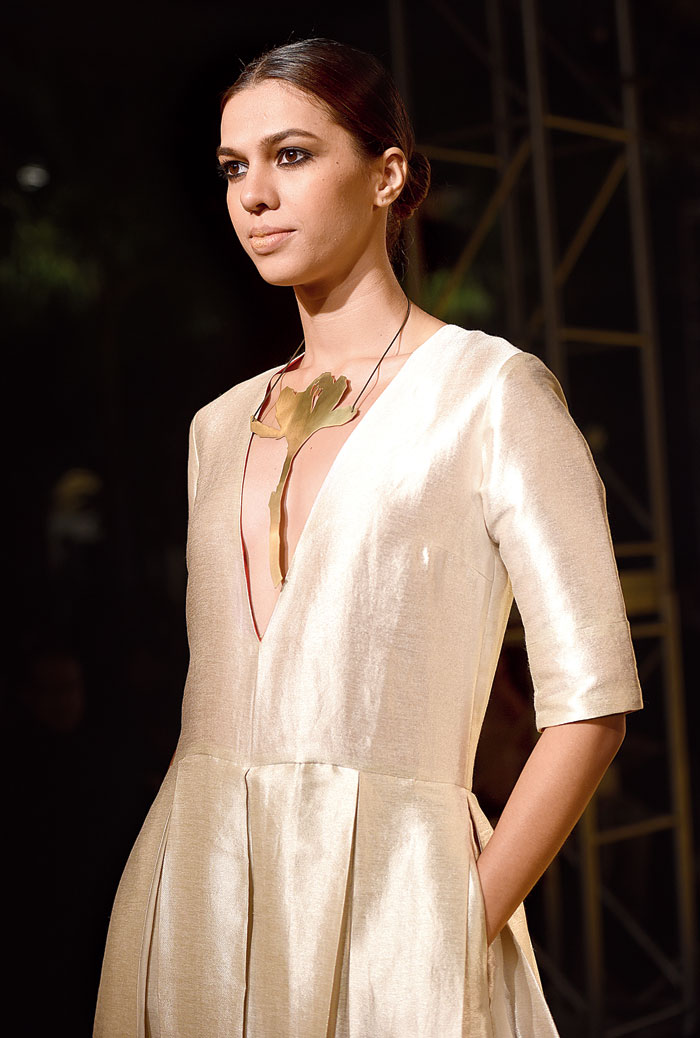 Non-conformity
I have always been a non-conformist because I don't like people telling me what to do and I don't really care a lot about what other people think. Having said that, I am a gentle non-conformist. The idea is that I like to do things that work for me — it's my life at the end and people are never happy. So for me, I was making the clothes that I wanted to wear and if five other people wanted to dress like this, they'd buy this. If they met five more such people, and if they get this then they will buy it. So I did not worry about not conforming because I felt there was a void in this space — pret done in a truly modern way. Now, everybody says that everything is 'India Modern' but it's not really — it has to be an overarching philosophy, it's how you live your life.
Word of mouth to Bollywood
In the beginning, I was dressing people who were my friends, who also happened to be in the film industry, like Konkona (Sen Sharma), Adhuna (Bhabani), Tillotama (Shome) and Gauri (Shinde). It was never a strategy to get Bollywood celebrities to get to wear my clothes. Then one thing led to another and all celebrities have their stylists and are looking for new labels to dress these girls in. They are also compelled to constantly revamp their look and keep things interesting. So the shift to Bollywood happened quite organically on the side but it's never something I have been too concerned about because style and fashion are so separate. And celebrities today are more about fashion and they have a team of stylists with hair and make-up. One day they are in a gown, one day in a khadi sari and another day in a leather jumpsuit and that's what they have to do.
But I don't know if the two things are related at all because people with personal style are not that concerned about fashion — they don't care because they're not slaves of something that someone else is dictating and what the trends are. And I have always been a proponent of style. Just stick with style and that is what makes the little difference. If you do it with a little bit of style, that is what makes it extraordinary from ordinary. So yes, Bollywood happened and that's great because it's a country where most take their cue from Bollywood and whether that's good or bad is a different conversation. So yeah, that put us on the map but that is also not something I sought.
Business of fashion
In India, we are at a very nascent stage and we are still finding our voice. I think there are a lot of young people who are doing some very good stuff here but there's a lot of other people who are just doing more of what others are doing. There are a lot of people with deep pockets that can churn out stuff or people who will shout louder, who know how to make brands of themselves and the consumer gets confused because they're always looking at the product. These are the things that are tricky and have to iron themselves out as they happen here and internationally. It's not necessary that the brands that are popular are because they are making quality products. There are few that stand on the strength of the product and then there are a few that are popular because of influencers. Those are the kind of things that consumers need to weed out with a little bit of research and understanding. There are people who are doing things that are exciting but it depends on the consumer to support these. Creative people tend to whisper, more than scream and shout.
Fashion is not sustainable because it does compel you to buy a lot of stuff and then chuck it six months later and get something else. It plays on your insecurities. I think the best way to move forward is to go in knowing this. So make whatever choices you make but know that you have to read between the lines — it's not as simple as what you see is what you get.
Importance of instinct
I have been fortunate enough to not face very many challenges because I have great instincts and I know not to surround myself with people that I know are not straightforward and that helps me filter out the kind of situation that I find myself in if I didn't have that gut instinct. In this industry as such, there's politics, as is there in every industry. But I am not in the race. I don't remember who had said that but the trouble with being in the rat race is that you are still a rat even if you win it. I am not competitive with other people, I am competitive with myself.
The Indian scene
I think we are at an infant stage and have a long way to go. Some of it is promising and then a lot of it is noise but there are some people doing some great stuff and a lot of people now are focusing on crafts, recycled material — things that are important and should be considered. But for every five people who are doing that, there are 50 people who are doing more and more of the same things, which is a little troubling because we have no dearth of access to all kinds of crafts and traditions, weaving, dyeing and handloom. But it's okay and we will get there.