Paradise lost
Read more below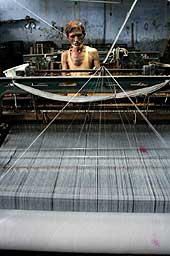 ---
Published 17.09.06, 12:00 AM
|
---
It is 7.35 pm and the state transport bus stand at Bhiwandi looks like a dangerous alley. Dilapidated buses swing dangerously in all directions at the atrium in the bus stand as commuters dive and duck from the path of mayhem.
Outside the bus stand, the city of Bhiwandi lies in darkness, a few homes and shops lit dimly with inverters. You can barely make out the patchworked uniform of the Rapid Action Force soldiers who stand guard at regular intervals in the city.
If Malegaon has reached a flash point, Bhiwandi — the mother of all textile towns in Maharashtra — is not far behind. The town is simmering with frustration, rage, unemployment, 12-hour power cuts, abysmal infrastructure and a floating population of migrants itching for blood.
Not surprisingly, even a small incident acts as a trigger. In July, two policemen were burnt alive in a backlash by a mob after two people were killed when the police fired at a crowd protesting the construction of a police station near a mosque. Bhiwandi is 70 kilometres from Mumbai but far removed from the signs of development that India's economic capital boasts of. It is still ranked as one of the country's top powerloom towns with over six lakh powerlooms in a small area of 26 km. Malegaon is a poor cousin with less than one lakh powerlooms.
RAF jawans deployed at the construction site; residents gathered in front of Jama Masjid in Bhiwandi (PTI)
But the powerloom town is reeling under an acute power crisis. Officially, there is a six-hour planned load shedding every day — but there is no power for another four to five hours, and no explanations.
The Maharashtra State Electricity Board (MSEB) claims that Bhiwandi's problem lies with the powerloom owners who steal power and don't pay electricity dues. It holds that a whopping Rs 500 crore is due from some of the powerloom owners.
The powerloom owners have a different story. Accusing MSEB officials in Bhiwandi of corruption, they claim that Bhiwandi postings are considered a goldmine for all the underhand money that officials make. Now, the newly-formed Maharashtra State Electricity Distribution Company Ltd has asked a private Gujarat power company, Torrent, to handle distribution and bill collection from Bhiwandi.
While the township is looking forward to getting rid of corrupt MSEB staff, what is worrying them is the economic losses they sustain with 12-hour outages. Labourers, predominantly migrants from Andhra Pradesh, Bihar and Uttar Pradesh, are a frustrated lot as wages are the first casualty. They once took home a pay packet of Rs 4,500 a month. Since the load shedding, their earnings are a paltry Rs 1,500 a month. And that's when they are lucky, for many are losing jobs.
"Bhiwandi was one place where you never heard of unemployment," says former MLA Rashid Tahi. "Until five years ago, it was the best place to be. But now unemployment has reared its ugly head here too."
Pessimism rules a town that was once booming. "In 10 years, Bhiwandi will be finished. A tradition that lasted for over 170 years will be wiped out," says D.K. Karve, vice president, Bhiwandi Textile Manufacturers Association Ltd.
Karve believes that powerloom owners are partly to be blamed for the mess. "They refuse to keep up with the times. Look at Surat, which has eaten into our market because it is more smart and technologically driven."
Modernisation is the key and the central government has gone out of its way to help powerloom owners by slashing excise duty on imported machinery. A 150 per cent excise duty on imported machinery has been slashed to five per cent. Besides, from January 2005, the government has also done away with permits and other licences, enabling powerloom owners to import and export without red tape.
Not all schemes are effective, though. Under the rules, loom owners can also avail of a bank loan called 20 per cent credit link capital where they get up to 20 per cent of the cost of machinery. However, the scheme has fallen flat as the owners are unable to get two collateral guarantors. They insist that banks are prejudiced against this town and that the banks refuse to give housing loans or even credit cards.
Bhiwandi's other problem is the communal tinder-box that it's sitting on. Hindus and Muslims live in close quarters and tension is rife. "Person-to-person rapport is excellent but community-to-community is bad," says Karve. Another powerloom owner laughs. "We are not nice to each other because of our own sweet will, but because of compulsion."
Two riots — in 1970 and 1984 — have marred the peace. This time around, residents are worried. The traditional weavers who were powerloom owners have been outnumbered by other traders and outsiders.
The Ansaris and Momins, all traditional artisans, left the Indo-gangetic plains in a huge wave of exodus after the 1857 Mutiny when the British targeted them for their role in the war of independence. The weavers settled along the Agra Road — at Mahu in Madhya Pradesh, Burhanpur, Dhule, Jalgaon, Malegaon, Yeola in Maharashtra — before finally ending up at Bhiwandi. The British had already introduced railways to Mumbai. So Bhiwandi, which is close to the nearest rail head, Kalyan, moved ahead in the textile race way back in the 1850s.
Abdul Samad Haji Lal Mohammad Momin installed the first powerloom here in 1927. Since then the township has not looked back — until three years ago when the power situation worsened. Today, Bhiwandi is draped in darkness — literally, economically and socially. And there is no sign of it lifting.