Over the boundary
Read more below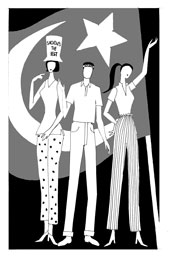 ---
Published 29.02.04, 12:00 AM
|
---
I know they will be swamped by a farrago of feelings: excitement, hate, anger, curiosity. Even fear. Anybody travelling there for the first time encounters them. After all, for most of us, Pakistan is like a prism; what you see on the other side is coloured by your own prejudices.
If the visa issue is sorted out soon, an estimated 10,000 might travel to Pakistan in the coming few weeks. New Delhi-based executives at top tour operators SOTC tell you that they are getting plenty of calls both from individuals as well as corporate houses.
If you are willing to shell out Rs 13,500 plus US $ 385, you can enjoy a four-day stay in Karachi, that includes economy class air fare from Mumbai and back, lodging at Hotel Avari, visa fees, airport taxes and a day's sightseeing. And, of course, the priceless match tickets for the first one-dayer on March 13. The fever is rampant even down south. Bangalore based company X-Sports is offering an eight-day package for Rs 45,000 in Lahore with similar facilities.
But not everyone who will travel to Pakistan will have cricket on his mind. For some, cricket will be an excuse for business. I speak from my own experience. During the 1996 cricket World Cup, when I went for my visa to the Pakistan High Commission in New Delhi, I met a paunchy and prosperous middle-aged sardarji named Harbhajan Singh at the reception.
Dressed in a safari suit, he claimed to be a sports journalist who wrote for "at least five-six newspapers in Jalandhar" and wanted to go to Pakistan. "I have also reported on the 1983 World Cup," said the sardarji, with the same name as the famous off-spinner of today but who was clearly better at bowling googlies.
Those days, unlike now, Indo-Pak relations were at a low ebb. And, visas were strictly rationed. Only sports journalists, with proper accreditation, were allowed in. That too on a quid pro quo basis.
Sardarji, who was trying to sneak in, was soon caught and asked to leave. Unashamed, he asked the embassy officials if he could procure a business visa. "Thoda bahut business bhi kar lete hain jee," he told them.
When I met him outside later, I expected him to be disappointed. On the contrary, he was smiling. "Oh jee, main to bus chance le raha tha," he said. "Aaj chala nahin. Hum border ke pass rahne walon ko Pakistan ka bahut craze hai," he said. As for cricket, he had heard of neither Bis-hen Singh Bedi nor Maninder Singh.
On my way to Lahore in the middle of the World Cup, I realised that the sardarji was not a rare species. There were more like him on both sides of the border. During the flight, I was seated next to Junaid Butt, a teenager from Gujranwala. For a cricket fan, Butt was strangely proud of the fact that his town had not produced a single Test cricketer. He had come to India to see a World Cup game but was going back without watching one. "Why?" I asked. "Couldn't get the tickets," he replied coolly. But I could gather that cricket hardly interested him.
During the 45-minute flight from Delhi to Lahore, Butt educated me on how to wangle alcohol in tight-prohibition Pakistan. "Only the butchers get liquor licences. And, many of them sell their quota in the black market. They are the best bootleggers. Try them," he advised.
Later, I met him in the airport after completing the formalities at the immigration counter. "Pareshan kar rahen hain," he cribbed, pointing towards the custom officials. I could see why. He was standing next to a mountain of Indian goods.
During my 10-day sojourn that took me to Lahore, Faislabad and Karachi, I realised everybody had succumbed to the cricket fever in Pakistan. Just as in India. Driving to Faisalabad by road from Lahore, I saw a group of cheerful teenagers huddled on the back of a rickety, overcrowded truck holding cricket bats in their hands. Two well-fed goats stood meekly by their side. Posters of Javed Miandad and the 1992 World Cup-winning Pakistan team smiled back at you from the rear of the truck. That was my most indelible image of the tour.
I remember Iqbal, our taxi driver, who regretted the fact that India and Pakistan would be playing each other in the quarter-finals, and not in the final. Everywhere, the Bangalore quarter-final match between the two passionate subcontinental rivals was the talking point. It was the only area where no Pakistani was willing to make a concession. From socialites to bellboys, from kebab sellers to taxi drivers — all were sure their team would win the do-or-die match. It didn't. It was about half past nine at night when the last Pakistan wicket fell. To get some reactions, I walked the streets of Faisalabad.
Not a soul could be traced, not a voice could be heard in the houses by the road. For the next hour or so, Faisalabad was like a ghost town. For Pakistan, the World Cup was over. Just as it was for India, a few days later when it lost to Sri Lanka in the semi-final at Calcutta. In the next few days, Pakistan turned sullen as a nation looked to explain its unexpected defeat. People were still civil and polite but somehow the warmth had ebbed away from their souls.
The stakes will not be so high in the forthcoming cricket series. But with an Indian cricket team touring Pakistan after 14 years, both teams will be under pressure to win. As for me, I am hoping that if Harbhajan Singh (the businessman, not the off-spinner) manages to get a visa this time, he should watch the game. With Shoaib Akhtar hurling his missiles at the speed of nearly 100 miles an hour, our boys will need every extra cheering lung in the stadium.