Once is not enough
Read more below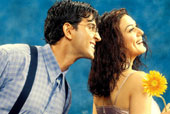 ---
Published 16.04.06, 12:00 AM
|
---
AFTER THE END: Sequels are in the pipeline for Koi Mil Gaya (top) and Dhoom (above)
Move over Star Wars, Jurassic Park, Men in Black, Bridget Jones et al. Bollywood is rolling out its own juggernaut of sequels ? films that promise to deliver snazzier stories and bigger spectacles than their originals.
Take a look at the avalanche of sequels in the making ? Phir Hera Pheri, Dhoom II, Krrish (sequel to Koi Mil Gaya), Munnabhai Meets Mahatma, Hanuman Returns and Judwaa II. Darna Zaroori Hai, the sequel to Ram Gopal Varma's Darna Manaa Hai, will soon hit the theatres and, believe it or not, even before the film Tom, Dick and Harry has been released, its sequel, Tom, Dick and Harry in Bangkok, is already on the anvil.
Needless to say, the penchant for Part II (and Parts III and IV, if the box office so dictates) is being spurred by the desire to cash in on the success of the original. Ask Akshay Kumar, who is now working on Phir Hera Pheri. "A sequel means the chance of making more money, and that of continuing the good work put in the earlier film," says Akshay candidly. Hera Pheri was a big hit and producer Feroz Nadiadwala came up with this idea of making a sequel. Since sequels in the real sense have not been attempted in India, I thought it was a great idea. We retained the characters Shyam, Raju and Babubhai in Phir Hera Pheri. And the film picks up from where Hera Pheri left off. After struggling for a living in Hera Pheri, we now have the money and this film is all about what we do with that money," he explains.
Ram Gopal Varma has a slightly different take on the subject, though. For him, a sequel is a natural consequence of the fact that there are only so many stories that can be put on film. "You hardly have 10-12 stories which keep getting recycled. Each time you have different actors, backdrops, different treatments. But the story in its raw form is the same. Again, each story captures only so many emotions... be it fear, love, violence, power, etc. At least, if I make a sequel, I get the chance of correcting what I think went wrong in the earlier film," says Varma.
But producers, directors and actors involved in making sequels are all extremely upbeat about them. Says Vidhu Vinod Chopra, the producer of Munnabhai MBBS, a film that went on to become a smash hit, "Several scripts were written for a sequel to the film. We thought of Munnabhai LLB, then Lagey Raho Munnabhai, and then we came to Munnabhai Meets Mahatma. But I told director Rajkumar Hirani that the film would be made only if it was as good as or better than the original. And let me tell you that the sequel is definitely going to be better than the original."
Hrithik Roshan, who is working on two sequels, Krrish and Dhoom II, shares Chopra's enthusiasm. For Hrithik, working in a sequel is a bigger challenge. "It is essential that I do something more than what I have done before. This film has to be very spectacular. In fact, Krrish is going to be on the largest canvas I have ever worked in," he says.
Hrithik shot in Rio De Janerio for Krrish and did some impressive stunts for Dhoom II as well. "I am looking forward to being a bad guy in Dhoom II. I have always wanted to play a villain as it gives you so much scope to perform. If you noticed, the kids loved John (Abraham) in Dhoom," he says.
Not that the idea of sequels is new to Hindi movies. As early as 1918, Shree Nath Patankar, a contemporary of Dada Saheb Phalke, made Ram Banwas (Exile of Rama) and followed it up with Seeta Swayamvar, Sati Anjani and Videhi Janak in subsequent years. This was soon after Hollywood came out with Thomas F. Dixon Jr's film The Fall of the Nation in 1916, which was a sequel to the D.W. Griffith-directed The Birth of a Nation (1915), a film on the American Civil War.
Though Bollywood has attempted sequels in the past, most of them have been damp squibs. Mehboob Khan followed his Oscar-nominated Mother India (1957) with the flop Son of India (1962). In the 1980s, Nigaahen (1989) tried to replicate the success of the Sri Devi-starrer Nagina (1986) but failed dismally. Recently, Nagesh Kukunoor's sequel to Hyderabad Blues (1998) sank without a trace. The great Satyajit Ray himself disappointed many of his admirers with the sequel to his 1968 classic Goopy Gyne Bagha Byne ? Hirak Rajar Deshe (1980). The Sandip Ray-directed Goopy Bagha Phire Elo (1991) was a letdown too. Again Gautam Ghosh's sequel to the Ray film Aranyer Din Ratri (1970), Abar Aranye (2003) was a modest success at best.
But the lukewarm response to sequels in the past is obviously not holding back today's filmmakers. With good stories hard to come by, and the formula for success an elusive one, most do not mind putting their money into churning out a sequel to a film that caught the public's fancy. The bottomline is that if a film has done well, it is just asking to be used as a launch pad for a sequel.
Deepak Tijori, director of Tom, Dick and Harry, is all fired up about a sequel to his film, which he wants to make along the lines of the 1971 comedy Johar Mehmood in Hong Kong. But, he says, "I will make it only if the original does well."