Now L'oreal Paris make-up from Sabyasachi Mukherjee
'I don't want beauty to be fashionable, I want beauty to be enduring' — Sabyasachi Mukherjee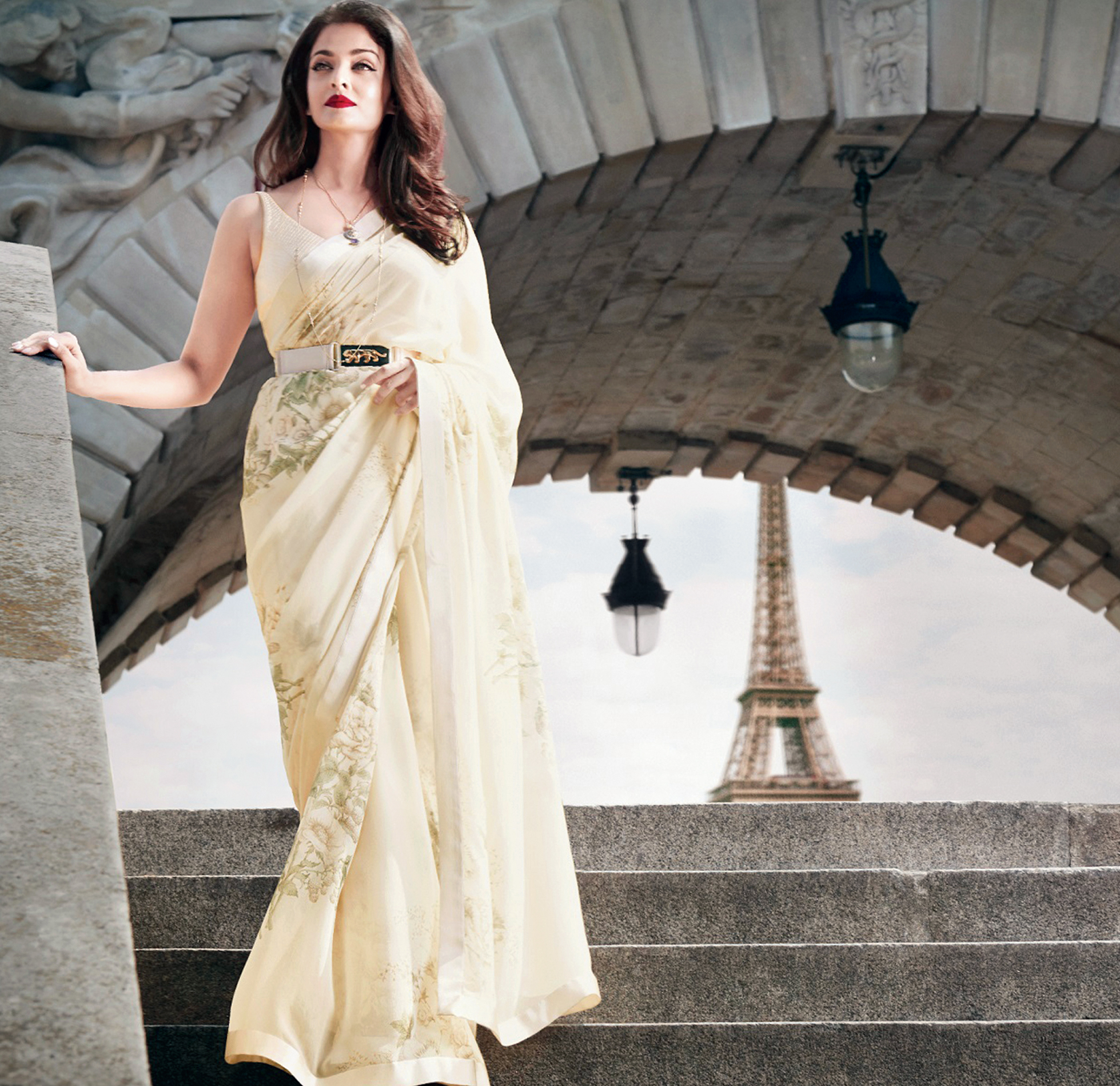 Aishwarya Rai Bachchan in the L'Oreal ParisXSabyasachi campaign
Agency picture
---
Published 01.11.18, 06:00 PM
|
---
A collection of shoes with Christian Louboutin. A limited edition line of home decor for Williams-Sonoma. Designs in diamond for Forevermark. Sabyasachi Mukherjee is not new to global collaborations. The designer's latest is a specially curated range of make-up for global beauty major L'Oreal Paris. The festive collection called L'Oreal ParisXSabyasachi is Sabya's first major beauty collab and the launch last month was accompanied by a stunning campaign featuring L'Oreal Paris brand ambassador Aishwarya Rai Bachchan, shot under the Eiffel Tower in Paris.
Sabya takes t2 through the collection…
Beauty has always been a very important part of every Sabyasachi campaign, but this is your first beauty collab. How did it come about?
For quite some time, people were writing on my Instagram that your clothes are not affordable, we can't buy them, we can only buy copies. This voice was becoming louder and louder. So I thought that at some point of time I would do some kind of a lateral diversity and beauty would be one of them. Because over the years we have created very strong beauty looks. Like the centre-parted hair with the bindi that people call the Sabya look, or the flat centre-parted hair with the sunglasses. I saw a lot of it being put into catalogues of beauty parlours all over India. They use the pictures for their in-house branding where they offer their clients the Sabyasachi bridal looks. So I thought it was important to get into beauty.
Then I got a call from L'Oreal Paris saying that they were toying with the idea of doing a collaboration with an Indian designer. They are very picky; they have done only two collaborations — one with Balmain Olivier Rousteing and one with Isabel Marant. So they wanted to pick up a dialogue with me in India. I was very flattered because it's a big recognition. They did their research on who had a very strong impact on the bridal and beauty market.
When I asked them what we would do, they wanted me to come up with a comprehensive range of beauty products for the modern Indian woman. Then we decided that we were not going to create a new line, we were going to curate a new line.
How did you go about curating the collection?
My idea of beauty is iconic. I don't want beauty to be fashionable, I want beauty to be enduring. I want classic colours. Every modern woman wants a beauty kit in their handbag so that they can do their make-up anywhere… in a washroom or a hotel lobby. Modernity comes from having quick easy access and not having too much fuss.
The Indian woman has two strong focus areas — the eyes and the mouth. So we did a lot of permutation combinations and we decided we were going to do a volumizing mascara, an eyeliner, and I will go through their colour bars of hundreds and thousands of shades and I will come up with a sharp palette of 10 to 12 lipsticks, that I can categorise as nudes, reds and a fashion colour, which at this point of time is a berry or a plum. So we decided to do a comprehensive package with these items.
Different women have different ways of doing beauty… some people would wear liner and mascara only and a nude mouth, some people would only wear mascara with red lips, some people would wear liner, mascara and red lips, or mascara, liner and a plum mouth. So this is for everybody.
The other thing was the bridal market… how we would do this for the bridal market. In the bridal market, most girls like strong eyes. So you have the liner and the mascara, and along with that you could do a nude mouth. For the reception you could do just a mascara and a liner with a red mouth. For mehndi, just a mascara and a nude mouth so that it looks fresh and almost like you are wearing no make-up. So from a no-make-up to classic to trendy, this small little packet will give you everything. And if people were to only buy a mascara, or a liner or a red mouth or plum mouth, within that comprehensive range a woman would be able to define herself.
I will tell you a personal anecdote. You know Mita who works with me, she wore a lipstick from an international brand for 20 years. When that lipstick was discontinued, she went and told them, 'Did you even ask us before discontinuing that lipstick? Now what will happen to my identity?' There are many people like her. For me, beauty is all about finding the right colour and then sticking to it. I am not someone who likes people changing their make-up every day, I like people to have a particular identity.
So why I did the classics was because if you find your right colour here, I would like you to wear it again and again and again. Everything our brand does, whether it's clothing or beauty or jewellery, we want it to be more investment-led. I want to give them value for money and I want people to come back for more. That is the business model in which we have placed this collaboration. You find your look, you stick to it and you come back to us again and again for it. So my job here was to guide women on how to wear make-up and not just curate make-up alone.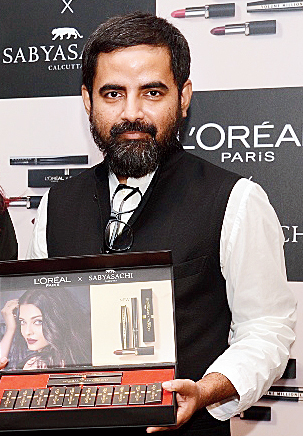 How was it shooting the campaign with Aishwarya?
Aishwarya and I have worked many times before, whether it was advertising campaigns or editorials, films or magazine shoots. L'Oreal Paris decided to choose Aishwarya for this campaign because she is one of their oldest brand ambassadors, she's been with them for the past 15 years, she literally built the face of L'Oreal Paris in India.
L'Oreal Paris is an international company and we are an Indian brand, so I was very, very particular that there has to be a voice of Calcutta and India in the campaign. So that's why we put Aishwarya in a sari, with a sleeveless blouse, with the classic winged eyeliner and a red lipstick. It was nothing path-breaking or revolutionary that we have done, it was just bringing back simplicity and glamour.
You know, if you ask a woman do you want to look fashionable or do you want to look beautiful, a woman would always say I want to look beautiful. I also wanted this look to be very believable. You don't need to buy a Sabyasachi sari to get this look, you can buy a printed sari from anywhere and you can shop for the L'Oreal Paris lipstick and liner and you have the look. I wanted the look to be easily accessible for people and something that is not too far-fetched.
The campaign was shot in Paris under the Eiffel Tower, because we had to pay homage to Paris since it is such an iconic city. Also, all the branding for our label says 'from Calcutta to Paris'. The funny thing is that the day we were shooting in Paris, that was the day when France was playing the (FIFA) World Cup finals, so there was pandemonium on the road. Everybody was expecting France to win, so there were celebrations from 10 o'clock in the morning. The energy was so high that we felt very good about it and we somehow had a feeling this was going to be a great collection. I was very very particular that there has to be a voice of Calcutta and India in the campaign. So that's why we put Aishwarya in a sari, with a sleeveless blouse, with the classic winged eyeliner and a red lipstick.... It was just bringing back simplicity and glamour
- — Sabya
When designing the looks, did you have any particular face in mind?
When I was curating this line I was paying homage to all the classic beauties, whether it was Audrey Hepburn, whether it was Gayatri Devi, whether it was Marilyn Monroe or Jackie Kennedy. If you look at it, you'll find this has a touch of old-world Hollywood glamour to it and this is a classic look that every woman aspires to have.
Does the campaign look have reflections of any of the past Sabyasachi campaign looks?
See, the winged eyeliner with the red mouth I have done many times, whether it was Aishwarya in Guzaarish, whether it was my campaign that I shot in Falaknuma. If you look at the Sabyasachi looks over the years, we have organic and clean, we have strong Indian bridals with strong kajal eyes, and we also have a little bit of retro glamour. So this was more in the retro glamour range with the winged eyeliner and the red lipstick.