No CAS, for now
Read more below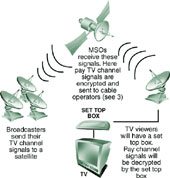 ---
---
How CAS worksHere's some bad news for television viewers. The Conditional Access System (CAS) which will allow them to pick and choose the television channels they want to watch and pay for just these channels, won't be introduced any time soon. "The challenge is to implement it," admits KPMG's media practice head Rajesh Jain.
Multi-system operators (MSOs, an intermediate tier in the cable industry that distributes programmes to the public) had invested in their systems to launch CAS three years ago, when the government first announced that it would usher in CAS. But the government dithered and the MSOs went to court seeking CAS's introduction. On March 10, after a two-year-long court case, the Delhi High Court ruled that the government must implement CAS within four weeks.
The High Court said that the government must ensure that the cable industry uses CAS to distribute television signals in cities notified in the government's earlier order. The court's order has been widely welcomed. Says Jain: "It is a step in the right direction. It will bring transparency down the cable industry's value chain."
But the challenges of introducing CAS are formidable. First of all, all those involved in providing television programmes to cable TV viewers ? broadcasters (the companies that own TV channels), MSOs and cable operators ? have to agree on common terms and conditions. They must sign agreements on channel pricing, distribution margins and so on. "We have to sign what are called interconnect agreements as per TRAI's recommendations," confirms E. Jayaraman, head of Hathway Cable. If they can't come to agreements, industry regulator Telecom Regulatory Authority of India (TRAI) may have to step in to introduce new regulations.
While some like Jayaraman argue that broadcasters will come around on matters like offering their channels to other broadcasters ? TRAI has a "must provide" clause in line with which channel owners can't refuse to do so; Ashok Mansukhani, who heads the MSO Alliance, an organisation that represents the interests of MSOs, says that the body has requested TRAI to help push such agreements among broadcasters ? not everyone is as sanguine. Star India has been averse to sharing its exclusive programmes with others ? it had earlier refused to give its channels to the Zee group's Dish TV, which operates a direct-to-home (DTH) service. Star India is now launching its own DTH platform in partnership with the Tatas. So why should it hand over channels to all and sundry?
Secondly, most broadcasting companies are cool on CAS. A TRAI source declares that they don't want CAS. "CAS means encryption and therefore transparency." In CAS, viewers will have to buy or rent set-top boxes. These will show exactly how many viewers are looking at each channel. The numbers will be public and broadcasters won't be able to make exaggerated claims about viewership. "With television advertising growing by 19 per cent a year, they do not wish to lose out on ad revenues," adds the TRAI source.
What is more, several broadcasters with weaker channels won't relish the prospect of CAS's introduction. That's because weak channels are currently bundled with more popular ones ? the cable operator charges the public for an entire bouquet of channels. Once CAS comes into force, however, the cable operator has to offer a choice to television viewers and charge for only those channels that they want. So less popular channels will lose out. Observes Sunil Khanna, CEO, Dish TV, a cable industry veteran: "It's true that the weak channels are enjoying the benefits of bouquet pricing," he says. Clearly, broadcasting companies will take time to sign the agreements with MSOs that will make CAS possible.
Thirdly, MSOs have to contend with their other business partners, cable operators. Earlier this week, the Mumbai-based Cable Operators Welfare Association is said to have approached the regulator to protest the implementation of CAS. They say that it is not clear how CAS will benefit cable operators and that it's unclear who will bear the cost of upgrading cable networks to convert them to digital networks.
Fourthly, MSOs will also have to create awareness about CAS ? on channel rates, set top box prices and so on. The head of a broadcasting company suggests that CAS won't take off because MSOs will not be able to spend big money on this. In contrast, DTH companies like Tata Sky have huge marketing and promotion budgets. "Do the MSOs have the financial muscle to launch CAS," mocks a DTH company executive.
Mansukhani and Jayaraman say that the MSOs had invested in infrastructure two years ago. "All we have to do is to put in colourful ads in the newspapers," Mansukhani says wryly.
The ball is now in the government's court. Since it won't be able to implement CAS by April 10, it may ask the court for more time. "The government may have some procedural issues, but we are absolutely ready to roll out CAS," concludes Jayaraman.