Nature meets decor
Quick and easy ways to add some spring to your home with colourful ideas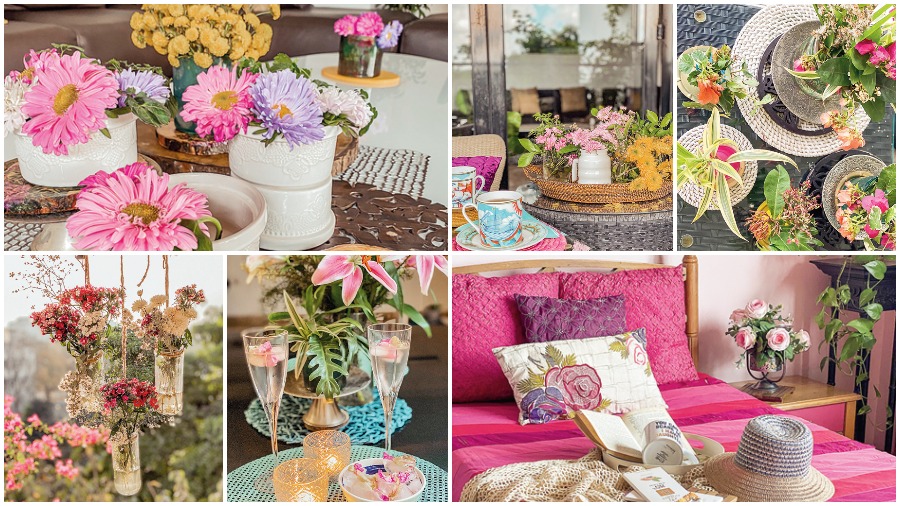 ---
Published 12.04.21, 01:15 AM
|
---
Is your home a constantly evolving mix of all the things you love? Well, that's how it should be. But as with new season fashion trends, we see new emerging home decor trends each season that tempt us to update our homes, rather than change them entirely.
Spring is here and it is making me think that we just skipped spring and ran to summers. And remember this time of the year, one year ago? None of us would have imagined what was in store for all of us. But whatever it was, it taught us some valuable life lessons –– the importance of family, how much less we actually need to live happily, to be sustainable in our living and most importantly, the importance of home.
So let us look at ways to bring the spring and summer vibe into our homes –– to make it colourful, cheerful and happy! It's the season of new blooms, the season of new beginnings and the season of excitement. There are no ifs, ands, or buts about it: the best way to usher in the spring season is by giving your home a warm-weather refresh. No matter what style best describes your home — contemporary, farmhouse-inspired, timeless, or ultra-glam — you're bound to find some inspiration on this list that'll easily complement your current interiors.
Let your home smell juicy
Sustainability is something we all learned very well in the last year –– so here is a little way to have a zero-waste kitchen. Store all the fruit peels in a jar and fill it up with some hot oil or wax –– and you have a candle ready. Burn it and your space will smell divine. You could try the same with a mixture of just citrus fruits or a mixture of different types… whatever soothes your senses.
Nature meets decor
Talking about sustainability, a great, simple way to add spring decor to your space keeping this element alive, is propagating your plants, using them as decor (great to have a wonderful propagation station) and using natural elements like coconut shells as plant holders. They add a natural look to the entire set-up and help bring nature into your home. A great way to propagate is by using containers and decorating them with cut leaves. Over time the leaves will grow roots and you can pot them and grow them into a plant.
Spring screams flowers
Flowers can lighten your mood, make your space happy and light! How about creating corners with hanging vases to add a floral element to your decor? I made these vases with reused food jars –– cheers to sustainability. Hang them in your verandah and give the space an immediate uplift. And when day transits to night, add some rice lights to add to the romantic feel.
Pops of colour in your rooms
Bring colour to your bedroom by mixing in new throw pillows, blankets, vases, flowers, and catchall trays in a spring-appropriate hue. And in spring, no amount of colour is ever enough colour. Use hues that make you feel happy, cheerful, and lively –– isn't that what spring is all about?
Arrange backyard flowers
Who says floral arrangements need to be expensive? With flowers in full bloom, use them creatively in different coloured holders and vases. Display them naturally, like the blooms just came from the garden. Use a mixture of different holders and vases in terms of colours, shapes, and sizes to create an element of interest.
Rose ice cubes
Who doesn't crave and love cold things in summer? Well, here is a way to make it even look prettier –– try making rose petal ice cubes. Yes you heard it right! Just dry some rose petals after washing them thoroughly. Place them in your ice cube tray, fill it with water and freeze it.
Floral decor using containers
Brighten up your interior space with some colourful floral arrangements and summer decorations. You can never feel bored with these floral decorations. Spring and summer are all about lush greens, breezy outdoors, and colourful flowers. Blossoming trees in a living room or a colourful bunch of flowers in a glass or neutral-coloured vase makes a perfect summer decor. Create a floral arrangement with some bright shades of flowers and place it on the entryway console table, near a wall niche, or on a side table in your living room.
Vibrant living room summer decor
One of the easiest and most effective ways of bringing spring into your homes is by adding spring colour cushions. They will immediately change the vibe of your space and will give it a refreshing makeover. Use some neutral-coloured furniture with some bold accent pillows. Create a centrepiece with colourful containers filled with fresh or artificial flowers. This contrast combination makes a strikingly stunning home decor. A colourful living room not only adds a cool vibe to your home but also makes your interiors feel more inviting.
Teatime surprise
And before it gets too hot, enjoy this time of the year in having some fun spring teatime –– bring out your colourful mats, cane trays, and different containers as vases. Add some spring flowers and don't forget to bring out your colourful teacups. This past year has been tough for all of us, so some fun and laughter would be the best therapy –– add to it some spring decor elements in the set-up and watch the charm of the place unfold.
While decorating your home this summer, ensure to use a variety of themes for each room. Choosing these ideas for a room or area with lots of natural light is highly recommended. After all, your summer-inspired interiors cannot be complete without some sunshine and lots of natural decor. So let's enjoy the sunshine and if you want to have a look at how to make many of the DIY decor mentioned above, don't forget to check it out on Instagram @design.on.the.go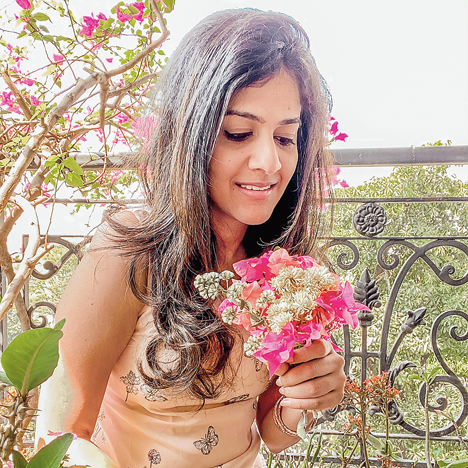 The author runs her own soft furnishing brand Onset while working with her family textile business. She has taught Textiles at the Srishti Institute of Art, Design and Technology and been a visiting lecturer at Philadelphia University and JDBI, Kolkata