Beauty pro Namrata Soni wants her beauty, cosmetic and personal care brand Simply Nam to include "everything possible that a woman would need". There is, however, no rush. The celebrated make-up and hair artist with over two decades of experience, is taking it slow and steady. She chatted with t2 about the brand and why everyone should have that perfect red lipstick.
Congratulations for Simply Nam. Tell us how it came into being last year...
I have actually been trying to launch my brand for the last four-five years and it took me quite a long time to find the right partner. We wanted to launch really fast and we wanted to launch with something which is true to who I am as a person. We called it Simply Nam because I am a very simple person as an artist. I am not someone who wears too much make-up and believes that you should let your inner beauty shine through. You don't have to transform or change who you are to look beautiful.
We launched with something as simple as a make-up towel. Every single time I would work on a client, the first topic would be we love doing make-up, but it is such a pain to remove it. There have been loads of variations of this towel for decades, but we launched a very superior quality towel and made sure we launched it with a lot of love and care. We are trying very hard to be vegan and sustainable and we need to do our bit for the earth.
The magic towel...
It is (laughs). It's a very easy product to use. You can use it with normal tap water and it is always better if we use it slightly warmer. The beauty is that you can also use your traditional make-up removers on the towel if that is what you desire. The stubborn eye make-up or mascara comes out even more easily.
Then you launched the sheet masks...
Yes, our second launch was the sheet mask which is very close to my heart. Whenever I work as an artist, the most important thing for me is prepping the skin. I have been struggling to find masks in the country which do the job of giving hydration, glow to the skin and at the same time not overloading the skin with products.... We wanted to make one product that would be suitable for all skin types. We worked hard in making sure that we got all the right ingredients in it and it is completely biodegradable.
You also have a beauty bag...
Every time I talk to my clients, I try to get an insight into what they feel or what is missing in their lives. You get either very tiny pouches or massive pouches to store your beauty and skincare things. I wanted to make a perfect make-up or beauty bag, which is easy to put into your handbag and beautiful enough to be carried by itself as a statement, again made out of vegan leather and completely sustainable.
You are going slow and steady and it's not a race...
Exactly! Very well said. There is no rush and we want to give every product its due so that people understand why we have launched it. There are so many brands in our country, especially with Covid-19, the home-grown brands have finally taken precedence and Simply Nam is a home-grown brand.
What kind of research goes into the products you make?
I have not studied cosmetology personally but every time I use a product, I have been conscious of what I put on my client's face and it has been difficult in India to get sustainable, vegan and organic products with which you can work from a professional standpoint. When we are launching something or doing our research, I know that I want aloe vera in this or hyaluronic acid in that.... With years of experience in this industry and the number of skin types and faces that we have worked with, I am able to tell what should go in, in a product.
How do you think the relationship between women and make-up has changed?
Women have realised that make-up is supposed to enhance your beauty and not change who you are.... Of course there is a very big section of society that still does a lot and makes it OTT. For me, it is about using the right products at the right places to enhance each person's natural beauty. I don't follow trends and do things that suit the client or the Simply Nam brand.
What kind of a role did make-up play in the pandemic?
In the last 1.5 years, women finally had time to themselves to understand what is important to them and that there is a certain way they want to look. A lot of women did online classes with me. Even skincare. The lockdown made them stop in their tracks and figure out what works for them as individuals... classic or avant-garde. Today, I see a lot more women confident of wearing make-up and doing it so effortlessly.
Make-up gives you a lot of confidence, right?
When I wear just a BB cream, a little bit of blush and put on a coat of mascara, I feel I can conquer the world. I am not changing the way I look or my personality with make-up. I am just enhancing my features and for me the one thing that can change the way I feel is the perfect red lipstick. I must be having 40 red lipsticks, but I have not found the perfect one!
The minute I do a red lipstick on a client, it changes the way they look at themselves. The power of a red lipstick or make-up has always been there but in our country make-up has been considered as 'Oh my god, she is wearing make-up'. Today it is part of who you are. Women, today, even if they are stepping out to work will wear that mascara or blush or BB cream or lipstick.
What are the basics of make-up for you?
What people need to understand is that they need to learn how to look after their skin. It doesn't have to be a designer product. It can be something as simple as medicated products. As an individual, you need to tackle what bothers you on your face. Are you someone who suffers from pigmentation? Learn how to cover up that pigmentation. Are you someone with bad dark circles? Learn to cover them up. Learn to curl your lashes with a lash curler, use the right mascara for the right season. Do subtle and beautiful contouring, highlighting and blush for yourself and learn how to line your lips and wear lipstick. You need to first discover who you are as a person and what it is that you love about yourself.
What should a beginner's kit include?
It would include your skincare. If you are someone who doesn't have too much time for skin prep, just get a sheet mask. Have a good concealer... BB cream and foundation, depending on how much coverage you want to give your skin, a loose powder or a compact powder depending on your preference, a black and brown kajal pencil, a lash curler and in the rainy season, I'll recommend a water-proof mascara. I would also do a multi-stick, something you can use on your cheeks and lips. And, I would definitely do an eyebrow filler. You can either have a pencil or an eyebrow palette. You should also have a simple brush kit... 10 brushes.
Who are your make-up gurus?
Kevyn Aucoin. Apart from that, Val Garland, Pat McGrath, Mickey Contractor, Subhash Vagal, Anil Chinnappa, Cory Walia, Clint Fernandes, inspire me.
Namrata's picks…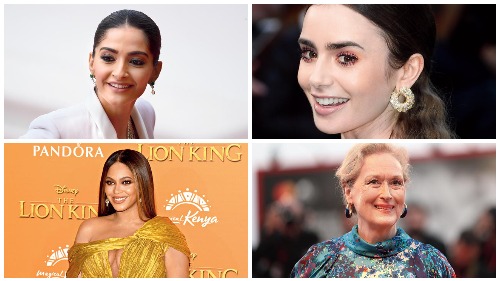 Clockwise from top left: Sonam Kapoor Ahuja, Lily Collins, Beyonce, Meryl Streep
Bolly beauties who have a good sense of make-up…
I always love Sonam (Kapoor Ahuja). Her sensibility is close to mine. Takes risks and tries different things. I think in the younger generation Alia Bhatt is really lovely. Right now, Ananya Panday is also taking a few risks and trying new things.
International faves…
I love Rihanna and Beyonce. Kristen Stewart is edgy and cool. I also love Dakota Johnson. She tries all these new lip colours. Lily Collins also tries a lot of new things and is fun and interesting to look at on the red carpet. Meryl Streep is my all-time favourite, flawless. She can carry off the most bizarre thing.