My definition of love has evolved: Manish Arora
Love is a simple yet extremely powerful emotion and the designer just want to help people remember it still exists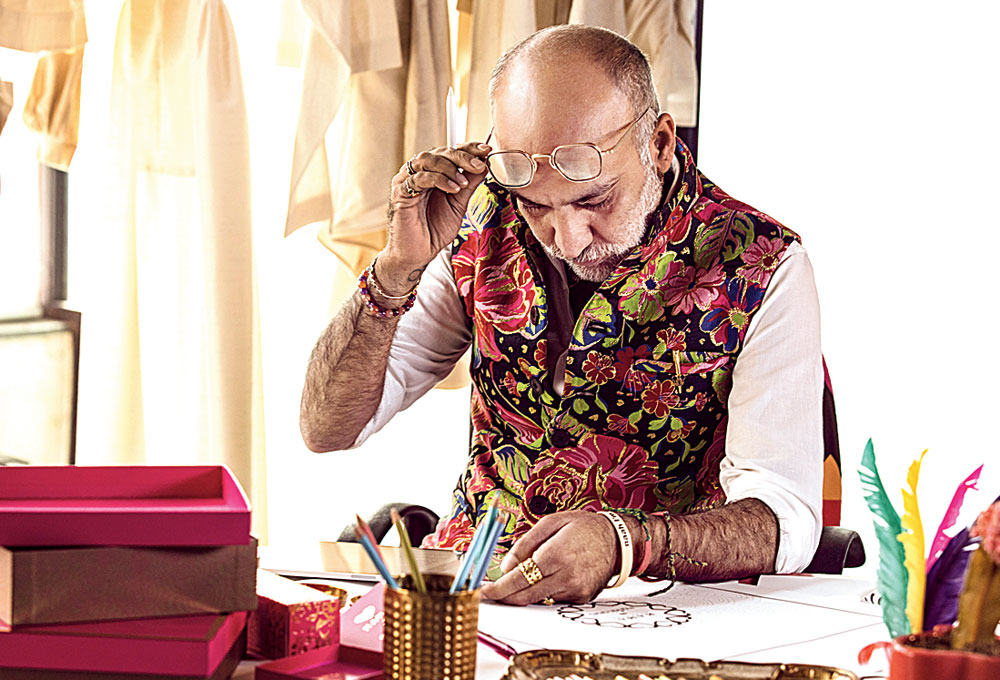 ---
---
A wash of pink, red hearts, colours filling up the patterns. Manish Arora's Instagram post about his collaboration with Kama Ayurveda is as beautiful as love. The designer known for his dramatic colours and kitsch quirk, has designed a Love is Love box for the Ayurvedic wellness brand. The colourful box holds a specially packaged Pure Rose Water, zardozi brooches and a note from the heart. We caught up with Manish on email on the making of the box.
The box has colour, drama, gorgeousness, luxeness and is yet so simple. That's what love should feel like, right?
Absolutely! The concept of 'Love is Love' comes from a need to encourage the world to look at love as the highest power and not break it down into societal dos and don'ts. It's a beautiful feeling that's meant to be enjoyed in its entirety and not conditionally. Love is the most common emotion in the world and it doesn't matter who you are, where you're from, whether you're a cat or a dog or a human. It's a simple yet extremely powerful emotion and I just want to help people remember it still exists.
You say in the video that pink and gold were obvious choices for the box because of your love for them. Why are they such huge favourites?
Pink and gold are my religion. To me, pink is symbolic of unbridled, liberating love and gold is a traditionally significant colour reflective of our rich heritage. Together these colours are bold manifestations of my beliefs and cultural legacy.
Can you tell us a bit about the design drama on the box?
The creative concept behind the box is the celebration of inclusivity, diversity and most importantly, universal love. Aptly titled 'Love is Love', the design features my very modern and signature pink-and-gold palette juxtaposed beautifully with Kama Ayurveda's existing ethnic Indian persona to tie in with the Valentine's Day theme. As always, variations of the heart motif are the standout design feature for the packaging of the box as well as its components.
What are the challenges and joys of designing a product vis-a-vis a piece of clothing?
I think the fundamentals always remain the same but it's stimulating nonetheless. Particularly with collaborations, it's about synergising your thoughts and conceptualising a design idea that is then adapted to products, keeping in mind various factors like structure, dimensions, consumer, price points….
What did you keep in mind while redesigning the Pure Rose Water?
It was a suggestion from Vivek Sahni, the co-founder and CEO of Kama Ayurveda, to feature the rose mist, which I thought was a great idea. Aside from being a brand bestseller which seemed appropriate to feature for this milestone collaboration, it also tied in very well with the theme of Valentine's Day. It was about striking the right balance between the existing product aura and design as well as tying it in with our creative concept.
Are you a rose person?
Roses are symbols of love, so definitely.
The brooch comes with wings. Love should give you wings to fly, right?
Yes, that was the thought behind adding wings to the heart motif. It's about giving your heart the freedom to fly in whichever direction it wishes to.
Has the definition of love changed for you over the decades?
I'd say my definition of love has evolved and broadened over the decades to be more inclusive and accepting.
What are you in love with at the moment?
My puppy Dilbar!
How has Dilbar changed your life?
He has taught be to become a parent and take responsibility of another life.
What is in store for Manish Arora fans in 2019?
Stay tuned!