Muse of the year
Read more below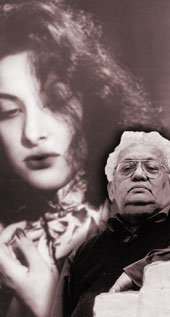 ---
---
BOLD and BEAUTIFUL: Raj Kapoor and Nargis on the sets (centre); Nargis with Sunil Dutt at the premiere of Humraaz (above); Meghnad Desai (top. Photo: Rajesh Kumar)
It is a sunny winter afternoon in Delhi. Meghnad Desai, emeritus professor, London School of Economics, and member of England?s House of Lords, is humming an old tune from a Hindi film as he settles into a couch in his living room.
?Kishwar is out and about,? he says of his wife, editor and co-author of his latest project, a book on the actress Nargis. A meeting with actor-MP Sunil Dutt is scheduled for the evening and a flight back to London the next day. ?over the past year, we?ve come to India five times, and this time, we stayed for a month,? says Desai, whose apartment at Safdarjung Enclave is as vividly coloured in yellow and red as his house in Hastings, England.
The frequent visits to India owe themselves to the sea of events in Desai?s life in the past year. The release of his book on Dilip Kumar was followed by marriage to the editor of the book after a long-distance courtship. And then, the book on Nargis, due to be launched by Roli Books in December, if all goes well, at the International Film Festival (IFFI).
This is the new, reinvented Desai that?s surfaced over the last year or so. The wild mass of hair that he was famous for has been tamed to a close crop. He has gone from being a loner ? he was separated from his British wife Gail and his three children for eight years when he wed Kishwar Ahluwalia ? to a contentedly married man. And Bollywood forms a large part of the current profile of a man better known as an outstanding economist.
Nargis is Desai?s muse for the year. He?s writing a lot of other books too, he tells you. He visited Tamil Nadu to set the ground for a screenplay on the mathematician Ramanujan. And then, from time to time, there are his books and articles on economics and politics. But, Bollywood, in Hindi film-style, has clearly captured his imagination.
?The first film Kishwar and I went to watch after we married was Chameli, and it was so pathetic we walked out during the interval,? he says. ?You cannot promote prostitution as social service in this day and age.?
He starts comparing the sex worker in Chameli to the more realistic portrayal of streetwalkers in Pyaasa. By the time he moves on to comparing the relationship between Nargis and Raj Kapoor to the theme of Kaagaz Ke Phool, he has warmed up considerably. Guru Dutt?s last film, he complains, had a silly storyline. No director, he argues, can possibly ruin himself because he has had an affair with an actress.
But Nargis? relationship with Raj Kapoor, he believes, is a real-life story that comes closest to the plot of the film. ?Here is a woman who grasped as much autonomy as was possible in her day,? he says, alluding to her affair with a married man ?which she conducted without losing her dignity,? even when she took up residence in Kapoor?s studios.
But he?s not going to dwell on gossip, personal lives and speculation. ?I wanted to trace the entire socio-cultural history of Indian cinema through one central figure,? he says. Nargis, Desai believes, was the only female star who matched up to Dilip Kumar?s socio-cultural importance. Not just for her films but because she was one of the first actresses in Indian cinema to break the religious divide and marry Sunil Dutt, a Hindu.
Nargis? story is one of amazing circumstances. Her grandmother, before she became Allahabad?s famous courtesan Daleepabai, hailed from a Brahmin family but was abducted by a group who trained tawaifs. Her mother, Jaddanbai, was rumoured to be Motilal Nehru?s illegitimate daughter, for, Desai stresses, the senior Nehru was said to have been enamoured of Daleepabai. ?Jaddanbai even tied a rakhi to Jawaharlal Nehru,? he reveals.
Jaddanbai had three children from three different men, and was one of the first woman film directors and music directors of Indian cinema. But then, failing family fortunes forced Jaddan to place her 14-year-old daughter Fatima Rashid aka Nargis ? her daughter born of a Hindu man, Mohanbabu ? in films. ?She was then the sole bread-earner for her family, and yet, was beaten up by her brothers,? he says.
But Nargis? remarkability lies in the fact that she fought all odds ? which included her relationships ? to emerge as one of the most respected women in her country and even earn a place in the Rajya Sabha. ?And all this from a family of courtesans, in just one generation. She was also the first global Hindi film actress,? says Desai. The Nargis-Raj Kapoor movies are still talked about in Russia, and there is a restaurant named after her in Greece.
The Desais stayed in Pune for a while to watch five of Nargis? films at the archives at FTII. They watched prints of Taqdeer (Nargis was just 14 in that 1943 film), Humayun, Anhonee, Raat Aur Din and Lajwanti. ?I bought 77 VCDs of Hindi films this time. But these are early films and the VCDs are not easily available,? he says, although even at the archives, he had to contend with missing reels and lack of sound.
But that is the Nargis that Desai wants to watch, the youthful woman, not the Mother India of the late Fifties. ?Mother India is an epic film, no doubt. But it is one of the few Nargis films that I have not seen twice,? he says, adding that his perennial favourite remains Jogan, which he compares to a ?fine miniature painting? as against the vast canvas that is Mother India.
Desai idolised Nargis from childhood. ?I spent 10 years from 1951 in north Bombay, and although I knew where Nargis? house was on Marine Drive, premieres and other such things were all held in south Bombay. I was far away from it all,? he says. Nargis was at the peak of her career then, with films like Aah, Barsaat, Andaz, Jogan and Awara. ?Waheeda Rehman came in much later. Kamini Kaushal could have been a competitor, but her roles dried up. Meena Kumari couldn?t really be in the same league,? Desai contends. Madhubala, he holds, was the only actress who came close.
Cinema, clearly, was a part of Desai?s growing up. Back in the Fifties ? when society was more repressed ? cinema was one of the safest subjects for a conversation with the opposite sex, and songs from films a way to express one?s amour. Cinema, he observes, was used as a means of social change. ?Films made by Prabhat Films and Bombay Talkies probed questions about a woman?s position in society, as did Shantaram,? says Desai, giving the examples of Achhut Kanya, a film on untouchability, and V. Shantaram?s Stree, the story of Shakuntala. ?Films were entertaining, but a vehicle for social reform as well,? he says.
Ironically, in the new millennium, cinema is seeing a regression. Desai believes that the current ?saffronisation of society? is bringing back patriarchal values that are often reflected through serials and films. ?It?s quite, quite remarkable. There are more opportunities for women to work. They have more choices and greater mobility. At the same time, I cannot help thinking that there is a tremendous resurgence of orthodoxy,? he says.
An episode of Kyunki Saas Bhi Kabhi Bahu Thi disappointed him. That, and films like Hum Aapke Hain Koun... make him think that patriarchy is being welcomed as a benevolent thing, where the woman has no position of importance even in her house. ?Even in Sanjay Leela Bhansali?s Devdas, both Parvati and Chandramukhi were dolls, rich dolls at that, and nothing else,? he says. In contrast, P.C. Barua?s and Bimal Roy?s Devdas show Parvati as a strong woman unafraid to try and change her destiny.
Desai hopes to highlight these cultural and economic changes in Indian cinema in his book and weave them around Nargis? story. Just like the films that he stands by, it promises to be an entertaining project that makes a social point.