Mulmul comes to Calcutta
The pure comfort of cotton shapes from a Delhi-based brand is now available at 85 Lansdowne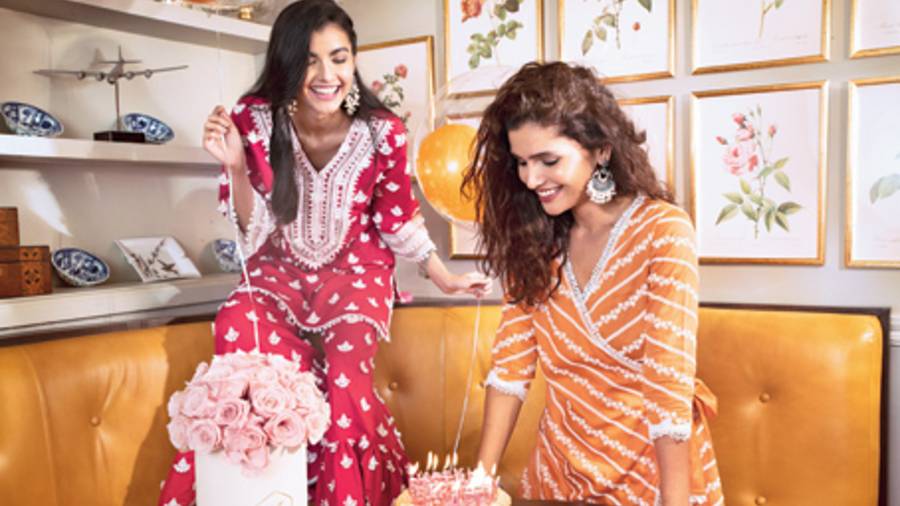 Mulmul creations that are now available at 85 Lansdowne
Sourced by the correspondent
---
Published 22.11.20, 10:31 PM
|
---
Easy breezy styles. Pretty and feminine. That's Harsh and Saumya Modi's Mulmul. The Telegraph caught up with the husband-wife duo, married for almost 12 years, on the label from Chhatarpur (Delhi), travelling to Calcutta's 85 Lansdowne.
Have you been to Calcutta before?
Harsh: We have been stocking at 85 Lansdowne for a while, but the difference this time is we have come up with the concept of a dedicated Mulmul section there. The difference mainly will be that we'll have the entire collection there. Otherwise, at multidesigner stores, you only have a limited collection available. Whatever a Delhi Mulmul store will have, 85 Lansdowne would also have the same range and it will also be there as soon as it is launched.
Tell us about the name. Such a comfort name.
Saumya: The name is important to all of us. Indianwear was becoming very restricted to formalwear. So, we wanted to introduce Indianwear in a way that people just love wearing it every day. And, if you are going to be wearing it every day, it has to be comfortable. We are from Delhi and it is really hot here. Fabric is very important and it is also our family's forte. So, we got a special cotton fabric developed and it feels amazing. Among the Indian fabrics, the most comfortable is mulmul. So, this was the perfect name for our brand.
Harsh: The expertise in fabric weaving is down south. Our fabric is also woven there.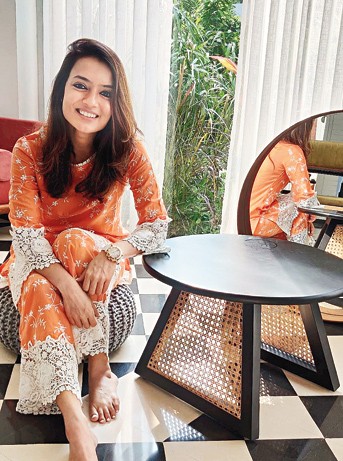 What is the design philosophy of the brand?
Saumya: Everything is designed and developed in-house. We sketch all the embroideries.
Harsh: Every embroidery or lace you see on the garments is unique. We do limited pieces in every style and colour.
Saumya: My sister-in-law Bhavini and I design and he (Harsh) is the business head. I did a four-year fashion designing course at NIFT. The brand is more than two years old.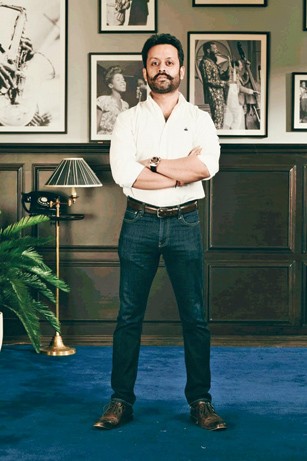 You have started with ethnicwear…
Harsh: It's got an Indo-western twist to it. It is very chic. Our clientele is young. Suits are back in fashion. Sara Ali Khan and Janhvi Kapoor (wear them a lot). Mulmul has also contributed in its small way.
Tell us about your saris...
Saumya: We started with net saris. For winters we have used Japanese silk. This summer we are planning to introduce more fabrics.
Harsh: We are very particular about sustainability. Japanese silk is one such fabric. We have eliminated plastic almost completely from our packaging.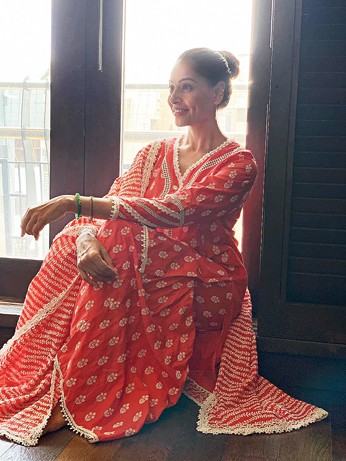 How have you made cotton eveningwear?
Saumya: We have played around with a lot of silhouettes with beautiful embroideries. All our clients love the colours that we do. For eveningwear, we have used dark colours. All our fabrics have this sheen. It looks perfect for a formal event. Just add a dupatta and accessorise it with a little bit of jewellery.
Who are your favourites from Calcutta?
Saumya: Anamika Khanna is one of my favourite designers. Calcutta is full of creative people... Sabyasachi (Mukherjee) and also a lot of smaller designers. I also like Pallavi Singhee. When I was getting married, I went to Calcutta to shop.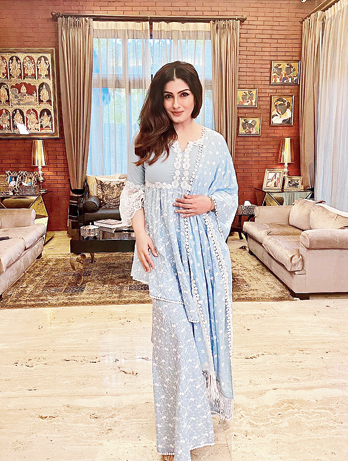 What are your favourite cottons from across the country?
Saumya: Mulmul of course. Chanderi, which we have used for our dupattas as well. Otherwise there are these cotton blends that we keep looking at.
Tell us about your festive line...
Saumya: We have used cotton-satin, Japanese silk which will keep you comfortable in winters. We have done brighter and darker colours. We have introduced orange, which has really done well for us. We are also doing a woollen range. This will be something new this time.