A warm festive shoot
Mother Koneenica Banerjee and daughter Antahkarana brighten up the pages of The Telegraph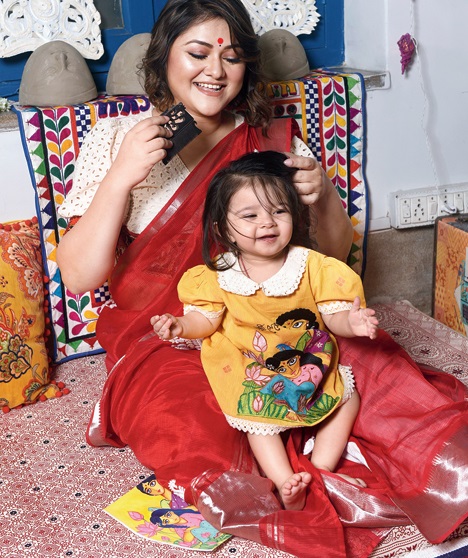 Koneenica Banerjee and daughter Antahkarana
Pictures: Pabitra Das; Hair: Avijit Das; Make-up: Rahul Nandy and Debabrata Majumder
---
Published 15.10.20, 10:19 PM
|
---
Fourth-time special. That was the October 12 script for actress and new mom Koneenica Banerjee. She stepped out for the fourth time since the pandemic hit, for this special shoot. Daughter Antahkarana's first proper photo shoot. "I was very excited since morning and realised right after waking up that this is Kiah's (pet name) first proper shoot. Eta likhe rakhtey hobe. We did do a portfolio shoot when she was three months old, but then she didn't have the realisation. Now she is much more expressive. Her father (Surajit Hari) is already texting that 'What is the little model up to?'" smiled Koneenica, in a cat tee because her daughter loves cats! We had settled down for a chat post-shoot at designer Parama Ghosh's Lake Terrace studio, which houses her label Parama.
A complete natural, we captured Antahkarana in seconds. "She loves the camera. Ja bodmaishi korar kore niyeche, but during the shot she was a good girl. Once after a script-reading session, she had a long conversation with the director! I realised that she has that element. I don't want her to take up acting, but hole hobe," laughed Koneenica. With "michke dushtu" Antahkarana's antics as the playful backdrop for this chat, Koneenica spoke about motherhood and how it has changed her.

What has Kiah done to your life?
She has changed me completely. I was patient before too, but ei boyeshe eshe, bhalobashar shotyi ki ortho sheta o aamai bujhiyechhe. At times, she'll just keep looking at me and I would be like: 'Am I so important?' She has made me believe there is still bhalobasha, but since we are all in a race against time, we don't get to take that time out. But may be since I have to take out that time now, these realisations are occurring to me now.

Did you take parenting tips from your mother?
We all need tips. Even to raise a kitten or a puppy, we need tips. Human kids are much more interesting. I am still learning all the time. I feel every woman should experience motherhood once. Jiboner meaning ta bodle jai tate. It is a huge learning. I bonded with her in the lockdown.

You don't feel the pressure to be a good mom?
I am not a good mom. We are all humans and every mom is a good mom. Recently my blood pressure fell so much that I fell asleep singing her lullabies. When I woke up, I saw she was playing. Does that make me a bad mom? There is no competition for moms. What they do, even if dads want, they can't. They can't multitask.

What are your dreams for her?
She should be a good human being. That's why I named her Antahkarana (the inner cause).
Meet Antahkarana
Age: One year four months. "She was a quiet kid in the beginning but she is getting naughtier by the day," smiled Koneenica.
Birthday: June 12, 2019
Height: 70cm!
Loves eating: Pasta and noodles. "I try not to give her, but she is so thin that even if she puts on weight after consuming a bit of that, it's a big deal. I am training her to eat with her hands," said Koneenica.
Also loves: Taking off bindis from people's foreheads and instructing Alexa. She loves watching rhymes and is a big Badshah and Hardy Sandhu "fan". "Badshah kaku and Hardy kaku! I had hardly listened to them before this. My father once played the original Genda phool, but we couldn't find it later, so we switched on the remix. Tarpor or naach shuru holo. If I ever meet them one day, I will say 'thank you'. There is another song called Naagin gin gin. She loves it! I had thought I would not introduce her to a mobile phone or let her watch TV, but…. My mother also switched on Tamil songs that day. She loves colours and paintings and understands patterns. She loves casual clothes and doesn't like trousers at all. She is very close to my father and loves her boxer pet called Boxer and is an animal lover," laughed Koneenica.
Weakness: Threads and cords.
Koneenica's favourite pastime with her: "I sing her lullabies. I spent most of my time with her," she said.