Mimi Chakraborty glams up in DIY Puja looks
As an adda accompaniment, there was Mimi's bowl of dry fruits as healthy munchies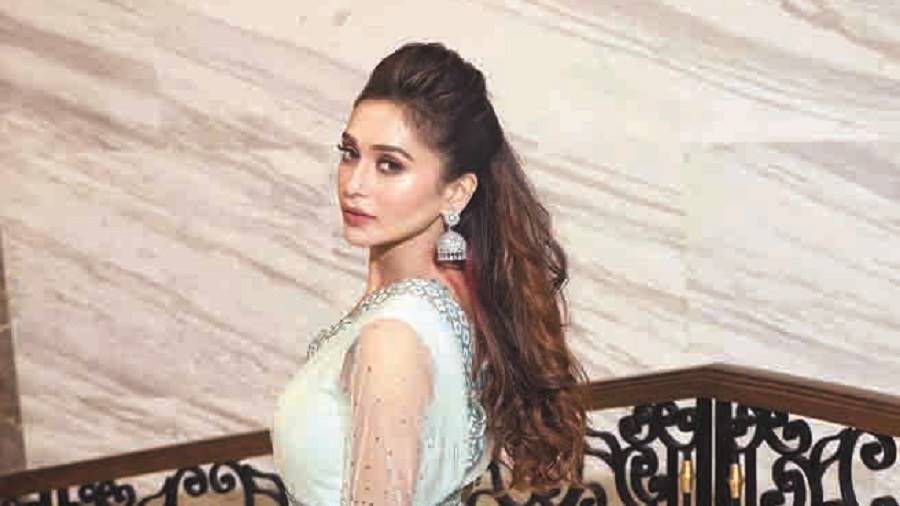 I loved all the looks. We mixed it up. A lighter look one day and more embellished ones on other days — Mimi
Pictures: Pabitra Das; Make-up: Babusona Saha; Hair: Sarmistha Majhi
---
Published 21.10.20, 09:57 PM
|
---
Hair tied in a ponytail and face scrubbed off the shoot make-up partially, actress-MP Mimi Chakraborty sat comfortably cross-legged on the ITC Royal Bengal bed, post-shoot, for this quick Puja chat. As an adda accompaniment, there was Mimi's bowl of dry fruits as healthy munchies.  

You don't shop for yourself during Pujas…
I usually don't like shopping for Pujas specifically because I am travelling through the year and I pick up something or the other and I get so many gifts too. I plan what to wear though. My mother may be will gift me something.

Your hair and make-up is also simple…
Simple. I wear gold jewellery when I go for anjali. Every year I buy jewellery to wear on Navami. I treat the entire apartment complex to bhog. We all eat together and there is a lot of good food. On the menu are my favourites like Kochi Pathar Mangsho and Pulao. This year, may be community eating won't be possible, but we will do something.

Puja is all about togetherness. What is togetherness for you?
It's about not being selfish. It is about helping someone to grow with you and being happy. In every phase of your life you have someone to talk to.

Does that feeling get reinforced during festive times?
Exactly... shob bhalo hobe. It feels positive. Pujo aaschhe maane sarater aakash. A bright and sunny sky is an instant mood-lifter. I won't throw tantrums and eat whatever I am given. I won't measure my calories.

What are your tips for all those who want to dress up like you this Puja?
Prep your skin for the Pujas. Drink lots of water. I drink eight litres when I am not shooting and when I am shooting, it is five. Don't do too much make-up in this heat. A mask is a must. Go for amazing eyes. You can take reference from my looks and also look up YouTube tutorials.