Meet Samraggi Mukherjee, a Calcutta girl with global pageants in her kitty
Mukherjee is "waiting for the right opportunity" to step on the accelerator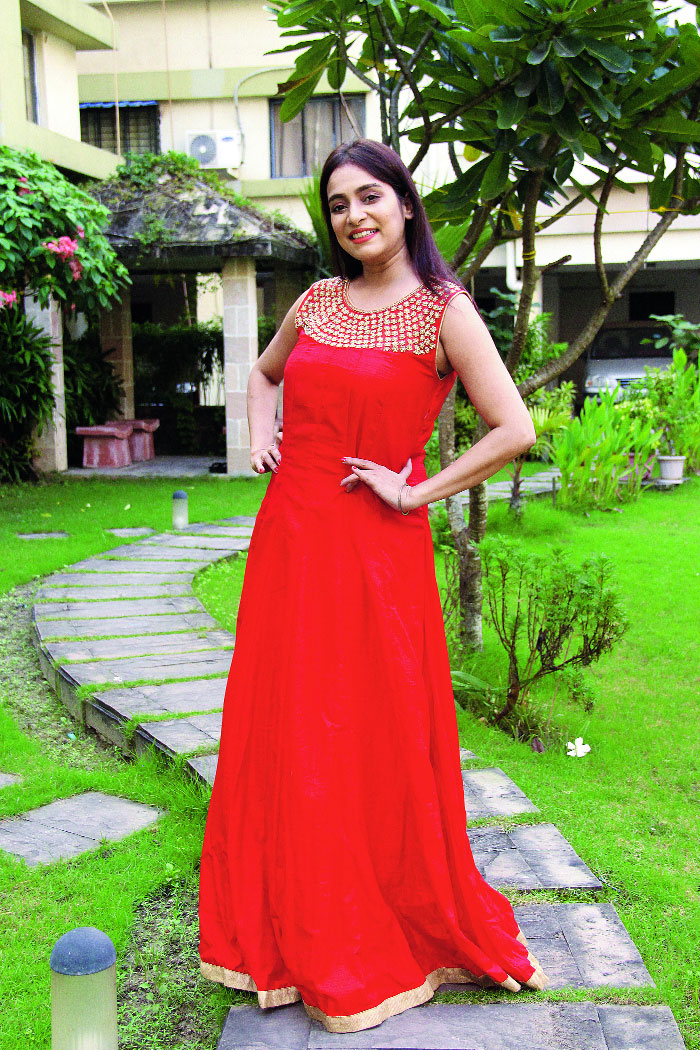 ---
---
With a number of beauty pageant wins under her belt, Calcutta girl Samraggi Mukherjee is "waiting for the right opportunity" to step on the accelerator. The Telegraph chats.
Congratulations for the wins! Tell us about your beauty pageant journey...
This journey of participating in pageants started in 2017 by auditioning for Archerz Mrs India. I did not have any idea about pageants before that. One of my close friends forced me to participate in this one. I went for it without any expectations and out of so many people, I got selected. Once I was selected, obviously, there was no looking back. Everybody's expectations were building up, including my son's.
In March, 2017, I went to Mumbai to participate in my first pageant and competed with participants from 40 states. The grooming session was important for me. That was the first time I had worn stilettos! I was among the top 10 for the final round and after the question-answer session I never thought I would get selected because nobody had clapped after my answer. I went to the changing room and had also opened my shoes and sat in silence. Then my name was announced as the third runner-up. I am the first Bengali who brought the Archerz Mrs India runner-up crown to Bengal in 2017.
Once I won this I went for Milestone Mrs India International Princess in January, 2018. I represented India and Bengal in Singapore among 40 contestants from all over the world and was the second runner-up. I was so glad to represent India on the world platform.
When I did Mrs India International Princess it was a part of the contract that I had to represent India on the international platform. Last year I didn't go to South Africa, so I participated in Milestone Miss and Mrs Global International World Pageant this year in September. It was held in Philippines and I brought home the winner's crown. I never expected to win it. Before I left home for this pageant, my
15-year-old son had said, 'You can't bring the runner's-up crown this time....' It took three or four days for it to sink in after I won.
What was your son's reaction when you told him that you had won?
He was happy and proud. He is a student of La Martiniere for Boys and all his teachers and friends' mothers also congratulated me.
How did you prepare for it?
I started preparing for it a year back. I really worked hard for it. I knew there would be many international participants and was a little apprehensive in the beginning, thinking about their height and appearance. I, however, concentrated on staying as fit as possible, so that I look confident in my appearance.
I had to lose a lot of weight and I am not someone who likes to go to the gym. I hired a trainer and went for yoga instead since I had a problem with lifting weights. I was also into strict diet. For all those months, I did not have biriyani and did not attend parties. I am focused and sure of my strengths and weaknesses. There were distractions but I overcame everything.
I also kept myself very updated with current affairs. By nature, I am inquisitive. My son also helped me a lot. The national costume round carried the maximum marks along with the talent round, so I was very particular about the costume.
This must have been a special win...
For my first pageant, all those who participated were beautiful and most had come after winning in their own states. I was the one who went for it without even participating at the state level. I went without any expectation. This time, however, it was tougher as it was at the international level. I was also the subtitle winner for flawless skin. I participated in the grooming rounds almost without any make-up. It made a lot of difference in the sense that the outlook of people towards me was different.
Which round was more challenging?
National dress round definitely. My costume was designed by Mehek Talreja and I was confident about it. The body-con round was also challenging.
What was life like before participating in your first pageant?
I was born and brought up in Calcutta but stayed in Chennai for 10 years. My passion is theatre and acting. Even for Miss Global International, in the talent round I performed the song Over the Moon from the Broadway musical Rent and my marks were high in that round. Before participating in any of the pageants, I also acted in a short film in Tamil, Kanupudi.
When I came to Calcutta, I took up an acting course to learn it professionally. I did a short film with Koushik Sen and also participated in a workshop conducted by Sohag Sen. She had asked me to join the group.
I feel everything happened at the right time in my life. All of it happened overnight but there was a lot of dedication and determination involved.
Is there anyone you look up to?
I really admire and have always followed Sushmita Sen a lot.
Was your family supportive of your choices?
My mother has always been a big support. Since my childhood days, my mother always encouraged the three of us (sisters) to participate in various activities. She always believed wherever her daughters would go, they would not come back without winning and that boosted my confidence.
What are your future plans?
Apart from my business, which is my bread and butter, I want to keep my acting passion intact. If I had not won this then I would have participated in more pageants. In the last two years I have received a lot of awards and these have been weapons for me to build my future. I will be pursuing acting, judging and grooming career in future. I also wish to create employment opportunities in the micro-business sector. I signed a movie this year. If given an opportunity, I will take up more movies. I am waiting for the right opportunity.
What is your message for all those who share similar dreams of participating in beauty pageants?
Going for competitions are tough in the sense that you need family support and especially after marriage, people may not have that kind of support. Many people still don't understand the concept of a pageant. It is a very prestigious platform. It is not just about winning but also meeting so many different people. I made so many memories and learnt so much. This platform boosts your confidence level.
My message for all the women would be to come out of your daily chores and your identity as a wife and create an identity for yourself. It is important for you to know your hidden talent. You do not necessarily have to be a winner. Be brave and honest and victory will be yours.