Maximalism meets bespoke loungewear in Hurrah Hindustan
The collection aims to represent a cultural paradigm championing our Indian roots within a contemporary context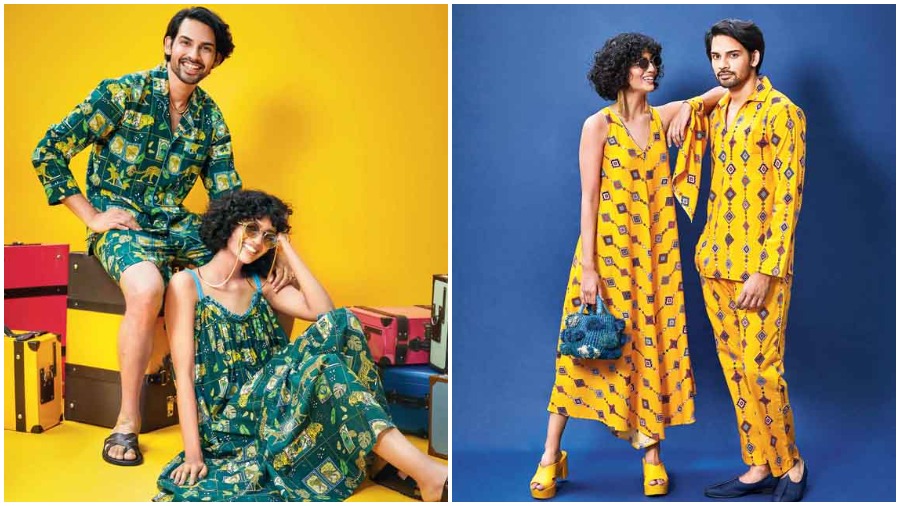 ---
---
Param Sahib's maximalism meets Samyukta Nair's bespoke sleepwear brand Dandelion to create a fun, quirky and comfy line of loungewear called Hurrah Hindustan that aims to represent a cultural paradigm championing our Indian roots within a contemporary context. A set of prints drawn from all things desi like India's fauna, royalty and even an old stamp collection have been rendered on to relaxed silhouettes such as co-ord sets, kimono-style tops, ruffled shorts, maxi dresses and jumpsuits. We caught up with the duo: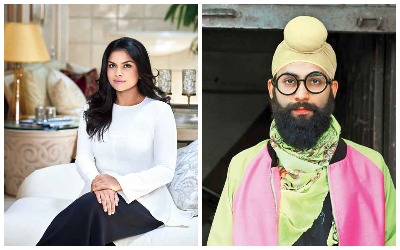 The collection looks quirky and fun. How was it conceived?
Samyukta Nair: At Dandelion, we really wanted to explore a more India-centric aesthetic and we wanted something that was beautiful and captured the culture and soul of the country. That's when we thought that Param was the absolute right fit for that because he is so Indian in his avatar and design but yet so contemporary and chic. You can wear these pieces in any part of the world and layer them beautifully and yet be known for their distinctiveness. And that was the starting point for us to work with Param Sahib — more than just the loungewear, I was gravitating towards him aesthetically for his flamboyance and maximalism.
After that, we really sat down together as with the pandemic and everything else, we wanted to explore loungewear as a category because it is something very distinctive yet easy to wear.
My individual sense of style is very minimal and toned down while Param's is different and we wanted to bring that in. The styles are very classic in their avatar but when we combine it with the prints, it gives you an edge in everyday living.
Param: The kind of stuff I was doing — over-the-top colours and styles — it was great for me to join hands with Dandelion and bring out something a little toned down in loungewear as it was an unexplored area for me. It's a very fun line and working with Sam was also very easy. We were pretty clear with our vision of creating something that is very India and a very Indian vibe. Then we worked on some modern silhouettes and fun pieces in terms of cuts and styles.
Take us through the mood board and behind-the-scenes of the collection?
Samyukta: It was manic! Param and I had ideated before the pandemic. Given Param's sense of Indianness and me being quite an Indiophile as well, we really wanted it to be about Hindustan and a celebration of India and we mutually agreed that Hurrah Hindustan had a nice ring to it. It gave it the sense of identity, time and space and we gravitated towards it.
Param: Each of the five prints talks about a story from India. It has elements of an old Indian stamp, all the plants and the leopard. The Elephant Whisperer has the motif of the decorated elephants that you see in Jaipur and then there is also a base print of a block print. The Royals of India are inspired by the kings and queens and the Technicolour is inspired by the strands of beadwork converted into a three-colour story. We have tried to keep the colours muted but still colourful from the perspective of Dandelion. We were clear that we wanted to pick up elements and motifs that talk about the origin of India and we formed these five stories and then did R&D.
How has the response been like?
Samyukta: Both of us are supremely happy from a creative point of view but I am waiting for Param to wear it and shoot it because there's nobody in this world who could style it better! I am excited to see that. But inherently, people have really taken to this in a way that they are surprised to see that Dandelion can do something so different and I am so happy to see how people are wearing everyday styles. We had Kajal (Aggarwal) wearing it with sneakers and a denim jacket and Malaika Arora wore it as a day dress. The versatility of the collection really comes through.
What is your take on loungewear, which has now become all the rage?
Samyukta: Loungewear and sleepwear really emphasises a sense of self and now, more than ever, this is supreme. In India, we don't necessarily invest in sleepwear because we sleep in old clothes because the idea is that nobody sees you. But now, more than ever, to invest in this category has become so key because we are spending so much time at home and we have people over or on a Zoom call and need to be presentable.
Go right or wrong is about how individualistic you can make it, like anything in fashion. Tomorrow, someone else might think that I am a ridiculous dresser but that's subjective. I think I learnt this from Param who wears so many interesting colours, layers and prints but he makes it look fun because he really owns who he is and that's the takeaway. So as a collection, we want you to style it the way you want. We don't want to set a trend about how you dress so make it your own and I am excited to see what people do with it.