Marriage, cosmo-style
Read more below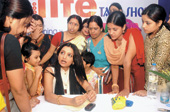 ---
Published 23.01.05, 12:00 AM
|
---
Illustration by Suman Choudhury
It?s all about fusion these days. Fusion food, fusion music, and now, fusion weddings. We aren?t talking mixed marriages, you understand. We?re talking weddings that are a fun-filled mix and match, where an evening of boisterous Punjabi-style sangeet segues into a quiet early morning dadhi mangal, where the very north Indian mehndi ceremony is as much of a must-have as the very Bengali dudhey alta. Suddenly, it?s okay to pick your tradition when it comes to such key socio-cultural jamborees as weddings. And India?s urban tribes are loving it.
Witness what took place at the wedding of Sumitrajit Dhar, for instance. Dhar, who teaches biophysics at Northwestern University, Illinois, and got married to his American fianc?e in Calcutta last month, was keen to include some north Indian customs in the proceedings. So, on the day before the wedding, a full-fledged mehndi ceremony was organised for the bride. A professional was called in to decorate her hands and in the evening, there was a sangeet.
Rabindrasangeet, did you think? Perish the thought. This was sangeet as it happens in north Indian shaadis (and of course happens with a vengeance in nearly every other Hindi film) ? a pre-nuptial roistering complete with bhangra pop and hectic dancing.
?I think these customs are really beautiful and one can enjoy them a lot more than something like, say, our gaye holud,? says Jayati Dutta Ray, who got married a year ago and had insisted on a mehndi ceremony ? la her Marwari and Punjabi friends. ?We got a Rajasthani lady in for the job. As is the custom, she worked the initials of my husband?s name into the design on my palm. My mother, aunts, cousins ? we all sat together and got the mehndi done on our hands. It was great fun.? Jayati also had a wedding eve music and dance bash where everybody shook a leg, including her parents, uncles and aunts.
Nor is this the whimsy of a few over-eclectic brides and grooms. Archana Dey, who performs with her troupe at mostly Punjabi and Marwari wedding sangeets, points out, ?This season I have already been to sing at six Bengali weddings. They mostly want Hindi songs. I also find that many Bengali brides have started wearing lehengas to these pre-wedding parties.?
It?s enough to give Aamra Bangali fanatics sleepless nights and make them rage against such hideous erosion of Bengali pride. But really, those poor sleep-deprived sods can relax. It is not as if weddings are losing their pristine cultural identity in Bengal alone. Across India, they are being rejigged, revved up and glamourised ? the accent always on mounting an eye-popping spectacle that?s high on fun and photo ops. Besides, if the wedding repast can be a happy m?lange of Thai, Mongolian and puri kachori counters, what?s a bit of tinkering with traditions when it comes to the dress and the rituals?
Today, mehndi, that beautiful body art beloved of super celebs like Madonna, has made inroads into nuptials south of the Vindhyas ?something unseen and unheard of even a few years ago. And who can forget that post Devdas the film, Bengal was the flavour of the season at many a wedding event across the country? So much so that filmstar Raveena Tandon had wished to be married in a typically Bengali red-bordered white sari and had requested designer Sabyasachi to craft it for her. (It?s another matter that eventually, she wore something else, but hey, at least we know she?d wanted to don Bengal colours on her wedding day!)
?Undoubtedly, the influence of the visual media ? films and television serials ? has led to this social mobility of cultural items,? says sociologist Prashanta Ray. Mira Nair?s film Monsoon Wedding, for example, did a lot to popularise those joyous Punjabi rites. As Dhar admits, ?I loved the film. And so did my American father-in-law. In fact, he was quite disappointed that there wasn?t going to be a horse or a sword at my wedding!?
Filmmaker Rituparno Ghosh, who has done his bit to put Bengal on India?s current culture map, agrees that people are much more open and cosmopolitan today. ?Which is also why they want to be cosmopolitan in their weddings,? he says. ?However, by and large, the culture that dominates the media is also the one that has the greatest sway in these matters.?
Hence, while you may have escaped the glittering Shah Rukh Khan-led wedding number in Kal Ho Na Ho, it?s hard to get away from Hindi television serials ? those unending family sagas that blitz you daily with such stuff as mehndi ki rasam, karva chauth and what precisely is shagun and what most definitely is not. Moreover, there?s a curious sameness about the way every community is depicted in these serials. In one allegedly Bengali family (Kasauti Zindagi Kay), for instance, you?ll find the women of the house doing a garba-style jig around goddess Durga on every Bijaya Dashami day.
Is this what cultural integration is all about? Perhaps. Certainly, one cannot dismiss the upsides of this give and take. As Ray points out, ?It definitely leads to greater tolerance and assimilation.? Dhanteras is already a huge event in the festival calendar of those who did not know the existence of the word a decade ago. Who knows, in time to come, karva chauth may become the hippest de rigueur among married women all over the country.
As for weddings, the fusing could get more interesting. Let the blooms of the sehra mingle with those of the unjal (a Tamil custom where the bride and the groom sit on a swing and are showered with flowers to ward off the evil eye). Now that would be an Indian wedding worth waiting for.