Man who has seen three centuries
Read more below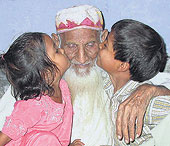 ---
Published 12.06.05, 12:00 AM
|
---
AGE OF EXPERIENCE: Habib Miyan with children of the sixth generation of his family (above); Habib with (from left) Rajesh Nagpal, grandnephews Chuttan Khan and Mehmood Khan, and (on lap) Mehmood's grandson
Frankly, for a man tasked with preaching safe sex, Habib Miyan tells stories that are particularly raunchy. It's a sweltering summer afternoon, and India's longest surviving centenarian ? by one count he is as old as 136 ? is counting beads in a windowless room of a shanty in a suburb of Jaipur ? and narrating stories.
In his soft but raspy voice, Habib Miyan talks of Jaipur's Maharaja Ram Singh and his love for a tawaif. And he talks of Ram Singh's successor, Maharaja Madho Singh, and how he sired more children with his concubines than with his eight wives.
Coming from Habib Miyan, such tales may soon become out of place.
For, state AIDS control officials in Rajasthan want him to sing a different tune for the nation. They have selected him to serve as an icon for a long, healthy life in the era of HIV and AIDS.
If all goes according to their plans, messages from Habib Miyan about the use of condoms and safe sex and dangers posed by tainted needles may soon begin to appear on wall posters, TV channels, and in comic books specially designed for school children. And Habib Miyan has also coined a line of his own on the secret of his longevity: "You treat the body well, the body will treat you well".
Habib Miyan is India's oldest living human. His bank keeps a government-authenticated document that certifies him as 127 years old. But in his home, his grandnephew Mehmood Khan digs into a file and pulls out a yellow parchment with lines in Urdu, scrawled in brown ink, that have blurred with age. It's a paper displaying the family tree that says Habib Miyan was born as Rahim Khan, son of Kallu Khan, in the year 1869, the year Mohandas Karamchand Gandhi was born.
Now, after decades of surviving the retributions of longevity, Habib Khan may be relishing some of its rewards, meagre as they might be. He's been blind for the past 60 years. All the people that he has ever seen are now dead, and he can't recall the year that his wife, Saida, died.
He spends most of his time in the windowless room of the ramshackle house that needs plastering and even walls. And, sometimes, during the silence of the nights, when mosquitoes attack his frail body, Habib Miyan worries about the plight of his grandchildren who're trying to eke out a living cutting, grinding and polishing semi-precious stones.
But the stresses associated with ageing don't appear to have dimmed his enthusiasm for life. He recently questioned a bank clerk why he was being asked to nominate someone when he had no intention of dying any time soon.
His relatives insist that he is getting teeth back, and Habib Miyan says he looks forward to days when he gets his favourite meal of meat korma and kalakand. And sometimes he complains that the sweets he eats are just not as good as they used to be.
But that's as far as he'll go in comparing modern times with the old. Provoked hard to compare eras, he just shrugs: "The old days were good for then, modern times are good for now".
Habib Miyan also finds just the right things to say to anyone who might care to listen. There's an eagerness in his talk. He'll cite Tulsi Das to emphasise the unity of religions: "Daya dharam ka mool he, Pap abhiman,/ Tulsi daya na chodiye, Jab tak ghat me he pran". And when state AIDS project director Dinesh Mathur approached Habib Miyan three weeks back to assist in the anti-HIV campaign, he quickly agreed. "It's for a social cause. So why not?" asks Habib Miyan.
On a typical evening after a meal of a parantha and vegetables, a great- great-grandchild might clamber onto his lap and ask for a story. Then Habib Miyan will recount the tale of how Madho Singh, disguised as a commoner, was smuggled into Jaipur on an elephant lent by the Nawab of Tonk for his coronation.
"The Diggis, Chommus and Jhirais didn't want Madho Singh to be king," says Habib Miyan, about the nobles' opposition to the adoption of Madho Singh by the heirless Ram Singh. He then mimics the taunting shouts from Madho Singh's supporters heard across Jaipur after the coronation. "Diggi dagmag kare, Chommu kare pukar, Keh do Jhirai se, Zehar kha ke mar jai!"
Medical scientists say Habib Miyan's state of mind, despite the stresses associated with age, is not really surprising. "It's a misconception that old people don't have a zest for life," says Dr Samir Parikh, a senior consultant psychiatrist in New Delhi. "Isolation, financial problems and physical illness are the key sources of psychological stresses in the aged. When these aren't present, coping with ageing becomes easier."
But Habib Miyan lives with his family of 26 ? grandnephews, their wives and grandchildren. That makes six generations with Habib Miyan as the patriarch. He earns a pension of Rs 2,112 and is not generally left alone. Clearly, the bonds between the centenarian and the people around him are strong.
Habib Miyan might have remained unknown to the rest of the world were it not for a particularly nosey bank clerk. A few months after he was posted to the Transport Nagar branch of the State Bank of India in Jaipur in 1998, banker Rajesh Nagpal was struck by the frail, old man who used to come to collect pension. "He looked very old and had some strange stories to tell," says Nagpal.
Intrigued, Nagpal dug into dusty bank records that no one had touched for decades and found an old pension payment order that at once authenticated what Habib Miyan had always claimed ? that he was a centenarian. His date of birth was May 20, 1878, and his pension was due from June 1, 1938, the amount of one rupee and 86 paise debitable to the "Raj government". The branch manager called the local press. "It was the first time I got tea and cold drinks in the bank," says Habib Miyan.
Nagpal's 'discovery' has changed Habib Miyan's life. An investigating team from the Limca Book of Records scrutinised the bank document and granted him a place in the Limca Book. The media began knocking on his door. He's begun to have real birthday parties. When his long-held desire to go on Haj became known, two benefactors from the UK sent him Rs 300,000. And last year, Habib Miyan became Haji Habib Miyan, after he made the trip to Saudi Arabia with his grandnephews Chuttan Khan, 48, and Mehmood Khan, 54.
The family now says Habib Miyan deserves a place in the Guinness Book of World Records. Last month, a 119-year-old woman in China, believed to be the oldest woman in the world, died. The spontaneity with which Habib Miyan tells his stories may be as much evidence of his antiquity as any document. Kallu Khan, his father, was a hand in the stables of Maharaja Ram Singh during the 1870s. And Habib Miyan's earliest memories are of helping his father give water to the horses.
Sometime in his late teens, his older brother helped him get a job in the official band of Maharaja Madho Singh. There, Habib Miyan played the clarinet for nearly four decades even as falling teeth made the task harder and harder.
"We practised in the morning six days a week and we played the music in the evenings. We played during festivals and when the Maharajas entertained their guests and when they played polo," says Habib Miyan.
But his memories of the reign of the Maharajas also seem to have trapped Habib Miyan in a distant era when rulers would bestow land on their subjects. He recalls that a barber who once shaved Maharaja Madho Singh while the ruler was asleep was rewarded with a piece of land. A year after his return from the Haj, Nagpal asks him whether he has any other wish that he'd like to see fulfilled. Habib Miyan says: "A plot of land from the government to my grandchildren".
While there's obvious uncertainty about that wish, what Napgal has promised him are bigger and better birthdays each passing year. Five years ago, Nagpal took his family to visit Habib Miyan on his birthday with boxes of sweets. The next year, Habib Miyan received a large cake from his bank. And, earlier this year, over 400 people turned up at his birthday party where the mayor of Jaipur christened Habib Miyan 'Aabe-e-Jaipur', the 'Lustre of Jaipur'.
In terms of public popularity, Habib Miyan may have already transcended the rulers he once served.