Making of theBoss
Read more below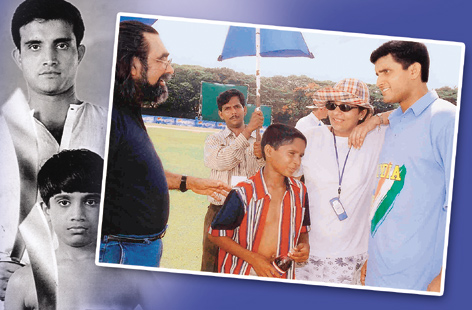 ---
Published 08.08.04, 12:00 AM
|
---
REPACKAGING GANGULY: (Clockwise from far left) In a 2002 advertisement for Sona Chandi Chyavanprash; during the production of the Toss Ka Boss campaign; the Pepsi TV commercial
Art usually imitates life. But sometimes it is better the other way around. If only Sourav Ganguly had taken Pepsi's Toss Ka Boss, the know-all urchin, for the spin of the coin in the Asia Cup final, he might have called correctly. And, maybe, India would have won the championship.
But wishes aren't horses and you can't always ride them. The truth is: India lost the final. The truth also is: win or lose, Sourav sells and rules. Both on the cricket field and on television.
In a country where live cricket is the longest running television serial, it is possible to sell any player with as much charisma as a commode. But undeniably, there's a new, improved Sourav on display. The gawky teenager who was — as adman Prahlad Kakkar says — "quite awkward" doing the Tiger biscuit campaign several years ago, is now being packaged and sold as a confident, aggressive leader of men. Be it hosting cricket shows, or endorsing motorbikes and colas or discussing leadership with Harsha Bhogle on CNBC — the Indian captain is a sponsor's made-to-order man of the moment.
He has made new fans. Ad guru Alyque Padamsee marvels at the Indian cricket captain's comic ability. Says he, "The way he looks at the Toss Ka Boss shows that. It is a master touch. I would say it is similar to Amitabh Bachchan." And, Kakkar, who directed the Pepsi commercial, commends him on delivering his lines crisply. "He has learnt that eye contact with the camera and body language are important aspects while doing a commercial," he says.
Understandably, more and more clients are queuing up for the model cricketer. Sourav's price for endorsing a product has gone up by "300 per cent in the past five years" but that hasn't discouraged Pepsi, Hero Honda, Sahara, Sona Chandi Chyavanprash or LG from signing him up. In the coming months, Tata Indicom will join the party. Negotiations are also on between his agent and financial institutions such as ICICI, IndusInd Bank and IDBI for a deal. Even the Indian Tea Board wants to make him a brand ambassador; the last cricketer to endorse it was Sunil Gavaskar in 1979.
Industry sources estimate the admen's darling — he owns three cars, all numbered 5555 — is making anything between Rs 8-10 crore annually through endorsements. Not as much as numero uno Sachin but as a columnist on advertising says, there was almost an even ratio of ads featuring Sourav and those of Sachin Tendulkar during the Asia Cup. And that is no mean feat for somebody who had always been held up for his lack of charisma, especially when compared with the Mumbai maestro.
Those who know the cricketer from his callow, un-packaged days are surprised at this metamorphosis which has made him as popular with sponsors as thongs are with teenage girls. For many, the aggressive captain of today was also the diffident bheetu chhele of the past. Veteran cricketer Arun Lal reminisces that one night, when he was sharing a hotel room with Maharaj in Bangalore in the early Nineties, a thief got in through the window. "He hid behind me and was trembling," says Lal, laughing.
And national selector Pranab Roy recalls the time when Sourav appeared for his first television interview with Roy for Doordarshan after Bengal won the Ranji Trophy in 1990. "He was quaking with fear. When the interviewer asked him questions, he was totally lost. Sourav didn't know what to say," Roy recalls.
Which brings us to the lingering query: Is the new Sourav persona a craftily orchestrated campaign by image managers? Or, has he really toughened up in real life?
Sourav is not telling. When quizzed on his mobile phone about his changed persona as advertisers' delight, he backs out. "Not right now," he says even as one can hear daughter Sana trying to tell him a thing or two in the background. Several other calls elicit no response.
But top admen like Piyush Pandey, &M's national creative director, and Kakkar would like you to believe that what we see on television is not a "construction", but merely a reflection of popular perception. The truth, however, is a little more complex. Admen selectively choose and magnify traits out of a bouquet of attributes. It's marketability that decides what is eventually selected or rejected.
For instance, in Sourav's case, the batsman who hops about awkwardly like a terrified kangaroo trying to avoid fast, bouncing deliveries is carefully swept under the carpet. And the Sourav, who is seen on more than one occasion fiddling with his nose and chewing his nails on the field, is given the go-by.
What is marketed instead is the aggressive, passionate, positive, forthright, competitive Sourav; someone who commands loyalty from his teammates and is an outright winner. Says Latika Khaneja, who manages top cricketers like Virender Sehwag, "He is projected as a successful, sophisticated and confident leader. That's how corporate houses view him now."
Many believe that the new Sourav was created one evening on the Lord's balcony. That day, as India pulled off an improbable triumph to clinch the 2002 Natwest Trophy, Sourav turned topless, whirled his blue jersey around and screamed words that seemed to rhyme with duck. An emphatic statement of pure euphoria and many other bottled-up emotions, that moment was a godsend for anybody wanting to make cash and curry out of it. "That was the turning point. That day he connected and created a much larger fan following," admits Sanjay Lal, CEO, Percept D'Mark, the company which manages Sourav's marketing side.
In the years following his Test debut in Lord's in 1996, the Bengali batsman was never really a much-loved cricketer. Some liked him, many didn't. Stories of Sourav refusing to carry drinks on his first tour in 1991 — which Abbas Ali Baig, former Test cricketer and the manager on that tour, attributes to "somebody's imagination" — gave him the image of a spoilt, petulant brat. While his silken skills with the bat were appreciated, his generally unathletic demeamour, slow running between the wickets and sub-par fielding ensured that there were not enough I-love-Sourav T-shirts in the market. But in the past few years, as his leadership made a success story out of Team India, Sourav-baiters have shrunk. Selling the Bengali cricketer has become much easier.
Sourav's initial attempts at endorsing products were lousy. In one of his earliest ads that he did for Kingfisher, he was completely overshadowed by the more effervescent Ajay Jadeja. And, he looked like having been sent at gunpoint to dance alongside Hrithik Roshan for a motorcycle ad. And, when he went topless in the Sona Chandi Chyavanprash ad, not many might have been ready to shell out hard cash to get a body that wasn't exactly comparable to Salman Khan's.
Kakkar and Pandey admit that some of the initial scripts written for Sourav were wrong. "Earlier, he was slightly embarrassed, reluctant and uncomfortable to face the camera," says Kakkar. But post-Natwest, ad makers were quick to put together the vital ingredients that created his brand equity. He was projected as the leader who commands loyalty. The Hero Ambition ad which came out following the Natwest triumph showed Ganguly's Spice Boys — Yuvraj, Zaheer, Harbhajan and Kaif — go through the grind only to be rewarded with a bike each by the leader.
Since then, with successive good showings as captain in South Africa, Australia and Pakistan, Ganguly has added more depth to his on-screen personality. "He has grown further in confidence and stature," says Pandey. Adds Bhogle, "I remember the time when getting a word out of him used to be difficult. But the confidence brought about by experiencing success and by being in a position of leadership has transformed him."
Even in selection meetings these days, national selector Roy reveals, there is a tough Sourav at work. "The selectors can be extremely ruthless with questions. He convinces the selectors why a particular player should be included," he says. Cricketer Lal sums it up: "He's his own man now."
It is this confident new man who is the adman's delight. When Kakkar narrated the Toss Ka Boss script to Sourav, he initially thought that the Bengali cricketer would object to it because he was not the hero in the ad, but the fall guy. Says Kakkar, "It takes a lot of self-belief to portray a fall guy. I think Sachin would have probably said no to it. But Sourav does it with such aplomb."
Clearly, the man has changed. Back in the mid-Nineties, a dark Cielo would often park itself near the gates of city's Gokhale Memorial Girls' College. Interested onlookers would ask other, more knowledgeable students who the shy, bespectacled guy behind the wheel was. "Donar boyfriend, cricket kheley," went the whispers.
These days, he could be smiling at Gokhale from a billboard somewhere across the road.