Elton J Fernandez on his life of an 'aesthete'
A "maximalist" in life and a "romantic", there is a magical allure in his works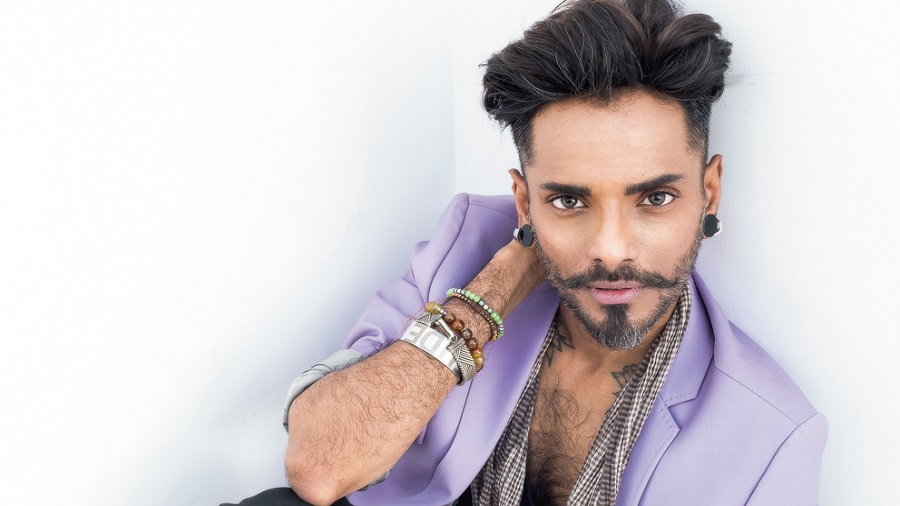 ---
---
His favourite feature to play upon is the "personality". "Make-up for me is an extension of wardrobe and personality and not the other way round," he says. A "maximalist" in life and a "romantic", there is a magical allure in Elton J Fernandez's works. A touch of the "poetic". A chat with The Telegraph.

Are you a Hyderabad boy?
I am actually originally from Thane in the suburbs of Bombay. That's where I was schooled and then the Gulf War happened; my dad used to be in the Middle East, and he had to come back to India overnight, without anything. So, we had to make big adjustments to our lives. We couldn't afford to live in Bombay any more. Then we moved to Hyderabad and I lived there for 12 years and then moved back to Bombay. I moved because I came out of the closet to my family when I was 21 and then by 23, I felt too suffocated to live there. I left with a couple of suitcases and with a big dream. Nothing else. It's been about 16-17 years.

Are you in touch with your family?
I am but it is a topical relationship because my mum still continues to be very homophobic. It's a difficult journey and a bruised sort of relationship but it's respectful. Over the years we have learned to back off from individual perspectives to allow the other person to breathe.

How did you discover make-up?
My mum was always well-groomed. She loved her red lips and perming her hair and wearing fantastic saris. I grew up with a strong empowered woman in the household and it makes a big difference in the end. For me, cosmetics is not just about looking pretty. It is about finding a language that empowers you. It does the talking for you. I always knew that make-up existed on the peripheries of my world but I didn't know that I could make a career out of it.
My first job was one week after I graduated, in HSBC bank… telephone banking. I used to have off on weekends and would do little make-up projects. Then I met a make-up and hairdresser friend, Sachin Dakoji, in Hyderabad. He is still one of the top make-up and hair artists in Hyderabad. He introduced me to the world of cosmetics in a professional sense. He gave me a nine on 10 for a beginner. I told him I like painting on canvas and he said the face is nothing more than a canvas that talks back. It got me hooked.
Onir (film-maker) had reached out to me via Orkut. He gave me my first break in Hindi cinema with I Am. Incidentally, we shot a part of that film in West Bengal. He was a kind patron to me and wanted to help another queer person.
How have you evolved as a hair and make-up artist?
Before I was terribly scared of hair. I don't know why! I didn't think I'd be able to handle it. It just felt so slippery. (Laughs) Garima Parnami's (model) head was the first time I had blow-dried hair on a human head. I burned some of her hair, but she was so kind to me. We laughed about it finally. Little mistakes taught me to want to do better. It's a pity that I don't know cut or colour but it takes years and it is such a niche craft.
My make-up approach before was definitely to be a part of this fashion business. I never did whatever I did to be famous or have money. Somehow, my journey became more about being an aesthete and understanding all aspects of the industry.
Having a good home and understanding good food and nutrition, understanding the difference between commercial, saleable and niche and avant-garde. It takes years, adding layers to your personality. It is an ongoing journey. I want to build myself as a wholesome artist.

You also believe in reducing the prep time…
I am a total jugaad artist. I don't like to take 20 minutes of what can be done in two minutes. I can have my actor step out in 40 minutes and that's with downtime because the face takes time to wake up in the morning.

What kind of a relationship should women share with their make-up?
I think make-up should be like a lover. Bittersweet. You learn from your mistakes but it shouldn't have to throw you off balance and you should be able to take space from it when you choose to. It is about a woman enjoying her agency and her access to imagination.

We absolutely love your eye make-up. Do you love doing your eyes the most?
My eyebrows. It's a lot of other interventions. I have had microblading (a semi-permanent technique for enhancing the appearance of the eyebrows) done twice. I like it to look strong and I also fill my eyebrows cosmetically. First I do little flicks with a pencil and then I fill in a little bit of powder here and there… soft brown to a deepish grey-brown and then I fix it with a brow mascara. It's a lot of work!
For eyes, we can break from the habit of using black through the day and may be use colours, may be even greys. Black can be for something more intense, sexy for the night-time. Imagine mixing a matte black kajal with a metallic green or purple or blue…. It may not necessarily tell in an Insta photo, but when you are talking to someone and they are looking into your eyes and talking, that is so engaging.
Today everything is about that Instagrammy make-up. It is too hyper defined and nobody looks good like that. In person, it becomes too overwhelming. In that sense I feel my aesthetics are a little more old school, but every creative journey is about evolving and adapting.

What are your favourite classics?
Madhubala had an unique beauty look although it might not be relevant in today's day and age because we have moved on from B&W cinematography. From a modern perspective, I think cosmetically, I like a woman who is bold in her choices and extracts joy out of stepping out and introducing a new part of her personality to people she is interacting with on a daily basis. She is finding a newer language visually to express herself and uses parts of her imagination to make that expression for herself.
Miley Cyrus's new song Midnight Sky is powerful. Here is a young woman who is living her life in the media but she is unafraid of serving you her natural self. She is holding on to the reins of her sexual agencies so powerfully.

Aditi Rao Hydari is your muse…
There are some women who bring that old-world charm and beauty and allow you to see it in a modern light, like Aditi Rao Hydari, which is why I love working with her so much. She is like an Audrey Hepburn. There is a grace and charm of the old-world but there is a modern language to express, modern sense of humour, modern values, open-mindedness, free. She wants to know every product I use and she likes to try it with her hands. Today on any job, I do her full face and the base of the brows and she finishes it off.
There is a certain strength that you need to display to stand up in the middle of a sea of dirt. Fragile but stoic. That for me is Aditi, a great modern woman. I have even done lilac-purple lips on her and she wears even that well. As long as there is a sense of romance to whatever I do… if there is a solid mouth, then there will be certain edges on the side that are blended and softened… texture play… balanced against a certain eye make-up.

Do you think the feminine side of your personality has added to your craft in any way?
Absolutely. Without the softness, my art could have just overwhelmed people. I consider myself fairly non-binary. I do see myself as 80 per cent masculine, but there are such strong feminine attributes to my personality that sometimes they overtake. I let that happen when it comes. I indulge myself, whether it is nails, make-up, jewellery, high heels….

What have you learnt from Sabyasachi Mukherjee?
Sabyasachi is the best working experience I have had in my whole career. I felt respected as an artist. I have never seen a designer get into the nitty-gritty of a shoot.

What are you working on next?
Now I am trying to expand further more into other things like LGBTQ advocacy through my own space and bridge worlds. Fighting for my community has been a large thing for me. In the lockdown, I have started a personal project called the Non-Binary Virtual Awards ('which aims to encourage conversation and build awareness around gender and sexuality') on October 10. I am raising money for transpersons' welfare, employment and mental health.

What is your message for your community?
Covid made us understand how resilient we are. If you've realised that your resilience has helped you survive this ordeal better than others, then it is time for you to readdress how much more space you can make for yourself. Expand.